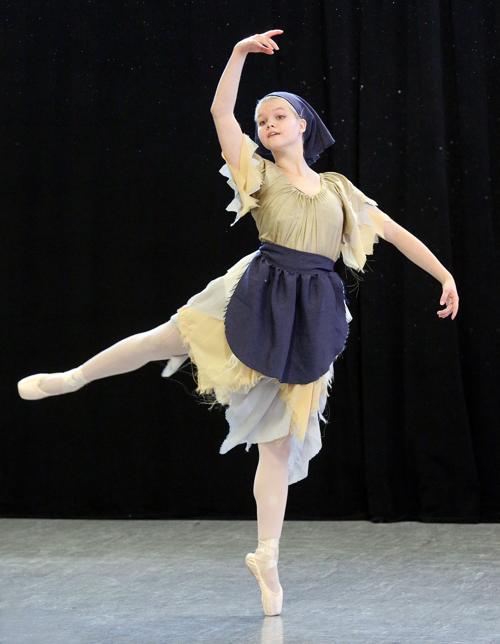 Ballet La Crosse will bring a fairy tale of love and magic to life during its production of "Cinderella."
The ballet, choreographed by artistic director Kennet Oberly to the music of Sergei Prokofiev, will be at 7 p.m. Nov. 28 and 2 p.m. Nov. 29 at the Weber Center for the Performing Arts.
The dancers will tell "the story of love and love on many different levels," according to associate artistic director Amanda Schams.
"Allow yourself to be swept away, and let magic and happiness find their way into your life," Schams said.
The dance follows the familiar story of the girl mistreated by her stepmother and stepsisters who escapes her dreary life to attend a ball where she meets a handsome prince. Her escape is facilitated by her mice friends and a group of fairies — including her fairy godmother — who transport her to an ethereal world to give her a beautiful ball gown and coach to bring her to the ball.
"Magic comes out, and there's magic truly happening when Cinderella arrives at the ball," Schams said.
The story is familiar to anyone who has seen Disney's animated classic or the recently released live-action version, but the ballet will include elements not seen in the movies, including the appearance of Cinderella's mother and father. Her mother appears as a ghost in the beginning, and her father is a constant presence in her life.
"Cinderella and her father are kind of in the same boat … the two of them are on their own, and the stepmother always wins," Schams said.
Westby High School junior Abby Inglett shines in the title role of Cinderella, sharing Cinderella's love of friends, family and her prince, portrayed by Sasha York, through her graceful movements. Because it's a ballet, there are no words; instead, the story is portrayed through the movement of the dancers.
"It's not just about the technique and the dancing, it's about bringing in the person behind it," Inglett said. "You have to really put yourself into the character. It goes beyond just the stage."
It's a challenge to tell the story without words, but the entire cast is excellent, said Schams, especially Katie Reischl, who portrays the evil stepmother.
"It's hard to watch, because she's very harsh, but she's exactly what you want to see in the stepmother," Schams said.
The dancers create a nuanced emotional atmosphere that they share with their audience, according to Allison Bast of La Crosse, who is one of the ball attendees in the performance.
"You really have to dance with your heart to express yourself," said Bast.
Bast, who at 13 has danced for 10 years, says that's what makes ballet special.
"You can be really graceful, and you can tell a story through just your body language," Bast said.
This marks the third year Ballet La Crosse has put on a fall performance, but this year's will be more complex. The dancers at Misty's Dance Unlimited have reached a new level of skill that made "Cinderella" a perfect fit for them this year.
"They were ready for something really challenging, technically," Schams said.
Inglett, who is in the pre-professional program at Misty's Dance Unlimited, has performed for nearly 10 years, but has never stepped into a role that requires the stamina and talent of Cinderella.
"She's basically onstage through the entire ballet," Schams said. "That says a lot about her strength and maturity."
Inglett is thrilled to step into the role and embrace the challenge.
"It's been a unique experience, but I'm super excited," Inglett said.
Not only does Inglett spend the entire ballet on stage, but she also will have the opportunity to dance with a professional partner. As the prince, York, a veteran dancer from Ballet Nebraska, will dance with Inglett during the ball.
"It's really been different working with him and partnering on stage," Inglett said.