It was no accident that Autograph guitarist Steve Lynch earned Guitar Solo of the Year honors from Guitar Player magazine in 1985 for his instrumental interlude on the band's monster hit, "Turn Up the Radio." By that point, he had been obsessed with guitar for 15 years, since the day Jimi Hendrix died, determined to make his mark in the guitar world.
Lynch grew up in Seattle, hometown to Hendrix, and had seen the one-of-a-kind guitarist perform twice before his untimely death in 1970. Lynch started playing bass guitar in 1968, but after Hendrix died, he switched to six-string.
"That was a big turning point for me. I just became immersed in guitar," Lynch said recently in a phone interview from his Florida home. "My dad found out that I was skipping school and going to my friend's house and playing guitar all day. He said, 'If you're not going to school, you can't live here anymore.'"
Lynch chose guitar over school and home. After he first got kicked out, he borrowed a tent, used a machete to clear a blackberry patch in a friend's yard and lived outside for months before moving into a friend's basement
"It was a good experience," Lynch recalled.
Lynch wanted to blaze trails in his guitar playing, and he did, becoming a master at using both hands on the fretboard to tap out intricately woven guitar solos. It's a style a lot of people think Eddie Van Halen invented, but Lynch first saw the technique used in 1971, when he was wowed by the artistry of Harvey Mandel, a guitarist who nearly got hired by the Rolling Stones instead of Ron Wood.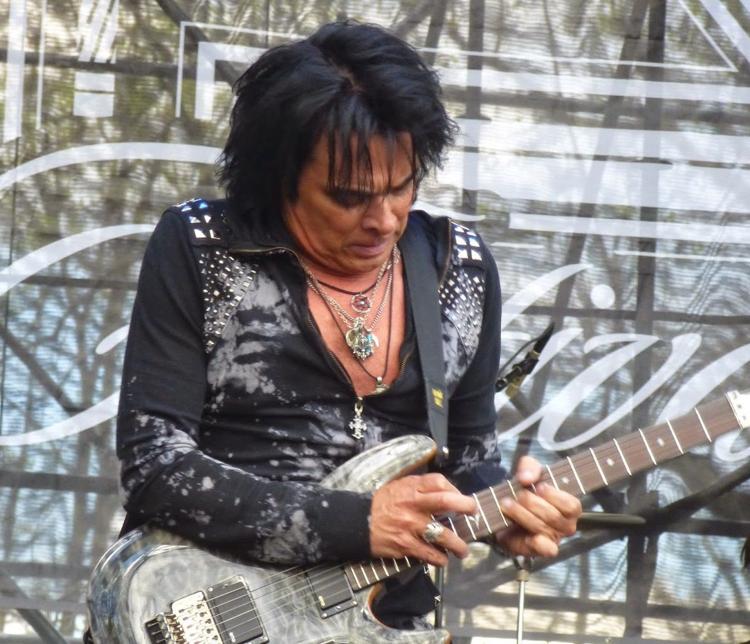 When Lynch was at the Guitar Institute of Technology in 1978, he was further inspired to work on his two-handed techniques during a clinic by Emmett Chapman, inventor of the Chapman Stick. By 1979, Lynch had become enough of an expert in the technique to write a book about it.
When Lynch comes to La Crosse for a Dec. 15 concert at The Brickhouse with the revamped Autograph, people might not even notice the innovative techniques he's using. "I blend it in with my regular playing," Lynch said. "It's not something most people can decipher."
Lynch's guitar pyrotechnics were a big part of what made Autograph's "Turn Up the Radio" so memorable. Lynch laughed as he recalled the record company bigwigs not even wanting to let the band record the song after hearing the demo version, let alone figure it would be a single off the band's debut, "Sign In Please."
Register for more free articles.
Stay logged in to skip the surveys.
"RCA didn't want us to put it on the record. They didn't think it was a strong enough song," said Lynch, noting that they changed their minds after they heard the recording the band had made without the label's blessing.
The anthemic mid-tempo rocker became a staple of cover bands in the 1980s and Lynch said if he was in a club and the band started playing "Turn Up the Radio," he'd go stand in front of the stage and stare at the lead guitarist for fun. After the show, he'd give guitarists a tutorial on some of the finer points of the iconic solo.
Teaching guitar is almost as much a part of Lynch's life as playing. He has taught thousands of guitarists over the years, teaching at the Guitar Institute of Technology, traveling around the world for clinics and then sharing his knowledge in Seattle at a music school he founded after Autograph broke up in 1989.
He has continued teaching in Florida, even after he and Autograph's original bass player, Randy Rand, reformed the band about four years ago, recruiting Simon Daniels to sing and play guitar after seeing videos of him online with his previous band, Jailhouse. And they rounded out the lineup with Marc Wieland on drums.
Autograph's 1980s sound leaned heavily on keyboards, not unusual for glam metal bands of the time, but the band now eschews keyboards for a stripped-down, heavier sound that veers toward Guns N' Roses (more grit, less glam) while retaining the melodic flourishes and anthemic singalong choruses.
This year, Autograph released its first album since the 1980s. The idea for the album's title song, "Get Off Your Ass," came to Lynch one morning when he was drinking coffee and trying to kick his day into high gear to get something done.
"People use that term all the time, but nobody before, that I know of, has put it into a song," Lynch said. "This is kind of a good kick in the butt."
In the nearly four years the new Autograph has been touring and playing concerts, Lynch has gotten a big kick out of seeing the fans from 30 years ago, but he has noticed crowds sometimes span three generations, with a lot of new, younger fans coming out. "I think the kids like it because it really is feel-good music," Lynch said. "It's all positive, and there's nothing in there about depression or suicidal plots."
Lynch might be only a few years away from the usual retirement age, but he still has the aura and energy of a young rocker. "A lot of it has to do with kind of refusing to grow up," he said with a laugh. "You just kind of refuse to fall into that old trap of feeling older and feeling like you've got to slow your life, dude."