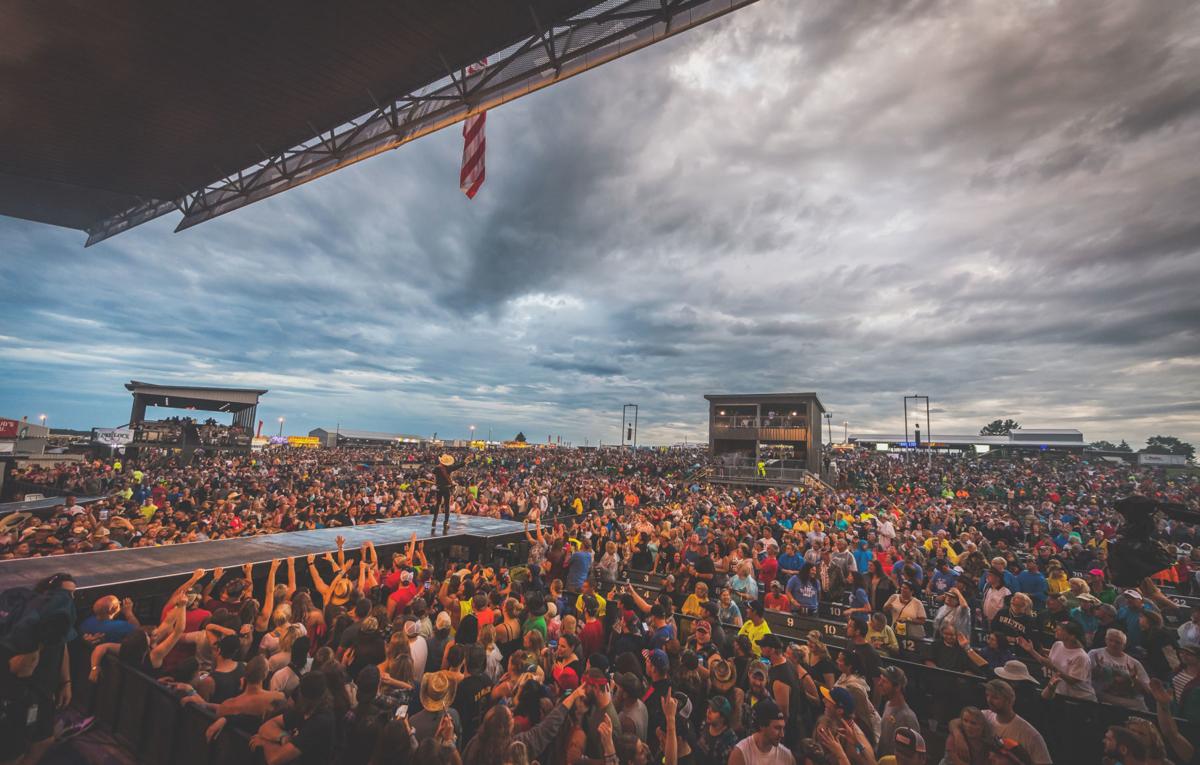 Country Fest announced Friday it will postpone to Thursday, Aug. 13, through Saturday, Aug. 15, from its original schedule in late June due to COVID-19 health concerns.
The annual country music festival nestled in Cadott is the first local summer music festival to announce changes to its 2020 event.
"We know many of you were looking forward to our annual June festival dates, having already made your travel arrangements and plans with friends," Sam Poeske, Chippewa Valley musical festival administrative and marketing analyst, said. "However, this is an unprecedented situation that we do not take lightly. The health and safety of our fans and community is and always will be our number one priority."
The festival was able to retain the three headliners (Thomas Rhett, Dierks Bentley and Kane Brown) for the new dates, but other acts such as Jon Pardi, Cole Swindell and Brothers Osborne are currently not a part of the rescheduled dates.
"For more than three decades, Country Fest has showcased the best in country music with the most amazing fans in the world," Poeske said. "Like so many people right now, we just want to get back to doing what we do. So, we ask you to continue to do your part in social distancing and taking care of your health. We look forward to celebrating our 34th year with you on Aug. 13-15, 2020. With everything that's happening in the world right now, the one thing we know you all need is 'Your Happy Place.' We look forward to bringing it to you in August."
Those who hold tickets for Country Fest 2020 have a few options now that the new dates are announced. Tickets/campsites purchased will automatically roll over to the August dates or customers will have the option to transfer their purchase to next year's festival in June 2021. If neither of those options work, patrons also have the option for a full refund.
Longtime Country Fest attendee and Chippewa Falls native Aaron Johnson said he is glad to see the festival is being scheduled rather than canceled like many other local events in the coming months.
"It sucks but is pretty necessary at this point," Johnson said. "Country Fest is one of the best festivals in the area, so the fact it's still happening is great to see. Hopefully people can make it out and we can get past this situation as soon as possible."
The other festival in Chippewa Valley Music Festival's family of events, Rock Fest, is also in jeopardy of being rescheduled or canceled.
The rock/metal musical festival is scheduled for Thursday, July 16, through Saturday, July 18. Because of its close proximity to Country Fest, and the fact they use the same event grounds in Cadott, many people are expecting the festival to be altered due to COVID-19 concerns as well.
Rock Fest 2020 is scheduled to include some of the biggest names in rock music including Slipknot, Disturbed, Limp Bizkit, Papa Roach and dozens more.
Rock Fest promoter Wade Asher said Friday morning in a Facebook post that Rock Fest is currently still scheduled to go on as planned in July despite Country Fest being pushed back, but this could change in the months leading up to the event.
"If there's anyone that can truly weather a storm of uncertainty, it's us," Asher said. "Rest assured guys, Rock Fest 2020 is still happening and is on as scheduled. Our team is working closely with local and state health officials. Know that we can continue to monitor the COVID-19 situation daily as it evolves. Because our festival is still months away, I feel good about our horns being up in July. If anything changes, I promise that we will update you."
For more information on the rescheduled dates for Country Fest 2020 you can visit the website www.countryfest.com.
Stay up-to-date on what's happening
Receive the latest in local entertainment news in your inbox weekly!