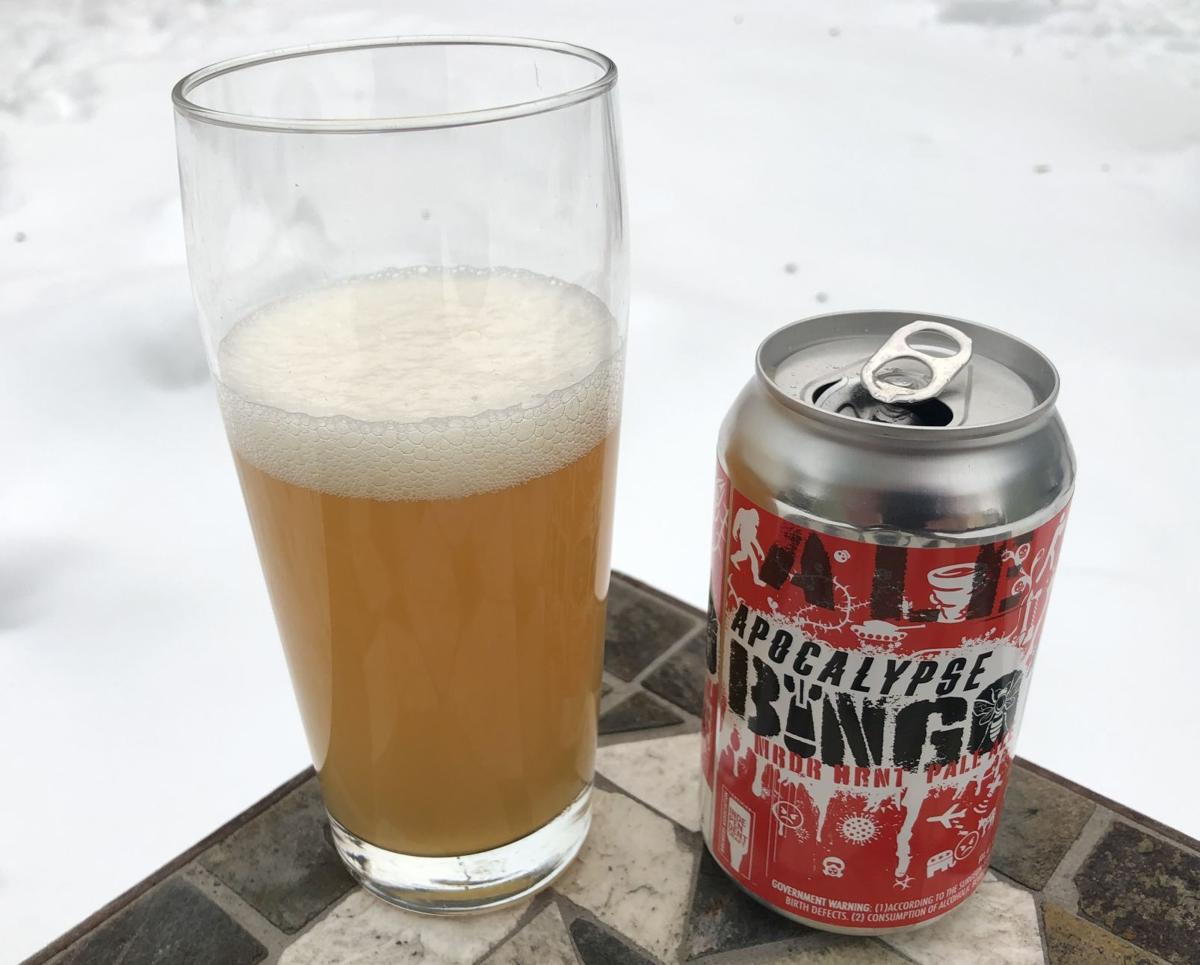 I know we're all exhausted by all the "ugh, 2020, amirite?" takes by now, but it's the truth.
Last spring, the brain trust of Madison's Ale Asylum, fresh off a quintessential 2020 statement with its FVCK COVID beer tandem, was lamenting the seemingly constant downward spiral of the world. The most recent surreal news: The Asian giant hornet had showed up in the U.S. You know, the "murder hornet."
"Every month there was a new thing," Ale Asylum co-founder Dilba said: Australia on fire. A seeming near-miss of war with Iran. COVID-19, of course. "It was like, 'Did anyone have murder hornets on their apocalypse bingo card?'"
As the year pressed on and the FVCK COVID beers became a hit from coast to coast, distributors began asking Ale Asylum to go to the well again. FVCK COVID 3.0 was ruled out quickly. "We didn't want to get to the point where we were beating a dead horse," Dilba said.
Instead, the Apocalypse Bingo series was born; its first offering, MRDR HRNT hazy pale ale, dropped in November.
"It's an extension of the FVCK COVID philosophy, where if you don't laugh you might cry," Dilba said. "Let's poke fun at the absurdities — the sometimes cataclysmic absurdities — of modern life."
There are two names in the hopper for the series: Conspiracy Theorists and Karen's Rage, which is due for a late February or early March release. But the list is fluid, Dilba notes, because if the past 12 months have taught us anything, it's that the universe is acutely adept at presenting new manifestations of bad things.
But Apocalypse Bingo is not merely a parade of cool names. It's also a bit of a reinvention for Ale Asyum. The goal with each release is to create a beer that shakes up what you think you know about Ale Asylum's beer, which has almost entirely stayed away from extra ingredients like fruit, coffee, cacao and the like over the brewery's nearly 15-year history.
"We intend to stretch the boundaries and techniques and maybe sometimes the ingredients from what we've done in the past to take each beer in this category regardless of the style and turn it up to 11," Dilba said. "We're interested in whatever (the brewing staff) want to drum up. You want to try something fun, let's do it."
The releases in the queue — even the Karen's Rage dropping this spring — don't have actual beers corresponding to the names yet. But just about everything is on the table, Dilba said, as long as it doesn't taste like anything Ale Asylum has made before.
And this week's beer, alluded to as an also-ran in the 2020 Beers of the Year, tastes like nothing Ale Asylum has made before.
MRDR HRNT
Brewed by: Ale Asylum, 2002 Pankratz St.
Where, how much: MRDR HRNT dropped somewhat abruptly in November, and supplies in the tail end of 2020 were somewhat spotty. Dilba expects shipments of the beer to distributors, including the national Brew Pipeline, to increase by late January. Six-packs around here run around $9, a tick above the regular Ale Asylum price. The best MRDR HRNT price is from the brewery itself ($7), which has been offering deep discounts on to-go six-packs. I'll say it again: Buying direct is a huge windfall to breweries, and they really need it right now.
Up close: If Dilba wants every Apocalypse Bingo beer to drink like something truly unique, the series is off to a good start with MRDR HRNT. Immediately upon opening the can, an intense, heady tropical citrus aroma fills the room. I'm not kidding, you can smell this beer even if you're not drinking it. It's a sweet lemon-lime character, almost like a beer Sprite, accenting a huge pineapple note. The sips deliver that same swirl of tropical joy, along with a sweet, malty body and just a touch of bitterness coming in to clean up the dry, refreshing finish.
Where does all this juicy fruit action come from? It's not from fruit. MRDR HRNT uses a relatively new hopping technique called dip-hopping that introduces a new step in the brewing process before traditional dry-hopping that elevates the intensity of the Mosaic, Denali and Trident hops while avoiding the "green" and vegetal character that befalls many heavily dry-hopped hazy IPAs. Dilba also believes dip-hopping keeps each variety in the hop blend distinct and clearly expressive. Some high-ester (but not kveik) yeast also contributes to the juiciness.
Overall, it's a startlingly good start to the end of the world.
Bottom line: 4½ stars (out of 5)