For four years, Mississippi Mayhem has been a unique car show highlighting pre-1964 vehicles, coupled with a chance to see top-notch rockabilly/roots rock bands from around the country and a nostalgic celebration of all things from post-war, pre-Beatles era, from fashions, hairstyles and pin-up girl pageant to old-school dancing, toys and home décor.
It's all that for the fifth year as well as one more thing: It's a party.
West Salem's Rebecca Brown dreamed up and launched the event, which this year is held Friday and Saturday, Sept. 8-9, at the La Crosse County Fairgrounds in West Salem with help from about 160 volunteers. For Brown, the fifth running of the event is a milestone worthy of a celebration.
"Let's just say we're going to have some birthday fun, since we're celebrating five years of Mayhem," said Brown, who has some surprises in store on Saturday. "If anybody's having a birthday this weekend, they should come see us. We're throwing an epic party. There will be cake!"
Brown hopes to draw 3,000 guests for this party along with 600 vehicles, everything from vintage motorcycles and delivery vehicles to rat rods and killer customs. With the Elvis Explosion happening this weekend, too, Brown said, she's hoping there might be some sightings of the king (or kings). "We would be thrilled if we could get a bunch of Elvi roaming the grounds," she said. "Any Elvis that shows up gets in free."
The festivities are guaranteed to have at least one Elvis — Elvis Suissa, the founder, guitarist, singer, songwriter and instigator in chief for Three Bad Jacks, the star attraction in this year's Mayhem musical lineup.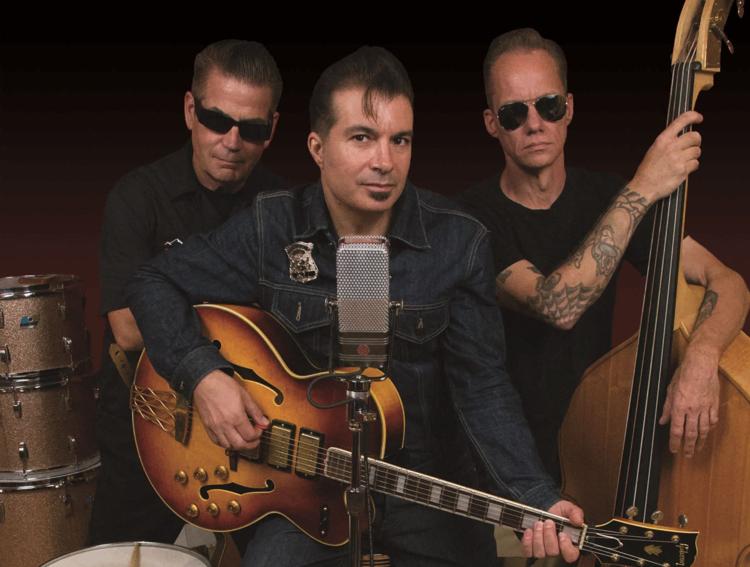 Brown saw Three Bad Jacks play four or five years ago in Illinois and has been keen to get this hot California-based trio at Mayhem ever since. "They set stuff on fire. Literally," Brown said. "They seemed like a natural fit for Mayhem."
People won't need asbestos poodle skirts and bobby socks to get on the dance floor when Three Bad Jacks play — we're talking about controlled fires — but they should be prepared for an intense experience, Suissa advised.
"We just want to make music and break things," Suissa said by phone Wednesday from St. Louis. "We play wicked shows. … The beautiful thing is, if somebody's coming to dance, I'm playing '50s danceable stuff. If people are coming to kill each other, then keep up with us because we might just kill people with the intensity."
Three Bad Jacks, which closes out the musical entertainment Saturday night, is the only band new to Mayhem this year. Brown conducted an online survey to find out which bands people wanted back, and she booked four crowd favorites: Three on the Tree and Bad Companions on Friday, Switchblade 3 and The Star Chiefs on Saturday.
This year for the first time, Brown will have a vintage car of her own to show: a 1961 Buick LeSabre named Lucille. While Brown will be crazy busy at Mayhem, it'll still be a good time for her, she said. "I always have fun at it. I love seeing everybody else have a good time."