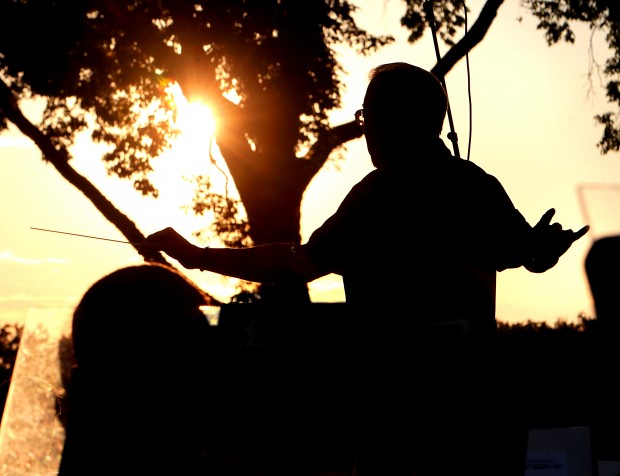 A band concert in Riverside Park is a sure sign that summer is back, and in 11 days, the
La Crosse Concert Band will kick off its 73rd consecutive year of free concerts in the downtown park. The band will present concerts on seven Wednesdays in June and July.
Abbie Leithold-Gerzema, the band's development specialist, said the concerts averaged 1,000 people last year despite two rainouts, when the concerts were moved to La Crosse Central High School.
"I'm pleasantly amazed and thrilled with the crowds," Leithold-Gerzema said. "The crowds have grown over the years, and the audience is so loyal and come out to the rain site when we can't have an outdoor concert."
She said she used to have 20 children marching and waving American flags in the traditional children's march, but that number has grown to more than 100. "People make this concert a family night," she said.
Alex Vaver, the band's president who will conduct two concerts, said they provide an evening of great music and family fun.
"It's the nostalgia, a concert in the park that young and old can enjoy," Vaver said. "We get more young families who want their kids to have this kind of experience growing up."
Vaver will conduct the first concert on June 5 with the theme of "Vegas," featuring music performed in Las Vegas from "Sinatra in Concert" featuring Tim Henke and selections from the Elvis Presley musical "All Shook Up."
Kim Shively will be the vocal soloist in "Star Dust," and the band will play a Beatles medley in honor of Cirque du Soleil.
"We're playing up the theme that what is said in Vegas doesn't stay in Vegas with this concert," Vaver said.
Vaver also will conduct the June 26 concert, with a salute to the American armed forces. "We'll have some new patriotic music," he said.
Chris Werner, La Crosse Central High School's band director, also will conduct two concerts. Werner has chosen the theme "Go West, Young Man," featuring the music of the wide-open West for the June 12 concert.
"I liked the western theme because there is so much good music from 'The Magnificent Seven' and 'Silverado" to musicals like 'Oklahoma!' and "The Wizard of Oz," he said.
Werner picked "Heroes and Villains" as a theme for the July 24 concert, featuring symphonic music from "Star Trek," "Hercules" and "The Incredibles." Shively will return to sing the Oscar-winning song from the movie "Skyfall."
"Of course, for the final concert we will be sure to feature 'The Stars and Stripes Forever,'" Werner said. "The setting for the concerts is amazing, and we always have a large crowd. It's family-friendly, and the concerts are just fun."
Jeff Krauklis will conduct the June 19 concert with music from "Lord of the Rings" and Paul Leithold on guitar in "Classical Gas."
Tammy Fisher leads the band in the July 17 concert, featuring music from around the world and vocal soloist Kathryn Skemp Moran. New to the podium this summer is Tom Seddon, University of Wisconsin-La Crosse orchestra director, who will conduct the July 10 concert, "Marches, Movies and Musicals."