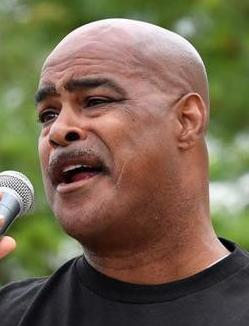 The Alternative Truth Project is collaborating with The UU La Crosse to present, "Dr. King's Call for Justice: Are We Listening?" Jan. 19 at the Pump House Regional Arts Center in La Crosse.
Denise Christy-Moss as Coretta Scott King and Torrence Chester as Martin Luther King Jr. will take the stage at the Pump House at 2 p.m.
The reading is intended as a lead-in to the Dr. Martin Luther King Jr. Community Celebration that will take place at 7 p.m. Monday, Jan. 20, at the Viterbo University Fine Arts Center. The director is Keith Belzer.
Christy-Moss didn't know who Martin Luther King Jr. was when she was 10 and met him at her father's church in Columbus, Ohio.
"I knew he was a big deal, an important man," she says. Now, she knows him well, after studying him and fighting for social justice throughout her life and now taking on the role of his wife, Coretta Scott King, in a dramatization of the couple's life and civil rights mission.
She cited the chilling irony she discovered during her research for the character, that when President John F. Kennedy was assassinated on Nov. 22, 1963, Martin had whispered to Coretta, "That's the same thing that will happen to me."
The script includes readings from some of King's major writings and speeches, including the April 1963 "Letter from a Birmingham Jail," his "I Have a Dream" speech from the March on Washington on Aug. 28, 1963, the "Beyond Vietnam Speech" of April 4, 1967, and King's "I've Been to the Mountaintop" speech of premonition, the night before he was slain.
Coretta's words are taken mostly from two memoirs, "My Life with Martin Luther King Jr." published in 1993 and "Coretta: My Life, My Love, My Legacy," published posthumously in 2017.
"I often wonder how kids view him," Christy-Moss says. "They weren't alive. I hope the young people come."
She notes that the issues of discrimination and hate continue today, despite advances attributable largely to King's activism and his advocacy of peaceful civil disobedience of unjust laws.
Recalling passages from "My Light, My Love, My Legacy," Christy-Moss adds: "I'm surprised some of what he said still moves me to tears."
You have free articles remaining.
She noted Martin's assurance to Coretta during a phone call the night of April 3, 1968, that he would call her the next day. He was unable to fulfill the promise, being cut down by a single shot from James Earl Ray's Remington rifle the next morning.
Christy-Moss has been involved in several presentations on black history in the Coulee Region and is working on "The Enduring Families Project," highlighting the lasting contributions of numerous black families in the region.
Reading the role of Dr. King is Torrence Chester. The Chicago native has lived in La Crosse the last 18 years.
Chester was previously in a production at the MUSE Theater. He is also a singer and conga drum player and has performed with local reggae band T.U.G.G. "Dr. King was certainly a major influence in the world, and in my life," Chester declares. "I was excited to get the part. This certainly will be an honor."
Ron Malzer, serving as the narrator, compiled the text along with Denise Christy-Moss.
Malzer recalls how moving it was for him at age 16 to hear Dr. King speak at Villanova University, outside of Philadelphia, where Ron grew up.
"To this day, one of Dr. King's powerfully delivered sentences rings in my ears: 'It is a cruel jest, when you tell a man to pull himself up by his bootstraps, and he has no boots.' "
Malzer said there are many reasons why Dr. King's "I Have a Dream Speech" has been selected as the single most powerful piece of oratory of the 20th century.
"Dr. King had a Ph.D in systematic theology from Boston University, and was headed toward an academic career, until history called him," Malzer said, "and he combined his seminary training with the gift of his voice to be a force for social and racial justice the likes of which the world has never seen before or after.
"His philosophy was this: It's the nature of the human condition to do much that is evil and violent. It's the moral duty of each and every one of us to breathe in that evil, and use that energy to confront, with the power of our voices, the evil we see every day. Dr. King did that, serving as a role model without equal in modern times."
The reading is free and open to all. Donations from this reading will help the organization BLACK, which, under the leadership of Shaundel Spivey, is planning a second Civil Rights tour of the American South for middle schoolers and high schoolers.
Malzer adds: "Not only is this cause very worthy and a great fit with the reading, but the choice was made by the performers and The Alternative Truth Project founders in part as a tribute to the work of Shaundel Spivey, who played the part of Dr. King in the play's first three La Crosse performances."