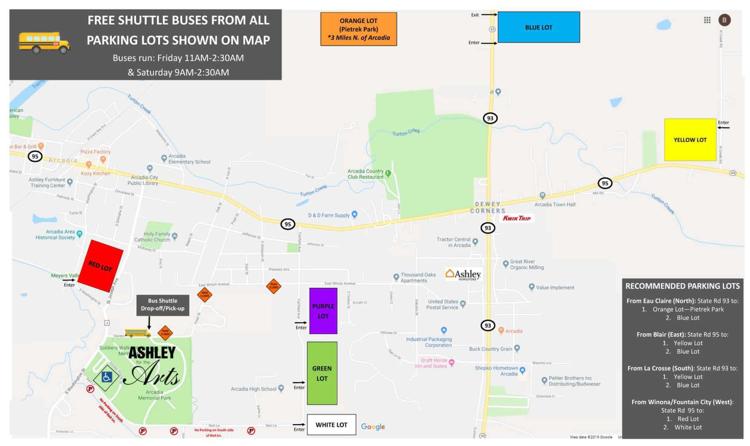 Let's start with the basics
What: Ashley for the Arts
When: 4 to 7:30 p.m. Thursday, Aug. 8; 9 a.m. to 1 a.m. Friday, Aug. 9; and 9 a.m. to 1 a.m. Saturday, Aug. 10
Where: Arcadia Memorial Park, 551 Memorial Park Drive, Arcadia
What's this festival all about? Ashley for the Arts is one of Wisconsin's largest charity events, according to organizers, and it raised more than $535,500 for 51 nonprofit organizations in 2018. The festival, now in its 11th year, is is expected to draw more than 70,000 people over three days.
How much does it cost? $15 for a three-day wristband. Wristbands can be purchased at Ashley Homestores in Arcadia, Eau Claire, Prairie Du Chien and Rochester, Minn. Wristbands also are available at the gates for the same price.
How do you get there? With thousands of people expected each day, expect congestion on nearby roads. Off-site parking lots, with shuttles to the festival, are available at Hwy. 93, ½ mile north of Arcadia, N31500 Hwy. 93 in Pietrek Park and Hwy. 95, ½ mile east of Arcadia at Creek Road North. On-site parking also is available for free at the venue.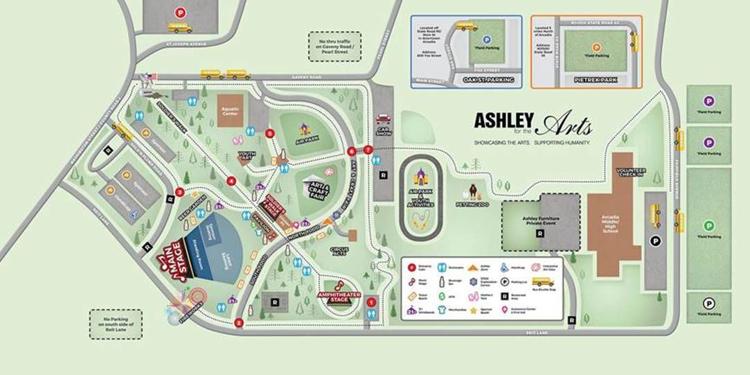 Who are the headliners?
Billy Ray Cyrus (4 p.m. Friday) is a country music mainstay. His first big break came in 1992 with his song "Achy Breaky Heart" hitting No. 4 on the Billboard Hot 100 chart. Recently, Cyrus was featured on Lil Nas X's monster hit "Old Town Road." "Old Town Road" just passed "Despacito" as the longest lasting song at No. 1 on the Billboard Hot 100.
38 Special (6 p.m. Friday) was formed in 1974 in Jacksonville, Fla., by Don Barnes and Donnie Van Zant. The band's two most notable songs are "Hold On Loosely" and "Caught Up In You".
X Ambassadors (8 p.m. Friday) have been a force in the pop-rock and alternative music genres for multiple years. The band has seen two songs, "Renegades" and "Unsteady", crack Billboard's Hot 100 Top 20 songs. In 2016 the band collaborated with the likes of Lil Wayne, Wiz Khalifa, Imagine Dragons, Logic and Ty Dolla $ign on the hit song "Sucker For Pain".
The Brothers Osborne (10 p.m. Friday) is a country duo is best known for their deep voices and rhythmic sing along tracks. "Stay A Little Longer" has amassed over 128 million streams on Spotify.
Chris Kroeze (2 p.m. Saturday) is probably recognizable because of his runner-up finish on 2018's season 15 of "The Voice." The Barron, Wis., native is now a country music recording artist signed by Republic Records.
Morgan Evans (4 p.m. Saturday) is an Australian country music singer and songwriter that burst onto the scene in 2014 with a debut solo EP titled "Morgan Evans". The EP was highlighted by songs like "Day Drunk" and his most listened to song "Kiss Somebody". He is also married to country pop superstar Kelsea Ballerini.
Matt Kearney (6 p.m. Saturday), from Eugene, Ore., is a soft rock singer and songwriter. His debut album, "Nothing Left to Lose," received high praise from critics when it came out in 2006. Now he travels the country putting on shows with music from his six albums.
3 Doors Down (8 p.m. Saturday) is a successful rock band that was formed in Mississippi in 1996. The band got their big break in 2000 when "Kryptonite" reached number 4 on the Billboard Hot 100. After that, the band reached number one with their two songs, "Here Without You" and "It's Not My Time."
Lady Antebellum (10 p.m. Saturday) is one of the greatest bands of modern day country music. The band has won a total of 5 Grammy Awards in 3 different categories, including Record of the Year, Country Performance by a Duo or Group with Vocal, and Country Album of the Year. Listen for the band to perform country hits such as "Bartender," "Need You Now" and "I Run To You."
Who else is performing?
Soldier's Walk Stage: SpaceHeaters, 5 p.m. Thursday; Lyga, 4:30 p.m. Friday, Raizin' Kain, 7:15 p.m. and 9:15 p.m. Friday, Johnny Holm Band, 11:30 p.m. Friday; The Mondays, noon Saturday; Tremendous Musical Del Sur, 2:30 p.m. Saturday; The Two Tracks, 4:30 p.m. Saturday; Corey Wise, 7:15 p.m. and 9:15 p.m. Saturday; Pop Rocks, 11:30 p.m Saturday
Amphitheater Stage: Whitehall Choir, 3 p.m. Friday; Out of the Blue (Gale-Ettrick-Trempealeau), 3:30 p.m. Friday; Cochrane-Fountain City High School choir, 4 p.m. Friday; Arcadia High School jazz ensemble, 5 p.m. Friday; Aquinas Electronic Ensemble, 10:30 a.m. Saturday; Cotter Marching Band, 11 a.m. Saturday; Independence show choir, noon Saturday; Arcadia High School Accidentals, 12:30 p.m. Saturday; Blair-Taylor High School concert choir, 1:30 p.m. Saturday; Cardinal Music Experience (Eleva-Strum), 2 p.m. Saturday; Basement Saints, 2:30 p.m. Saturday; HFCS String Corner, 3 p.m. Saturday
Pavilion Stage: The Memories, 12:30 p.m. Friday; Kari Lynch Band, 2:30 p.m. Friday; Richie Yurkovich & Polkarioty, 10 a.m. Saturday
Family-friendly activities
Air Park and Family Fun Zone: Kid-friendly entertainment takes over a section of the park near entrances 5 and 6. The Air Park and Family Fun Zone is open from 2 to 8 p.m. Friday and 11 a.m. to 8 p.m. Saturday.
20th Century Circus: Traditional circus performers present open-air performance at 3 p.m. Friday and Saturday.
Hot air balloons: There will be two hot air balloon displays at the festival this year. The balloons take off at 6:15 p.m. Friday and 6:15 a.m. and 6:15 p.m. Saturday. Np rides will be available for purchase.
Youth pottery: Let the children get their hands dirty by creating their very own pieces of art. Youth pottery is available on Saturday from 10 a.m. until 5 p.m.
Wait, there's more
Pursuit of a Cure — 5K Run/Walk: The walk/run is a fundraiser for advancing medical research and helping cover medical expenses for patients. Registration costs $30, and day of registration is $35. Registration for the run/walk includes a wristband for entering the festival for all three days.
Art and craft fair: More than 100 arts and crafts booths will line the walkways of the festival on Friday and Saturday. Booths will feature anything from jewelry to woodwork to paintings.
Cruisin' for the Arts Car Show: Antique cars and motorcycles will be on display from 8 a.m. to 12:30 p.m. Saturday.
Stay up-to-date on what's happening
Receive the latest in local entertainment news in your inbox weekly!