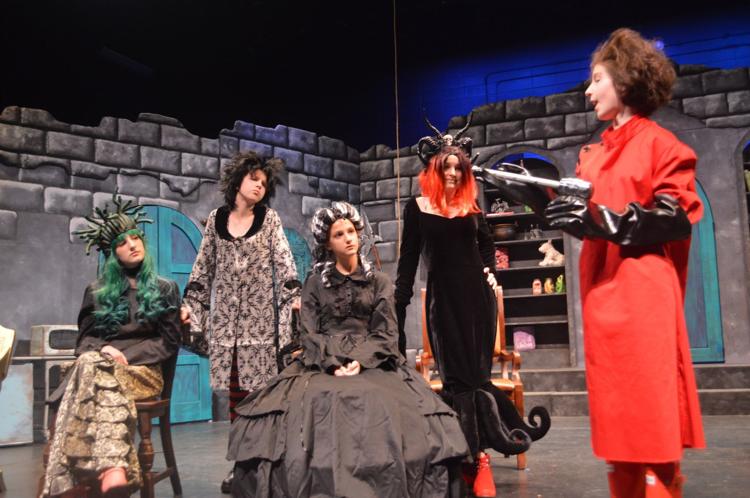 "Dr. Evil and the Basket of Kittens" — the latest Theatre for Youth production by the La Crosse Community Theatre — looks to be a feast for young imaginations.
For starters, the play has echoes of J.K. Rowling's Harry Potter fantasy novels. Dr. Evil, for example, lives in a stone mansion with his mother who is, of course, a vampire. His personal assistant is a hunchback whose mother lives in a nearby broom closet. There's also a niece who is a witch in training.
The play centers around a dinner that Dr. Evil is hosting for the Council of Evil. During the dinner he plans to ask for funding for his latest weapon — a thermal ray that will destroy the world. His plan is thrown into disarray when a basket of kittens arrives on his doorstep.
"It's basically a farce for kids," said Stacy Bruemmer, the director and only person over 18 in the entire production. "You've got lots of puns, doors opening and closing, subterfuge, wild stories being told and at one point Frankenstein makes an appearance."
The play has a large cast and Bruemmer revealed that some of the younger kids showed up for auditions hoping to play the part of the kittens (no real kittens are used in the play).
"With a cast of 20 kids, I don't think they'd survive," Bruemmer said.
Despite that, Bruemmer said that audiences will have plenty to look at during the show. "We've got some crazy getups," she said of the costumes the young actors will be wearing.
Asked what she would tell any patents considering bringing their youngsters to the play, Bruemmer was enthusiastic.
"It's the perfect introduction to the theater. It's not much longer than an hour and 15 minutes and it moves really fast. Your kid will see how theater works and maybe get some great ideas."