Bruce Rogers — guest director for the La Crosse Community Theatre's upcoming production of "A Streetcar Named Desire" — is a big fan of Tennessee Williams' work.
"For me, it's a language treat just to listen to his words," Rogers said. He likens Williams' familiarity with how people actually speak to another great American writer — Mark Twain.
"They both knew the people along the Mississippi," Rogers said. "Williams never stopped writing on these places. He remembered the words that were said and he kept reworking which words went where — he shuffled them like cards."
Rogers says those words are crucial in getting an audience to immerse themselves in a play. "When we hear dialogue it should take us some place," Rogers said.
Since this play takes place in New Orleans — a city Williams knew well — one of Rogers' first orders of business as a director was to establish that the action is taking place in the French Quarter.
Besides the actual dialogue, he wanted to replicate the sights and sounds of a city where there's literally music in the air. According to Dominique Sicard, the actress who plays the part of Stella, Rogers has devised a unique way to stage the action that further accentuates the play's sense of place.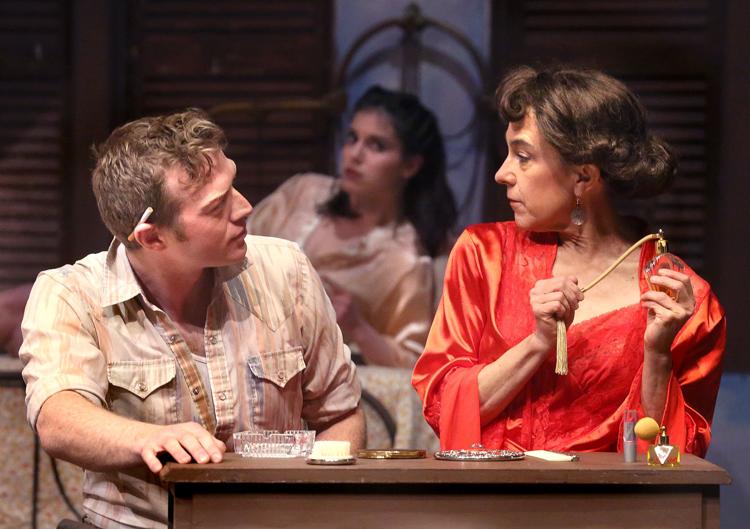 "His vision is to show New Orleans, so during the transitions between scenes we (cast members) pick up random instruments and play them," Sicard said. "That adds flavor and creates a unique, rhythmic sound."
Staging plays in unique ways is something in which Rogers has plenty of experience. Before moving to Alaska, he was active in the local theater community for many years and he is also a charter member of the Heart of La Crosse comedy troupe.
Rogers relocated to Alaska in the early '70s and has been running a Shakespeare program up there for the last 26 years. Although he's worked with many fine actors over the years, Rogers has nothing but praise for the group he's working with.
"The cast is great," Rogers said. "When you do a play like this you need a great cast. And it's not only the four who have 90 percent of the lines —everyone has been totally committed."
Besides Sicard, the other three cast members who have the bulk of the lines in this play are Sara Tedeschi (Blanche), Colin Thelen (Stanley) and Nick Brandt (Mitch).
Much has changed in America since "A Streetcar Named Desire" opened on Broadway in 1947 with Jessica Tandy and Marlon Brando in the starring roles.
Although the play does not end well for any of its main characters, today's #MeToo movement might make Stella's decision to return to a violent husband seem even more heart-wrenching.
"Stella stays, but I think there are still a lot of Stellas out there today," Rogers said.