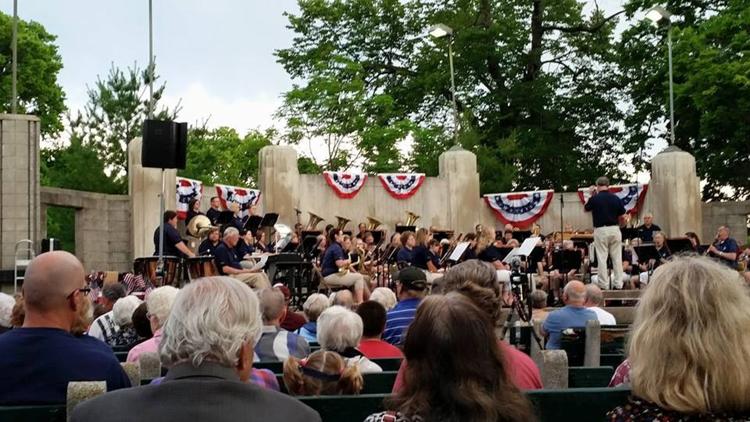 A century-old tradition of music along the Mississippi River continues Wednesday with the kickoff of the La Crosse Concert Band summer series in Riverside Park.
The first of seven weekly concerts, "Made in America," will be performed at 7 p.m., led by conductor Tammy Fisher. A roster of 100 musicians, from teens to octogenarians, will play throughout the season.
The free series, a La Crosse staple since 1917, draws about 1,100 people each week. There's also a children's march, during which young concertgoers are invited to parade down the aisles with a miniature U.S. flag.
Performances will take place on a temporary stage as restoration and repair continues on the Wendell Anderson bandstand, a $1.14 million project being funded by the city of La Crosse. Construction also is underway on the new acoustic band shell, a project spearheaded by the La Crosse Bandshell Consortium, which includes Rotary Lights, Moon Tunes, La Crosse Concert Band, Riverfest, La Crosse Jazz Orchestra and Explore La Crosse. The band shell project is being financed by the consortium and the La Crosse Concert Band Endowment Fund, which dedicated $50,000.
The temporary stage will fit the needs of the band, says longtime musician and newly appointed band president Steve Mann.
"We look at it as a temporary bit of flexibility to have a really excellent bandstand going forward," Mann said. "We're just really excited about the changes and improvements going on in our performance space."
This season, four of the seven featured conductors are female, including Fisher, Kristin Freedlund, who will lead "Childhood Imagination" on June 19; Elissa Kinstler, conducting "Outlander: War, Time Travel and Love" on June 26, and Michelle Jensen, leading "Music of Our Time" July 24.
You have free articles remaining.
Register for more free articles.
Stay logged in to skip the surveys.
Additional performances include "Larger than Life" on July 10, with conductor Mark Lakmann; "Greatest of All Time" on July 17 with Jeffrey Copp; and the season closer "By Land, By Air and By Sea" on July 31, led by Ryan Waldhart.
"Each brings so much experience and talent and creativity," Mann says of the conductors.
Fisher, a Concert Band member of 17 years, has chosen an Americana theme for this week's concert, with selections representative of prairies, flight, factories and military branches, along with Dixieland jazz and the Glenn Miller Medley.
"It's my little spin on finding music that highlights certain historical events in our country," Fisher said.
Free transportation is available to and from the concerts, with shuttles departing at 6:15 p.m. from the former Kmart parking lot, 2415 State Road, and the Valley View Mall Park-n-Ride site. Additional shuttles will leave at 6:45 p.m. from the Shelby Mall parking lot on the city's South Side and the Bridgeview Plaza shopping center on the city's North Side.
Concert attendees are encouraged to bring their own chairs and blankets because the benches next to the bandstand have been removed.
In case of rain, performances will be relocated to Central High School, 1801 Losey Blvd. S. Updates can be found on the band's Facebook page.