It's common at this time of year for people to start stressing out, worrying about meeting everybody's holiday expectations or feeling alone. "The Game's Afoot" playwright Ken Ludwig might well have looked at this general ordinary holiday stress and thought, "Hold my beer."
After seeing the La Crosse Community Theatre's production of "The Game's Afoot," people can look at their holiday stress-fests in a new way, thanks to Ludwig's holiday-themed murder mystery farce. For one thing, at least the guests at their Christmas parties aren't being murdered.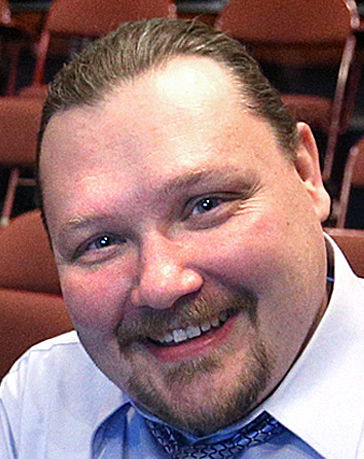 After two seasons away, Greg Parmeter returns to LCT to direct "The Game's Afoot," which he sees as a great choice for a holiday production.
"It gives people an opportunity to laugh at Christmastime," Parmeter said. "And it does give audiences a chance to step away from being totally bombarded by Christmas carols and all that. … It doesn't have to all be the treacly bright Christmas stories that we get. Sometimes it's nice to have a different flavor to it."
Parmeter spent nine seasons as the La Crosse Community Theatre's artistic director before leaving in the summer of 2016 to teach theater at the University of Wisconsin-La Crosse. But he didn't think that was the end of his association with LCT by any means.
"There wasn't much doubt in my mind that I'd eventually come back to direct a show," Parmeter said. "It happened sooner than I actually expected it to."
And it happened with a comedic murder mystery, which struck Parmeter as funny because one of the first shows he directed at LCT was "Something's Afoot," a comedic murder mystery that also was a musical, a satirical take on Agatha Christie's stories.
In "The Game's Afoot," it's 1936 and Broadway star William Gillette (played by Kaleb Morgan), renowned for his portrayal of fictional sleuth Sherlock Holmes, is having fellow cast members over for a weekend of holiday revelry at his Connecticut castle. After one of his guests is killed, Gillette assumes the persona of Holmes and attempts to puzzle out the identity of the killer before he (or she) ruins someone else's Christmas.
It's worth noting that William Gillette really was a Broadway star and he's largely responsible for the American image of Holmes, especially in terms of his stereotypical costume and his catchphrase: "Elementary, my dear Watson."
Parmeter noted that the UW-L theater department actually had been considering putting on "The Game's Afoot."
"It's a fun show. When you're looking for a comedy that's a more contemporary comedy, Ken Ludwig is a good place to start," Parmeter said. "He writes characters that are really good for community theaters and regional theaters. He writes his characters cleanly and clearly enough that a lot of people can be successful playing them."
Ludwig (best known for his Tony Award-winning shows, "Lend Me a Tenor" and "Crazy for You") also is a master at farces, Parmeter said, walking the tightrope and incorporating just enough seriousness to bring out the best in the comedic elements.
Another nice thing about Ludwig's work is he writes strong roles for women, Parmeter said, and more of them. It's illuminating to compare Agatha Christie's play "And Then There Were None" with "The Game's Afoot." Out of 12 roles in Christie's murder mystery, only two were women, while five of the eight characters in "The Game's Afoot" are female, including the detective, Inspector Goring (played by Martha Boehm).
Other cast members include Stacy Bruemmer as Martha Gillette, Dominique Sicard as Daria Chase, Allante Walker as Simon Bright, Lex Violette as Aggie Wheeler, Drew Larson as Felix Geisel, and in her first LCT role playing Madge Geisel, Victoria Ortigiesen, who moved here recently from Los Angeles, where she was working as an actress.
One of the challenges for the cast is tapping into the 1930s style of acting Ludwig's play calls for, a style Parmeter described as a cross between film noir and screwball comedy.
The work of set designer Kit Mayer and costume designer Theresa Smerud makes it a little easier for the actors to get in that frame of mind. "It's got a very elegant and fun look to it," Parmeter said. "People are going to get a taste of that 1930s environment."
The crew for this production also includes technical director Erek Weis, stage manager Nicholas Martin, lighting designer Tim Harris, prop designer Judith Payne and sound designer Olivia Golding.