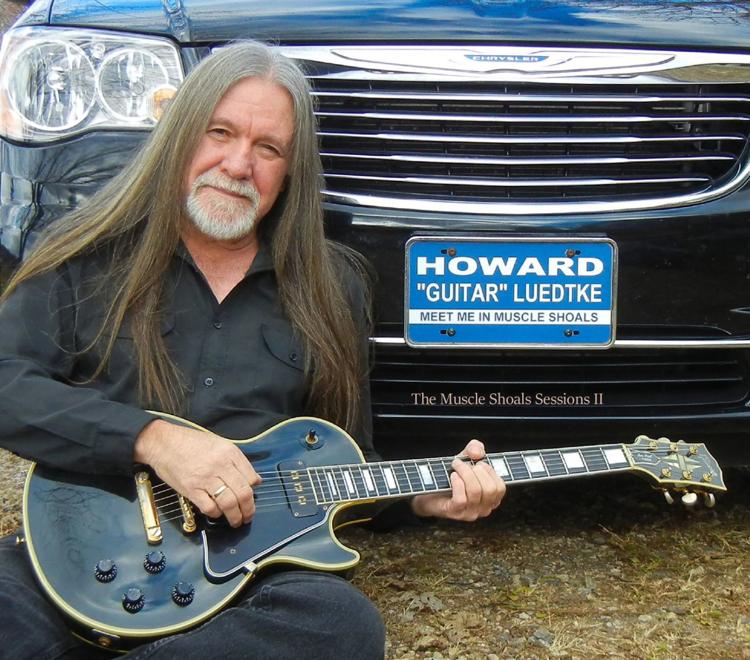 Longtime Wisconsin blues legend Howard "Guitar" Luedtke and his Blue Max band will be the featured performers Friday at The Dive on Ward Avenue that will also double as a CD release party for Luedtke's latest album, "Meet Me in Muscle Shoals."
For more than 40 years, the longhaired Luedtke has been a big part of the Midwest blues scene.
Although his first album came out in 1992, it was only two years ago that he experienced the thrill of recording in the world famous Muscle Shoals studio.
That album — "Goin' Down to Alabama: The Muscle Shoals Sessions" — was produced by famed producer Travis Wammack.
In fact, the album was the culmination of a lifelong search for Wammack. "I was looking for that guy for 50 years!" Luedtke said.
It all began in 1964 when, as a youngster just learning to play the guitar, Luedtke borrowed a 45-rpm single with an instrumental on each side. It was made by a 17-year-old musical prodigy named Travis Wammack. One of the instrumentals — the one titled "Scratchy" — even got to No. 80 on the pop charts.
Luedtke was blown away by the playing. To this day, he claims that Wammack is " the greatest guitar player that ever walked the earth."
Unfortunately, Luedtke lost the record six months after he first heard it.
Decades later, when the Internet came into being, Luedtke's wife, Deb (who is the bass player in Blue Max), looked up "Scratchy" for her husband online. He'd thought the original single was a "one-hit wonder" and was surprised and delighted to learn that Wammack had put out numerous albums.
Even more impressive was Wammack's work as a session musician and producer at Muscle Shoals. "He's sold 60 million records for other people," Luedtke said. At any rate, a correspondence ensued that developed into a close friendship. Wammack eventually invited Luedtke to visit him in Alabama.
You have free articles remaining.
Register for more free articles.
Stay logged in to skip the surveys.
That is where Luedtke learned that Wammack is a truly larger-than-life individual. "He kills 15 deer a year and catches live rattlesnakes with his hands," Luedktke marveled. But Wammack also invited Luedtke to come back to Alabama and record an album with the talented Muscle Shoals session players.
"Going Down to Alabama" was the result, but Luedtke said he had a hunger for a little bit more. "Three (albums) was too many, but one was not enough," is how he puts it. Wammack was enthusiastic about another album and that's how "Meet Me in Muscle Shoals" came out.
An album of blues/rock covers, it was released in February. Luedtke said it was a delight to have eight or nine great musicians helping out on a song since, for the last 30 years or so, he's been used to playing with only one or two other people.
There are definitely some heavy hitters on this latest Muscle Shoals album. Luedtke recalled how saxophonist Brad Guin went from his recording session to another with Delbert McClinton. Percussionist Wayne Chaney is an alumnus of Little Richard's band, as is Wammack. Meanwhile, pianist Jim Whitehead played with Carl Perkins, among others.
Luedtke's said that every time he goes to Muscle Shoals it seems like everyone he meets has had a number one record. "I know that's not true, but that's what it feels like," he said.
The latest record will, of course, be available Friday but Luedtke also looks at the event as a reunion of sorts. One of the special guests is Dave Rogers of Dave's Guitar Shop. He and Luedtke share a July birthday and have been doing joint shows for years on that date. Rogers is not only a friend but also a fan of Luedtke's style.
No slouch on the guitar himself, Rogers is on record describing Luedtke as "probably the most fluid slide guitar player I've ever seen."
He won't be the only slide player in the house on Friday, however. Opening the show will be Joe and Vicki Price. They're also friends of Luedtke and members of the Iowa Blues Hall of Fame. Joe is also a member of the Iowa Rock and Roll Hall of Fame.
"He can really fill a dance floor," Luedtke said.