We have some big news this week on the launching of Country Boom, the music festival planned for mid-July on the former Maple Grove Country Club — but before we get to an event involving national artists, I want to focus on our own music scene. We have a lot to crow about.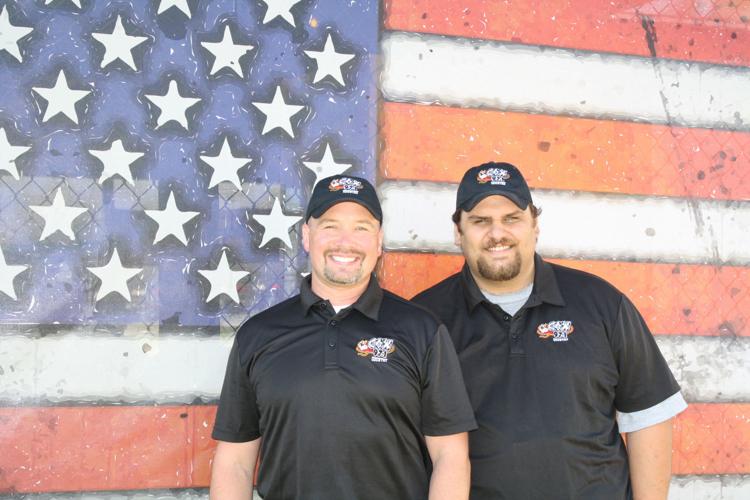 To start with, let's hear it for Ben Butler and Arnie Andrews, hosts of "The Ben and Arnie Morning Show" on Sparta's COW97. For the second year in a row, these guys have been nominated for the Academy of Country Music's Radio Personality of the Year Award in the small-market division.
Ben and Arnie are Wisconsin's only nominees in the ACM broadcast categories, and I certainly am pulling for them to take home some hardware from this year's 53rd Academy of Country Music Awards, set for April 15 in Las Vegas. They won't get to be on the prime-time telecast of the awards show, but they'll find out if they are big winners the day before at a reception in Las Vegas.
But before we get to Country Boom, let's give some love to some area musical acts nominated for honors closer to home. Word got to me this week about nominees for the Wisconsin Area Music Industry's 38th annual WAMI Awards Show, which will be held the same day as the ACM event at the Fox Cities Performing Arts Center in Appleton. It's not Las Vegas, but Appleton has the Mile of Music festival, so there's that.
The WAMI Awards haven't taken much notice of the La Crosse area music scene in the past — last year, Gary's Ridgeland Dutchmen was the only area nominee, and the band landed another nomination this year in the polka category. But this year the Dutchmen have company, and if all the nominees from the area were to carpool to Appleton for the awards show, they'd need a party bus, as area artists won nods in six categories.
In the country category, The Yellow-Bellied Sapsuckers, a duo from Soldiers Grove that specializes in "a brand-new take on old-time country," was nominated for best band. The news about the WAMI nomination reached Sapsuckers Joe Hart and Nikki Grossman this week as they are gearing up for a couple major milestones.
On St. Patrick's Day, the duo has a showcase gig in Austin, Texas, at the South by Southwest music festival. That's a pretty big deal, and a week after that they release their third album, "Don't Think About Tomorrow Tonight," and celebrate that with an intimate show at the Pump House Regional Arts Center in La Crosse.
This album is a very big deal for the Sapsuckers, a labor of love that was co-produced by John Wood, a British recording industry legend who has helped some other folks you might have heard of record their albums, like Pink Floyd, Cat Stevens, Nick Drake, and Richard and Linda Thompson (and Fairport Convention before that).
The WAMI nod was a big surprise to Hart and Grossman, and it was just as big a surprise to the guys in The Homeland Conspiracy when they found out this week they'd been nominated for best band in the hard rock category. The amazing thing is, the band — Scott Seago, J.R. Hricinak, Jimbot Shea, Ben Rice and Jim Heiderscheit — was nominated before the release of the fantastic new THC album, "Who's Behind the Eye?"
The Homeland Conspiracy's album was just released last Saturday, and the band capped a great night of hard rock at The Brickhouse on a snowy evening with an incendiary set that featured the full album and some new songs.
I was thrilled to see a nomination for best band in the tribute artist category for Slow No Wake, a brand-new La Crosse based "yacht rock" band that recently launched with a fantastic debut concert at The Brickhouse. The band, which includes Nick Lanzel, Ryan Torgerson, Jimmy Lachman, Kyle Renfro, Lisa Freedlund, Devin Freedlund, Jesse Gomez and Matt Becker, return to The Brickhouse on May 4, so save that date if you love songs by Hall and Oates, Boz Scaggs, Gerry Rafferty, Steely Dan, Doobie Brothers and other 1970s FM pop-rock radio stalwarts.
In the world/reggae/ska/Latin category, La Crosse's own TUGG is nominated for best band, and the only surprise to me is that it doesn't win it every year. The band — Joe Gantzer, Ben Rohde, Andy Hughes and Jake McLees — plays a special Earth Day show on April 20 at Leo and Leona's Tavern and Dancehall.
Register for more free articles.
Stay logged in to skip the surveys.
WAMI Song of the Year Award nominees include "Ghost in the Garden" by Anima, a unique and mesmerizing musical duo started by two young women from Viroqua — Jaia Wilbour and Raina Gravatt. They are on hiatus this year, although they will perform at the Bonfire Music Festival in June.
And finally, I am going to claim Old Soul Society as our own as bandleader Derek Ramnarace, though he might live in Baraboo now, has been a regular figure on the La Crosse music scene for a long time, with the gone-but-not-forgotten Hooch and with the Soapbox Project.
Online voting for the WAMI People's Choice Awards continues through the weekend at wamimusic.com. Congratulations to all the nominees. Here's hoping this is just the start of a new era of increased recognition for the La Crosse area music scene.
It certainly will help the area music scene's profile when it can boast of a major summer country music festival every year. Since August when Country Boom organizer Jon Holthaus came to the La Crosse County Board for permits to hold the festival on the former Maple Grove Country Club property just southwest of West Salem, country music fans have been abuzz and patiently awaiting news about headliners and ticket sales.
The waiting is nearly over.
I talked with Holthaus this week and he said the festival website — countryboom.com — will go live the morning of Monday, March 12. That morning people can finally find out about most of the headliners — no Blake Sheltons, but there are some prominent artists — as well as buy tickets and reserve one of the 1,300 available camping sites.
There will be some advantages to buying tickets early. People who buy one of the 4,000 VIP passes will be guaranteed first shot at VIP passes for future Country Boom events, when Holthaus hopes to draw superstars like Shelton, Garth Brooks and Luke Bryan. (Hey, a guy can dream, right?)
In addition, the first 3,000 general admission passes will be sold at a discount. No telling how long those early bird discounts will last once the word gets out. Look for a story in that Monday's Tribune with more details.
And finally, in a brief return to the awards theme, congratulations to all the winners in Explore La Crosse's 2018 Best of La Crosse County Awards. Results were announced Thursday, and I was floored to find out that I had been voted the winner in the best writer/author category. I sincerely thank all those who cast votes my way. I can't imagine I'll be in the running next year if I keep writing long columns like this, but you gotta do what you gotta do, right?
_____________________________________
Random Entertainment Picks
Check out these entertainment options in the coming week.