Some Onalaska High School choir members now have a holiday memory they won't soon forget, and it wasn't something they found under the Christmas tree. It came under the spotlight at last week's Kenny Rogers show at the La Crosse Center.
During the holiday portion of Rogers' concert last Friday night, 32 OHS singers decked out in yellow robes took the stage with OHS choral director Richard Moses to sing four songs with Rogers, who is winding down his 60-year career in music with one last tour. Moses led the singers, about half of his OHS concert choir, in singing "Go Tell It on the Mountain," "Oh Holy Night," "The Light" and a song for all seasons, "We Are the World," a tune originally recorded with an all-star cast at Rogers's Los Angeles recording studio.
Moses was asked a couple months ago if he and his singers could help out Rogers, and they had been preparing ever since, with twice-a-week 40-minute rehearsals. With all that preparation, Moses figured the kids could have sung even without him conducting, but he enjoyed the experience of being on stage with them in front of more than 3,000 people, and he said the kids did, too.
"It was a pretty extravagant production," Moses said. "He was trying to create this whole Christmas at church feel."
Moses and the OHS singers got a chance to hobnob a little with Rogers, who is recovering from knee replacement surgery so he moved like he was 100 years old instead of 78. "It was cool. It was neat to meet him," he said. "He was very, very nice, very complimentary."
The audience also was very complimentary, giving the choir a standing ovation when they were done.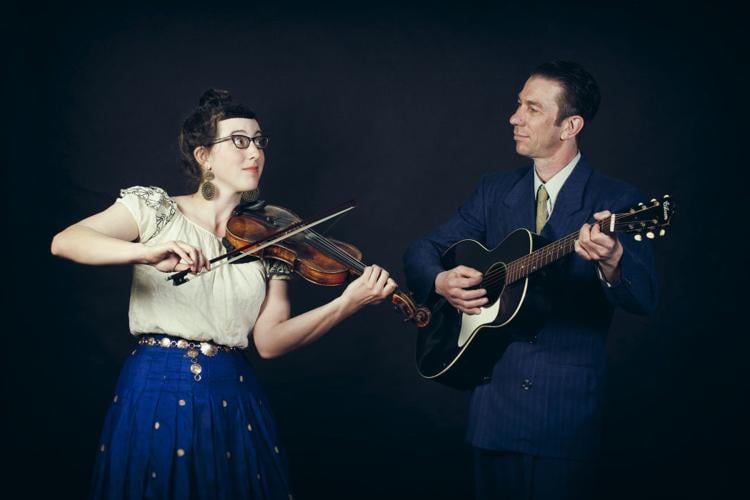 Soaring Sapsuckers
The Yellow-Bellied Sapsuckers are gearing up for their next record, a follow up to 2015's fantastic "Ocooch Mountain Music," and the duo plans to work with a man who looms pretty large in the history of recording.
He might not be a household name like Kenny Rogers, but John Wood helped develop modern sound recording techniques and worked as a recording engineer or producer for bands including Pink Floyd, Squeeze, Loudon Wainwright III, the Incredible String Band, Nick Drake, Nico, Fairport Convention (and post Convention work by band members Sandy Denny and Richard and Linda Thompson). Neil Innes, a pal of the Monty Python troupe who was a member of the Rutles band (a Beatles parody), even did a documentary spotlighting Wood's groundbreaking work called "The Parts You Don't Hear: The Untold Story of Sound Techniques."
Wood lives and works in Scotland these days, but thanks to modern technology, The Sapsuckers (Joe Hart and Nikki Grossman) won't have to go to Scotland to get the chance to have Wood put his imprint on their work. A couple weeks ago, they made some rough recordings at a studio at Driftless Books and Music in Viroqua operated by Wisconsin Roots Music Co-op, a collaboration of area musicians banding together to work on marketing and other aspects of the music business.
Hart said they'll send basic recordings of 15 or so songs to Wood, "mainly so John can hear them and give us direction for arrangements on the songs and help shape the album as an album, if that makes sense," he said. "I know in this Spotify world that's a bit of an anomaly, but I think there are people out there who still love the album format, and we are going to press vinyl for sure, and that's a big part of the vinyl experience."
After getting input on the demos from Wood, Hart and Grossman plan to record in the Twin Cities with producer and friend Tom Herbers and a small platoon of other fantastic musicians. "It's so fun to have so many awesome people on board," Hart said.
They'll send those tracks to Wood for mixing. "We're really going for a balance between a true, authentic, live sound, like our last album, and a more polished studio approach," he said.
On top of upping their game on the recording end, Hart and Grossman also are working on securing management and a label to release their work on. "We have come a long way on our own, and it's time to expand our team," Hart said.
Todd of Zorn
Have you seen the new "Son of Zorn" TV show, which airs Sunday nights on Fox and stars Jason Sudeikis as a He-Man-like cartoon character trying to adjust to life in suburban Orange County, Calif.? If so, you might have seen a familiar face – Onalaska High School graduate Mark Proksch.
Proksch was a huge prankster and cut-up when he was going to OHS, and an epic prank he pulled back in 2010 posing as yo-yo artist and environmental champion Kenny "K-Strass" Strasser launched him into an acting career.
Six years ago, I did a story about Proksch as his second appearance in an episode of "The Office" was about to air. Not being much of a TV watcher, I kind of fell down on the job in following his career since then, and it didn't help that Proksch is a humble, unassuming guy who isn't really into tooting his own horn.
It turns out he went on to do 19 episodes of "The Office" and has been busy over the past six years, playing 27 other roles, according to his online profile at IMDb.com. He's had roles in several movies and a bunch of TV shows, including "Modern Family," "New Girl," "Bob's Burgers," "Portlandia," "Dream Corp LLC," "Decker" and three episodes of "Better Call Saul" as Daniel "Pryce" Wormald, a role for which he was being mentioned as a potential Emmy Award nominee.
On "Son of Zorn," Proksch plays Todd, a co-worker of Zorn at Sanitation Solutions, where they both work as salesmen. He's been in at least six of the episodes so far. I've only seen two of his episodes so far, but I tell you what, I'm going to watch some more and talk to Proksch and come back in the near future with a story about our Hollywood hero. How about that?