At 38, Corey Anderson jokes, he might soon be entering his Brett Favre retirement years. Anderson is a top-flight professional dancer out in L.A., and it's a demanding, physical occupation that could wear a guy out. Personally, I don't think retirement is imminent for him, judging by the fine shape he's kept himself in. But if he did retire – and unretire and retire again – then at least he's been in the Super Bowl. Literally and figuratively.
The Onalaska native danced in Katy Perry's halftime show at the 2015 Super Bowl – no he wasn't "left shark" – and his latest movie dance work is in "La La Land," which could turn out to be the movie equivalent of a Super Bowl champ. The movie musical starring Emma Stone and Ryan Gosling is getting a lot of buzz as an Oscar contender.
"La La Land" is chock full of big musical production numbers and Anderson figures he's one of 75 to 100 dancers hired for the movie. He's in a scene that has Stone attending a poolside Hollywood party, and his character is an agent at the party.
The gig involved two days of rehearsals and then two nights of filming, pretty much going from dusk to dawn, which was tough for Anderson. He's never been much for pulling all-nighters, but he sucked it up and took one for the team.
Anderson was drafted for the "La La Land" team by choreographer Mandy Moore, a longtime friend who did the climactic dance scene in "Silver Linings Playbook" and choreographed for the TV show "So You Think You Can Dance," among other career highlights.
A lot of the dance work Anderson gets in TV shows doesn't come close to maxing out his skills, but "La La Land" made it interesting for him. "It was real creative, quirky choreography," he said. "It was fun, but it wasn't easy to learn."
Anderson still hasn't seen the movie, but he has heard a lot of good things, even overhearing middle-aged guys outside his gym gushing about it. "The cool thing about it is it's completely original," he said. "We're living in a time when so many box office movies are re-creations or sequels or something."
On the other hand, that trend of moviemakers jumping on a trend could be good for the dance community if "La La Land" spurs more movie musicals.
The funny thing is, part of the reason Anderson hasn't seen "La La Land" is he doesn't really like musicals. To him, it's just odd for people to be doing everyday things and singing all the time. I have the same issue, actually, but I'll probably see "La La Land," and just not to see Anderson. It just seems like it would be a pleasant diversion, even if people do get out of their cars and dance like mad during a traffic jam. I just wish the rollout wasn't so slow. I'm not sure when it'll open here, but it won't be this weekend.
Anderson never knows how much screen time he'll get on a TV, music video or movie job after the editing is all done, and he's realistic about the role of dancers in such projects. "We're background, and we fill in the colors of this whole huge painting," he said.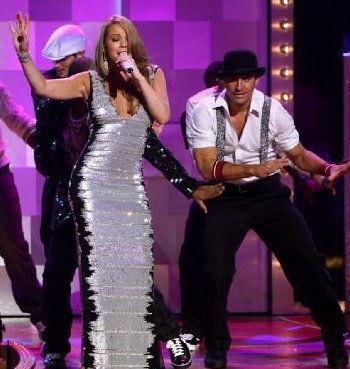 The early years of Anderson's career involved a lot of work as a backup dancer for live performers, and that was actually a lot more fun than working in TV and movies. For filmed roles, he said, it's like rehearsing, even when the cameras are on, but in front of a live audience the energy buzz is "off the charts."
Anderson added, however, he has thoroughly enjoyed his work on Rachel Bloom's CW show, "Crazy Ex-Girlfriend." He was on an episode a couple months ago – which I wrote about in a previous column – and he was in the big opening production number in the first episode.
"That was a really fun gig," he said. "Rachel is so impressive. It's so cool to see someone who is so hands on with every aspect of the show. That show was her baby."
Anderson's wife, Tyne Stecklein, also performed as a dancer on the first episode of "Crazy Ex-Girlfriend" (she's the blonde in the hilarious "Sexy Getting Ready Song"), but lately she's been turning down plum dancing jobs (in Cher's stage show, for instance) to keep herself open for acting gigs. She's been agonizingly close to landing leading roles in a few big movies lately, and she recently has had roles on two TV shows that revisit beloved series, the "Gilmore Girls: A Year in the Life" and "Fuller House."
Stecklein, who had played a huge part in a recent Luke Bryan music video, seems to be on the verge of breaking out big in acting. "She's right there. She's been so close on so many different films," Anderson said. "She's trying to find her way in. She loves it. You have to love it because it's a business and it is work as much as it is fun."
The last time I talked with Anderson was fall 2010, when both he and Stecklein were about to hit the big screen in "Burlesque" with Cher and Christina Aguilera, he as a dancer and she in a major, name-in-the-opening-credits role, playing a dancer. Anderson has done a lot of cool stuff since then, but he has been hesitant to toot his own horn on social media so the hometown fans back in Onalaska might not always hear about his exploits.
Next up for Anderson – to bring us back to the football analogy – is choreographing the halftime show for the Alamo Bowl, a gig that combines two big loves: dance and sports.