If music were fattening, I'd have been wearing sweatpants to work this week after last weekend's Mid West Music Fest smorgasbord. I approached it this year like I was at a buffet restaurant, trying a little bit of everything I could get on my plate, not wanting to miss out on anything good.
The festival was no ordinary buffet. Sure, there was a lot of comfort-food — about half the acts were good local acts that you can hear regularly and others who are regular visitors — but there were some bands that if they were in a buffet, I'd have had to look at the sign on the sneeze guard to know what I was digging into.
Friday I caught 14 acts, including a few songs at the Popcorn Tavern from one non-MWMF band, Bojo's Mojo, a rockin' jam band that I look forward to seeing again. Nine of the acts I saw Friday were new to me, and I have to say the biggest revelation was the last show of the night — Heatbox at the Cavalier Theater.
Through a combination of looping devices, effects pedals, a ukulele and his voice, Heatbox builds up amazing soulful, jazzy, funky songs that reminded me at times a little of Jason Mraz. His promo pictures make him look kind of scary, but onstage he has the warm and goofy charisma Mraz has, and he was a master at connecting with the audience and getting its participation.
Normally a one-man band, Heatbox was joined by one guy playing an instrument I've never seen before (like a space-age clarinet) and, get this, Reed Grimm on drums. Reed Grimm! FYI, Reed is almost as good at playing mouth trombone as Heatbox.
Other highlights for me on Friday included Trapper Schoepp (as I expected); Al Scorch, a banjo player who performed old timey songs with punk intensity, backed by a standup bass and drums; Feed the Dog, which put on a great show even being down one of its four players; Jon Stickley, a great, blazingly fast acoustic guitarist who joined Feed the Dog for a few songs; and Mike Munson, a Winona guitarist/singer who dazzled me with his raunchy blues licks on Friday, and blew me away the next day with slick old-style jazz riffing with his Old Fashioneds duo. This guy can play!
Saturday, I had full intent to at least equal the number of bands I'd seen Friday, and that seemed doable with the earlier start time, even if I took the time to catch full sets from a couple local favorites of mine, Brahman Shaman and Eddie Allen.
I ended up calling it a night after nine bands, though, after back-to-back shows by Tenement and Midnight Reruns. This was my first Tenement show, and I'm told it was atypical, in that it lasted 45 minutes instead of just 15. I can see why that band's shows would normally be short. I seemed like each song was an energy-sapping eruption.
Between songs, guitarist/singer Amos Pitsch usually retreated to a spot in front of his beat-up, eight-speaker guitar rig for a short breather, basking in the feedback before lunging into another song, the whole band in unison, without any apparent sign shared between the trio to trigger it. It was like a fuse was lit, and they exploded into each song, with Pitsch moving with the lethal confidence of a bullfighter.
Mesmerizing and propulsive.
The soundman at the Cavalier said he didn't even run the guitar amps through the sound board because they were loud enough to fill the theater on their own. And I was standing right in front of the stage
Half an hour after Pitsch took off his guitar and dropped it on the stage to end the Tenement set, Midnight Reruns erupted into song at the Root Note, and again, I had to stand right next to the stage (sightlines are an issue for someone of my stature). Midnight Reruns performs with all the punk intensity of Tenement, but the band's songs have singalong hooks, melodic complexity and dueling lead guitars that make my heart race.
It was a fun, sweaty set.
After they were done playing, I noticed that the audio signals entering my ears sounded distorted, in the way an evil robot talks. The ear protection I wore apparently was not enough to protect me in the blast zone, so rather than go see another four or five bands Saturday night, I played it safe and gave my ears a good rest. Despite the scare, it was well worth it.
My hearing has returned to normal, I think, and I'm already looking forward to next year's Mid West Music Fest here. And the thing is, I don't even have to wait a year. Next weekend Winona's Mid West Music Fest is happening, and that's even bigger than La Crosse's. Hmmm …
Dessert
After resting my ears Sunday, I dove right back into live music Monday evening, but it was pretty easy on the ears and great for the heart.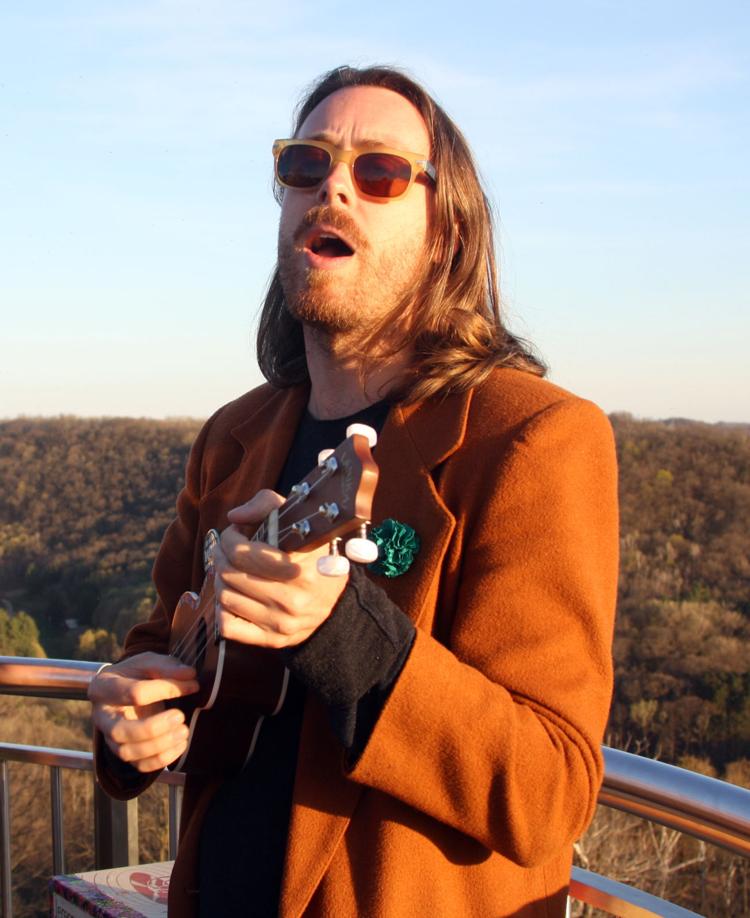 Messersmith's wife, Vanessa, is from La Crosse, but he had apparently never been atop Granddad Bluff, and he was awed by the view. A couple dozen people gathered around as Messersmith played all 10 of the songs from his latest recording project, "11 Obscenely Optimistic Songs for Ukulele: A Micro-Folk Record for the 21st Century and Beyond," accompanying himself on a tiny soprano uke.
He amiably admitted that was a long title for such a short record, which includes cheerful, singalong gems such as "Everything is Magical," "Love Sweet Love," "We Can Make Our Dreams Come True" and, my favorite, "Everybody Gets a Kitten," a utopian tune about how great the future could be.
(What? A guy can't like ear-shattering rock 'n' roll and gentle kitty ditties?)
Given the nature of the tour and the songs on the record, it seems like just the kind of whimsical thing Messersmith would do to call the record "11 Songs" and only include 10. He actually played an 11th song that didn't exactly fit with the cheery lyrical bent of the others. Judging from the chorus, I'm thinking the title is "Punch a Nazi in the Face."
It was such a pleasant time up there on the bluff with Messersmith and the other music lovers, and the really cool thing about it is he had nothing to sell — no CDs, T-shirts, tote bags, etc. People can go to his website and play the album free as well as download a songbook with ukulele chords and lyrics. His hope is that people will learn the songs ahead of his shows as the tour proceeds and sing along (and play ukes, too).
What a great dose of sweetness. Thanks, Jeremy Messersmith.
Guitar ace
Richard Smith should really come up with a flashier name, something befitting his fretboard prowess, like Stringy McPickingwizard, for example.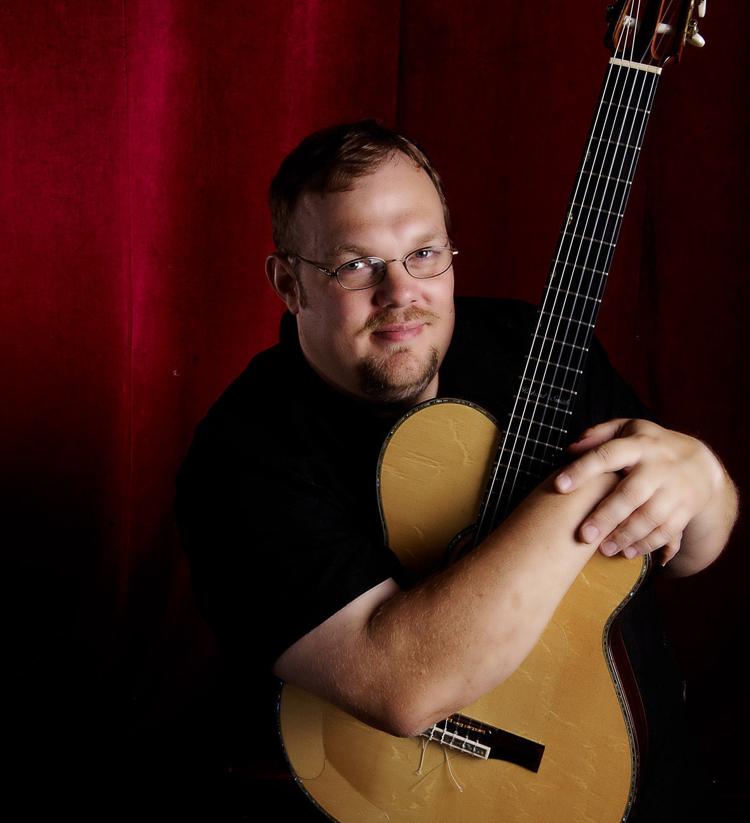 Smith, a Brit who now lives in Nashville, was named the National Fingerstyle Guitar Champion in 2001, among numerous other awards, and he was inducted into the National Thumbpickers Hall of Fame in 2009.
The late Chet Atkins, a guitar player of the highest order, had this to say about Smith: "The most amazing guy I know on the guitar. He can play anything I know, only better."
Smith was inspired by the fingerstyle playing of Atkins and Jerry Reed, and his performances cover a wide range of styles, including classical, jazz, bluegrass, ragtime, blues, Sousa marches and the gypsy jazz of Django Reinhardt.
You don't have to go to Nashville to see Smith. He's coming to Leo & Leona's Tavern and Dancehall in rural Bangor on Friday, April 28.