About a year and a half ago, Irene decided she was through performing. For years and years, she was one of the rare local singers who could support herself on music, traveling extensively as a solo artist as well as playing in full-band settings — most recently with Skeleton Crew and way back when with The Wails and Migrant Workers Bound for France. Want someone to stand in for Janis Joplin or Grace Slick at the annual Moon Tunes Woodstock show? Irene's your first call.
Irene had been serious about hanging it up, but then she started having bar patrons at My Place bring in vinyl records on Monday nights. The magic of playing those records gave her the fever, and the only cure was to break out the guitar and start playing again. She couldn't say no to a request to perform at a benefit, and the next thing you know she was ready to dive back in.
Last Friday night, Irene played her first local bar gig in a year and a half, laying it down at a packed Boot Hill Pub. She was in fine voice and high spirits, cracking jokes and telling stories, demonstrating that the unparalleled range and power of her voice was undiminished by the break she took.
The first time I saw Irene sing was many years ago at the Elvis Explosion, where she was one of the competitors. She got up on stage in a jumpsuit and belted out a latter-day-Elvis power ballad that combines "Dixie" and "The Battle Hymn of the Republic," which she also sang Friday at Boot Hill Pub. Not your typical tavern tune, but there's not much about Irene that is typical.
It was pretty apparent she was just a little rusty with some lyrics, but to her credit, she was walking that tightrope without a net — no binder on a music stand in sight, a musical landscape painted from memory. She blew me away when I requested "She Talks to Angels" by the Black Crowes and she did it, extended guitar intro and all, soaked with emotion.
She even tried a song she apparently had never done before, Cher's "If I Could Turn Back Time," belting out the chorus a few times between songs, and then coming back after a break to change a guitar string and singing the whole thing.
She had two guitars with her Friday and she broke a string in each one before she was an hour into her evening. Kind of a rough night, but nothing like the night she'd had just three nights before, when a guy walked into My Place brandishing a shotgun and demanding money.
That was Irene's response, and I can just hear her saying it. She opened the till for him, but only after he came around the bar and put the barrel of the gun right in her face.
The 34-year-old Holmen man was arrested later that night in Vernon County, after eluding La Crosse officers in a high-speed chase. We have laws that make it more of a crime to do things close to schools, and I'm thinking this guy should face extra punishment for endangering one of our best local musical treasures.
Welcome back, Irene. You were missed.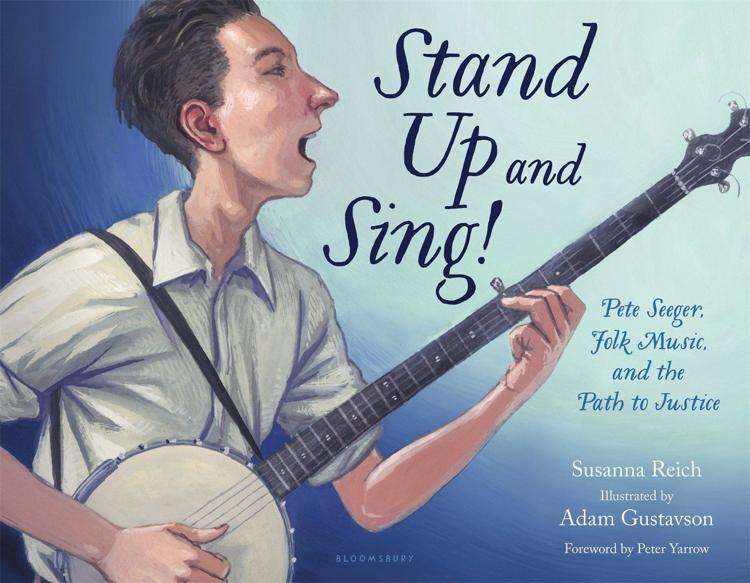 For Pete's sake
For most of my life, I didn't share my birthday with any celebrities of the highest order. There was Ann B. Davis, who played Alice the maid on "The Brady Bunch" and Michael Palin of "Monty Python's Flying Circus," but that was about it. Now I have Adele, though, so that's pretty cool.
I do share my birthday week with Pete Seeger, the folk music icon, who died in 2014. He would have been 98 years old on Wednesday, kind of amazing considering he was every bit as fearless as Irene Keenan Jr.
I was looking this week at a recently published children's book by Susanna Reich — "Stand Up and Sing!: Pete Seeger, Folk Music and the Path to Justice" — and it highlighted one incident that demonstrated his courage. Seeger, Woody Guthrie and renowned African-American singer Paul Robeson gave a concert together in Peekskill, New York. After the concert, Seeger and his family were leaving in their car when a group of men, incensed that white and black performers had shared the same stage, began hurling rocks at his car, busting out all the windows.
Seeger took two rocks he found from the assault inside his car and cemented them to his fireplace as a reminder of how important it is to stand up for what he believed in.
The rock incident happened not long before he formed The Weavers, which had a No. 1 hit with "Goodnight, Irene" — hey, how about that? — and they were a big-time success until they ran head-on into the Red Scare. Seeger stood his ground, refusing to testify before the House Un-American Activities Committee, derailing his career in terms of commercial success for many years.
The book also notes that soon after his run-in with HUAC, Seeger introduced Martin Luther King to a favorite spiritual of his, "We Shall Overcome," which, of course, went on to become the theme song of the civil rights movement.
The book has great illustrations by Adam Gustavson, who also has illustrated a similar book on the life of Robbie Robertson that I'd love to see as well as another of Reich's books, this one about The Beatles.
When my wife was 8, she actually got to see Seeger perform at UW-La Crosse, and though her memory is fuzzy, she's pretty sure she got to hang out with him at her godfather's house along the Mississippi River on Shore Acres. She definitely listened to a lot of Pete Seeger records growing up, and his music was part of the soundtrack of our daughters' early childhoods along with Raffi, Hans Mayer, Barney and Southern Culture on the Skids (they loved "Liquored Up and Lacquered Down").
So happy birthday, Mr. Seeger, and best wishes to my other musical friends who have birthdays this week and next, including Henry Hanson, Trapper Schoepp, Eric Chant, Dave Schippers, Joe Beck, Terry Nirva, Benjamin Rice, Cory Groves, Dave Orr, Duane Hessler, Rebecca Marx, Zac Barbieur, Drew Dockry, Paul Gulsvig, Puck, Jillian Rae, Brett Kawaguchi, Ryan Bott and Stacy Hanson.