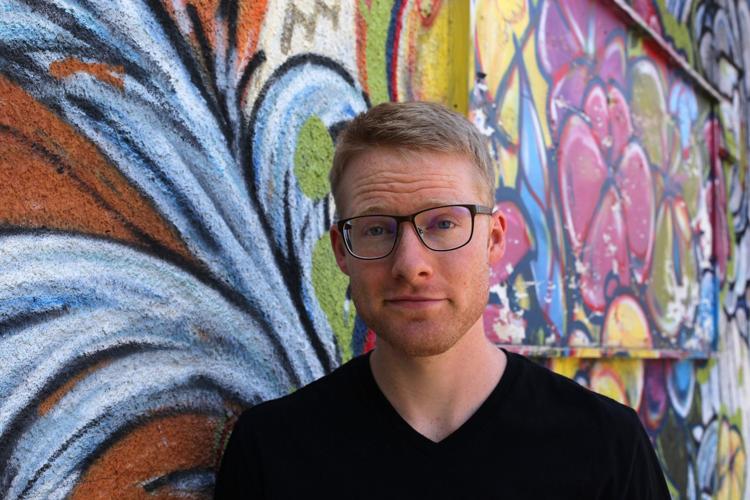 Six or seven years ago, I went to JavaVino with my wife and some friends. It wasn't long before I was riveted by a young piano-playing singer. I soon strolled over to put "bread in his jar" and learned this piano man was Dan Collins.
Over in the corner, he didn't seem that concerned that people were talking away while he cranked out perfect pop/rock gems. He knew he was there as background music, a diversion when conversations lagged, but I wanted so badly to stand up and say, "Listen up, people, there's an artist at work here."
That's essentially my message with today's column, too.
As much as I loved what Collins was doing that night, I never did get out again to see him play before he was gone. A native of the Madison area, Collins was here to get an education at the University of Wisconsin-La Crosse, majoring in jazz piano with a Spanish minor. After graduation, he was gone, off to work on his music career in Milwaukee and Chicago.
I always hoped to see Collins playing around town again, and then last month I learned there was a new album by Dan Collins and a Piano, as he dubs his solo work. I don't know why I never thought to look up his recorded work before. One recent evening, my wife and I were having a nice evening on the deck with our music-loving neighbors and I put on his new album, "Every Move Is Like a Breakup."
If Collins had actually been on the deck performing, he would have needed an extra big tip jar. We all loved it, comparing it favorably to our favorite piano-rocker from our younger days, Jackson Browne.
I caught up with Collins on the phone this week, and he laughed when I told him he reminded us of Browne. Collins, who started playing piano at age 6, somehow missed out on discovering Jackson Browne until about 1½ years ago. At 13, Collins discovered Ben Folds, who looms larges among influences that also include Gabe Dixon, The Fray, Coldplay and Jack's Mannequin.
"I'm like, 'All the players I loved have been channeling Jackson Browne,'" Collins said. "He's such a foundational player in the piano rock scene. I can't believe I missed him in my formative years."
You have free articles remaining.
Over the decade since he graduated from high school, Collins has cranked out a lot of music, releasing at least 10 collections of his songs. "I think I kind of have an obsession with bookmarking little musical periods of my life," he said.
"Every Move Is Like a Breakup" chronicles a period when Collins was preparing to make his move from Chicago back to the Madison area, leaving behind his band, Nonpronto. He also had experienced the unexpected loss of his father, becoming more acutely aware of how quickly life can go by.
"This album has tapped into a little bit more of a melancholic part of me. The passage of time can be a really sad thing for me, just in general," Collins said, noting that the album also represents a new approach to songwriting. "It used to be that I would just write the lyrics to complement the music, but it's very much an equal partnership with this album. … These songs are easily the most thoughtful songs I've ever written. I just write a lot more intentionally."
For now, listening to his recordings is the only way to hear his songs. Collins isn't doing live performances these days. Over time, he got frustrated with how much work went into playing. All the work that went into rehearsing, booking, publicizing, hauling gear and getting the band set up started to not feel worth the temporary high of sharing the music live. He zoomed out, as he puts, and found that it wasn't worth it anymore.
"Some of that stuff's fun, but most of it's really not fun," he said. "I just like the creative process more than anything. To me, executing an idea, that's the juice."
Collins admitted he hasn't done much to get the word out about "Every Move Is Like a Breakup," explaining that the people he really wanted to hear it have already heard it. People who haven't heard it can listen for free through a number of options on his website, www.dancollinsandapiano.com.
I admire his drive to create something beautiful without any thought of payback. Well, he has been giving some thought to it, actually, but it's not involving selling albums or songs to listeners. He's been working at making his songs available for use in TV shows and movies.
He's already had a song used in an infomercial and has been getting royalty checks for that, and if he could get a song used in a big-screen bonanza, he'd be good to go.
"If you land a big enough gig, you can feed your kids' kids," he said with a laugh.