I know we're into a new year and all, but 2017 ended on such a great note I just want to bask in it a bit more. The last work thing I did on the last working day of the year was have a chat with Chad Staehly, probably the most exciting interview I had all year, for all kinds of reasons.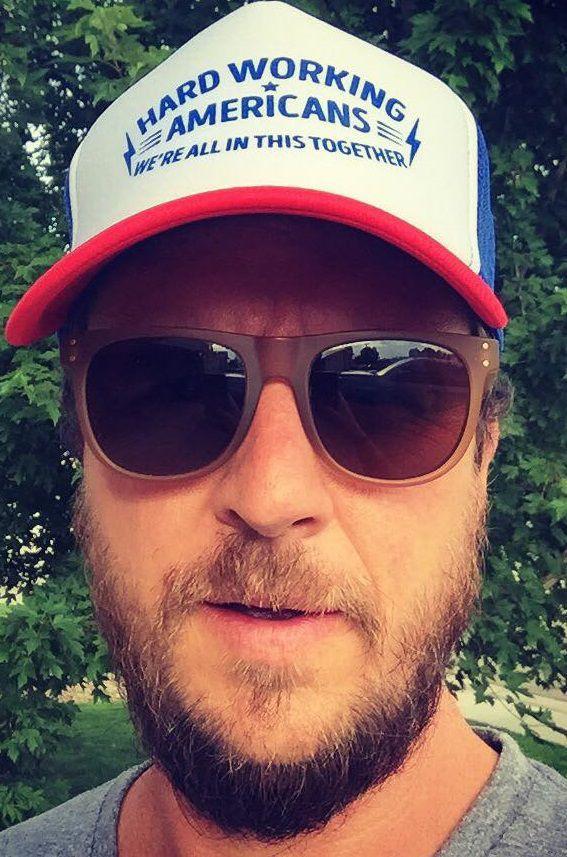 I'd had a phone call with Chad early in the year for a story I was working on about Band of Heathens, a band he manages, and Great American Taxi, a band for which he plays keyboards (and also manages). In that call, he mentioned that he and his wife, Michelle, were moving to La Crosse with their two young boys, and we decided we would meet up once he moved to town.
The Staehlys moved into their new home just in time for Christmas, and last Friday I met Chad at The Root Note to catch up on things, and talking to him made me so excited about having such a cool guy being part of our La Crosse area music community.
One thing you should know about Chad is he was a dedicated Deadhead in his youth. He grew up in Green Bay, at age 13 he discovered the Grateful Dead, a band that at least half of the students at the small private high school he attended seemed to follow. He went to his first Grateful Dead show at age 17.
"We snuck away in my mom's van. I forget where we said we were going, but we snuck off to Chicago," he said, recalling that he was impressed with the kind of gypsy counterculture vibe he encountered at the Grateful Dead show, the first of 50 he saw between 1991 and 1995. "The sense of freedom that existed around the band really grabbed me and my whole group of friends. We were immediately on the bus, so to speak."
Twenty-five years ago, Chad moved to Fort Collins, Colo., to attend college and was immediately sucked into the city's thriving music scene. At first, he was intent on being a rhythm guitar player, but he also had skills on the keys. "I quickly figured out there were millions of guitar players and not that many keyboard players, so I quickly went back to keyboard," he said.
That kind of level-headed approach to things has served him well. He has been playing with Great American Taxi for about 13 years, a band he formed with Vince Herman of Leftover Salmon. When it started to look like Great American Taxi might not be a full-time, sustaining occupation, he started thinking about his options. "For the first time ever, I might have to get a J-O-B," he said with a laugh.
He had always managed the bands he played in, so he decided to give artist management a try in addition to playing with Taxi, and now he works for some high-profile artists, including Todd Snider and Elizabeth Cook.
On top of being Snider's "day-to-day" manager, Staehly also plays in the jam-band supergroup that Snider fronts, the Hard Working Americans — I highly recommend the band's newest release, "We're All in This Together," a fantastic live album that gives new life to many of the songs on the band's second album, "Rest in Chaos," as well as digging into gems from the band's self-titled debut.
Chad has been tight with Snider for a long time, after he and his bandmates in Great American Taxi got their hands on a copy of Snider's "East Nashville Skyline" album. After many repeated listens to the album on the tour bus, the guys in the band decided they should be Snider's backing band. They met Snider at a music festival and hit it off, and when their paths crossed again and they asked Snider to join them onstage, they knew at least a set's worth of his songs and they killed it.
Since that first impromptu jam, Chad and his Taxi bandmates have backed Snider many times, both on stage and in the studio. Chad often is among the first to hear the songs Snider writes, as he likes to use Chad as a sounding board. He even got an early look at Snider's book, "I Never Met a Story I Didn't Like."
You have free articles remaining.
Register for more free articles.
Stay logged in to skip the surveys.
Chad had some great news for area Toddheads (like me): It looks highly likely that Snider is coming back to La Crosse for a concert at the Cavalier Theater.
So how does a music business hot-shot from Green Bay end up moving his family to La Crosse? Well, Chad's wife went to school at the University of Wisconsin-La Crosse to be a teacher. She was on her way back to La Crosse from a teaching stint in Arizona when she met Chad through some mutual La Crosse friends. Get this: It turned out Michelle and her family had gone to Chad's dad for their dentistry work back in Green Bay.
La Crosse also is an attraction for Chad because his younger brother, Christian, guitarist and singer for the Smokin' Bandits, has a place in the country just across the river near La Crescent, Minn. And Chad loves the local music scene here and sees potential for an even stronger one — "La Crosse, the Nashville of the North," has a great ring to it, don't you think?
Chad and his friend, Nick Weber, are getting started on building a 10,000-square foot distillery in downtown La Crosse — Chad will be working on branding/marketing and has an ownership stake in the distillery, which is due to open as early as June. Even more exciting to me — I know, you're saying "more exciting than bourbon?" — the two also have got plans in the works for a "special and unique" new music venue in La Crosse.
So, let's recap. Chad Staehly performs and records with two bands, is deep into musical artist management, owns a record label, is helping launch a new distillery and plans to be heavily involved in bringing a new music venue to La Crosse, on top of which he's got two young boys at home.
That's what I call a hard-working American!
"I wouldn't call any of it work," Chad said with a shrug. "It's all passions that I love and want to be doing. I wouldn't call any of it a job."
_____________________________________
Random Entertainment Picks
Check out these entertainment options in the coming week.