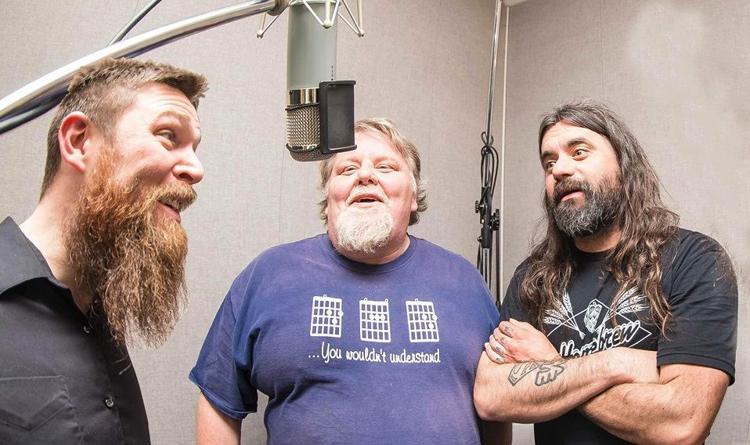 You've heard of The Three Tenors, the powerhouse operatic singing trio of Luciano Pavarotti, Plácido Domingo and José Carreras, right?
Now the La Crosse music scene has its own supergroup of song, The 3 Dads, which brings together Mike Caucutt of Mr. Blink, Andy Hughes of TUGG (and The Mighty Few) and Gregg "Cheech" Hall of Gregg Hall and the Wrecking Ball (and too many other musical endeavors to name here).
Do they sing opera? No, they do not. They specialize in songs aimed at the younger set. Think of them as The Three Tenors, but with fart jokes and a way more casual dress code.
The Dads are set to celebrate the release their debut album, "Cool Beans," with a special concert Dec. 15 at the Myrick Park Center.
Caucutt got The 3 Dads rolling. He was itching to record an album of children's songs and had written half a dozen kids songs when he recruited Hughes and Hall as partners. "It's like anything in life," Caucutt said. "It's easier and more fun if you do it with other people."
Caucutt chose his sidekicks wisely, as both Hall and Hughes are fine singers and songwriters and are known to play well with others. And they all have children and know that the key to good children's music is making it appealing to parents as well.
They formed the band last year, and you might already have caught The 3 Dads playing at the Great River Folk Fest or the Children's Museum of La Crosse. Even with the stripped-down arrangements, it has taken them about a year to complete the album, recorded at Brett Huus' Sound Strations Audio Productions studio.
"What can I say," Caucutt said. "When you're dads, man, you're busy."
All three have kids of their own and all the youngsters sang on the album. The Dads could have had a big roster of other people contributing to the album, too, considering how connected they are in the music scene, but they brought in only one guest artist, Howard "Guitar" Luedtke, who contributes a wicked slide guitar part on "Mr. Nobody," a song Caucutt wrote about not owning up to misdeeds.
"Cool Beans" leads off with "Beanie, Bean, Beans (The Toot, Toot Song)," Caucutt's tribute to the "magical fruit," and the 10-song album features songs that riff on nursery rhymes, childhood games of yore, a St. Patrick's Day tradition at the Hughes household, and the joys of chocolate milk, snow days and love (the G-rated kind that makes the world go around).
All in all, they're very happy with the way the first 3 Dads album came out and can't wait to share it.
"These songs are all singalong stuff," Hughes said.
"I like that it's a CD that adults can relate to," Hall added.
The album release show also will celebrate another kid-oriented creation from Hall, his book, "Waylon — The Wiggliest of All Worms." The book features a story Hall wrote that focuses on leadership and overcoming obstacles.
The book came out last year, but Hall is celebrating the release of a new illustrated edition of "Waylon" (the name of his younger son as well as one of his musical heroes). The album release show will feature a reading of "Waylon" by ace storytellers Terry Visger and Michael Scott.
The 3 Dads aren't giving up their other musical pursuits, but they're pretty serious about going after the youth market. They all remember being kids and being amazed by adult musicians performing for them — for Caucutt it was his Uncle Dave — and there's definitely an attraction to inspiring that kind of wonderment in a young audience themselves.
They've seen that wonderment in their own kids, but it was for another local musician who blazed a trail for The 3 Dads — the one and only Hans Mayer. Hughes said his kids were obsessed for a while with Mayer — known for tunes including "My Brother Eats Bugs," "God Bless My Underwear" and "Just a Little Hug" — and Caucutt's daughter sang on one of Mayer's recordings.
My own daughters also both loved Mayer, who performs his annual holiday Happy Little Elves show Dec. 22 at Leo & Leona's Tavern and Dancehall, and I obviously loved his stuff, too, or they wouldn't have heard him so much. My older daughter's first live musical experience came when she was probably 4 and I took her to a supermarket parking lot performance by Mayer, at which she yelled, "PLAY FREE BIRD."
I admit this was at my urging. Sadly, she had not then and still has not developed any affinity for Lynyrd Skynyrd. A father tries to teach his kids, but sometimes I guess they have to follow their own path.