After a road trip to Michigan during which Captain Beefheart came up on my iPod's shuffle mode five times in the car — lending extra strangeness to a very long drive — it felt great to be back in good old La Crosse. Even with almost three solid days of major home improvement to tackle after we got back, I had the prospect of a great evening of local music Friday at the first night of Riverfest to keep me going, and the festival did not disappoint.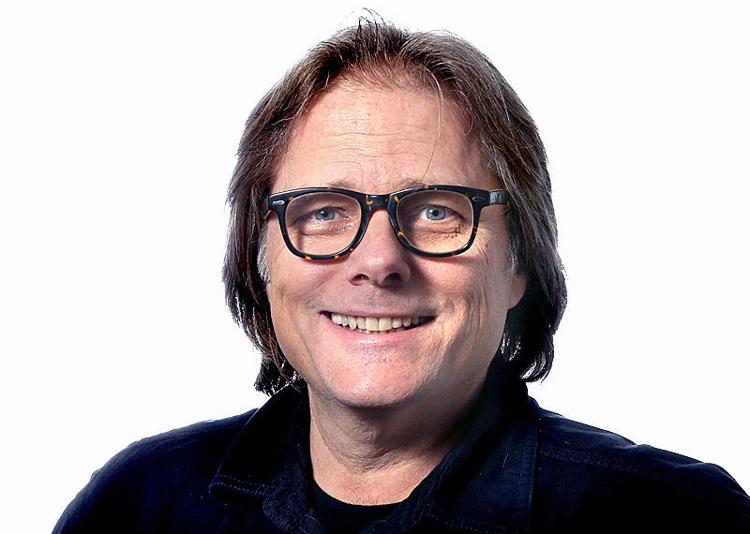 Riverfest tried something new this year, giving two stages during the opening night of festivities to 11 local bands doing mostly original material. The weather didn't entirely cooperate for the debut of Live & Local — some light rain fell for a while early in the evening — and I'm hoping that accounted for the relative sparsity of the crowd.
It wasn't the biggest crowd I've seen at Riverfest, but that made it easier to spot Mike Starling, who set a high bar for me when he covered arts and entertainment for the Tribune many years ago. He was there with his wife, Jill, and it was fun to hang out with Mike, especially for the nightcap show by Porcupine.
The Riverfest show was the local debut of Porcupine with bassist Greg Norton, who made a big splash in the 1980s with an influential Twin Cities band called Hüsker Dü. He was well-known in that band's heyday for his leaping ability, and even in his mid-50s, he's still got it. He could probably use a longer guitar cord, though, as he came unplugged at least three times after jumping up on the drum riser to commune with drummer Ian Prince.
Frontman Casey Virock led the band through an incendiary set, including SpaceBike and Dream 13 tunes as well as Porcupine material, ending with a nice surprise: former bass player Davey Reinders took the stage to perform on the last three songs, a sweet salute to a longtime bandmate.
I also was impressed, as usual, with TUGG's mainstage set, as well as with the performances I saw by Shen Teh and The Lower Fifth. Even missing out on a lot of bands because of my later arrival, it was more than worth the price of admission, I thought, and I sure hope they bring back the Live and Local next year.
Coming up
The Larson sisters — Kelli and Katie — grew up singing together around the house and they've both sung in bands on their own, but they've not been in a band together … until now.
They'll make their debut as The Fourth Fret with an acoustic set Saturday night at CreekSide Grill and Pub, joined by Katie's husband, drummer Ethan Sobkowiak, and Ethan's bandmate in Borders, guitarist Danny Koeller, who also adds vocals. (Don't worry, this doesn't mean the end of Borders.)
Kelli said the band's repertoire is all over the map, from current pop and country to classic country and '90s rock. They basically are up for just about anything if it sounds good.
Speaking of sounding good, the Cavalier Theater has an exceptional double bill coming up next week if you like country-tinged folk music. Christopher Paul Stelling, a veteran troubadour from Brooklyn, N.Y., with a great roadworn voice and lyrically dark songs, is coming to the Cavalier on Tuesday. He's on this year's "10 New Country Artists You Need to Know" list at Rolling Stone magazine — "new" even though he is out with his fourth album, "Itinerant Arias." Joining him on the bill is our own Andy Hughes, who recently released his debut album, "Heartland and Heartache."
Would you believe you can see these two fine songsters for $5? Can't beat that.