When Matt and Gunnar Nelson started performing their Ricky Nelson Remembered show in 2010 — which marked 25 years since their father's death in a plane crash — it wasn't something they figured on as a long-term gig. But the multimedia concert salute to the rock 'n' roll and country rock pioneer has proven to have staying power.
"I always say it's the last show my dad would do because he was so humble, but we miss him less when we do it," Matt Nelson said in a recent phone interview from Nashville, where he and his identical twin brother both live.
This was the second time I've had the great pleasure to talk with Matt, and I think he actually did say that very thing when I talked with him last time.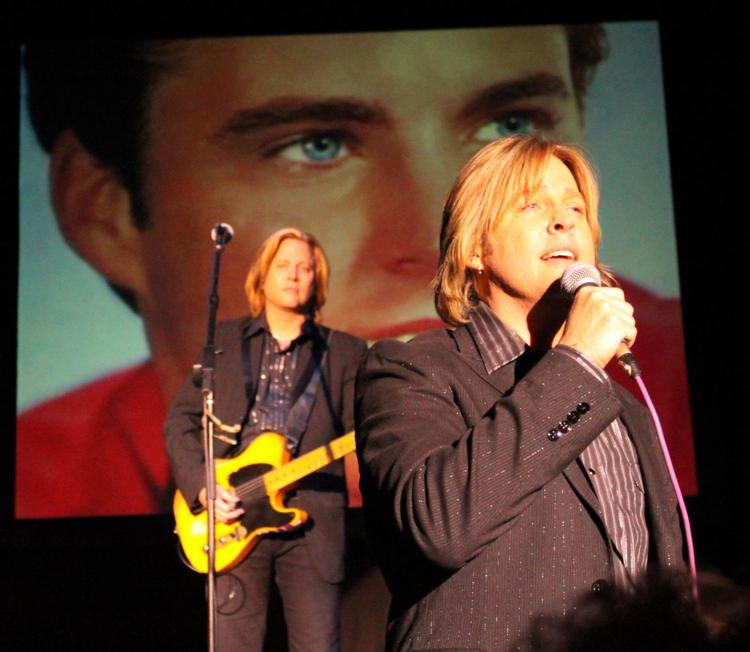 They're coming back to the area to play a doubleheader at the Casino Queen in Marquette, Iowa, with shows at 5 and 8 p.m. Thursday, April 19. They perform 30 to 40 Ricky Nelson Remembered shows a year, and Matt said it seems like new generations of fans are coming on board.
The last time they performed in the area, it was just the two of them, but they've since added a drummer, a format Matt is especially fond of.
"My favorite bands have always been trios," Matt said, mentioning ZZ Top, the Police and Rush. "I really feel that in this configuration there's no room to fake it. There's no room for a bad element in trio. Any weak link is obvious."
On top of the Ricky Nelson show, the Nelsons have found there's still plenty of residual love and affection for Nelson, the melodic hard rock band with which they had a No. 1 hit in 1990, "(Can't Live Without Your) Love And Affection." They released their eighth Nelson studio album, "Peace Out," in 2015 and still perform plenty of Nelson shows — this year they're headlining England's Rockingham festival in October, for instance, and on May 4 they're playing the M3 Rock Festival near Baltimore.
Like chips off the old block, though, they're not all about playing memories. Matt said he and Gunnar are almost ready to spring a new band on the world, the Nelson Brothers, which will take their music in a new direction, kind of the same direction their father went when he formed his Stone Canyon Band.
"Our mission is to reinvent that sibling harmony thing. If The Eagles and the Everly Brothers had a baby, that'd be what it's going to be like," Matt said. "It's kind of a new trip. It's going to be country music, played by a rock band."
Register for more free articles.
Stay logged in to skip the surveys.
Both brothers have independent musical projects, too, with Gunnar's going in a Southern rock direction. Meanwhile, Matt is reviving a melodic modern rock trio he started about 15 years ago with guitarist/singer J.J. Farris and drummer Brian Burwell. The band — Red37, after the famed REDD.37 recording console at Abbey Road — recorded their debut album at Sound City back in 2004 and recorded a couple albums worth of songs after that, but other commitments got in the way of the band releasing the albums and getting out to play extensively. "We're just morons," he said with a laugh. "We have to put this stuff out."
They've been in the studio recently working on fresh material, and Matt is excited to work on music that's edgier and raw. "I always want to flex my musical muscle in new directions," he said.
One of these days, he said, he might even get in the studio with our own Jason Herman, who plays guitar in The Caminos, one of the more popular La Crosse area cover bands, and in The New Black 7, a country band with a rock edge. Herman went to school with Matt's wife in Waukon, Iowa, and they've gotten to be good friends over the years.
With his wife's roots in the Coulee Region, playing the Casino Queen is a homecoming of sorts for Matt. He and his wife visit the area as often as they can because they want their 3-year-old son, Ozzie, to be connected with Mom's side of the family. Matt can even envision settling down in the area and opening a guitar store.
"My fantasy is to have a little tiny vintage shop," he said. "I love the old stuff. My wife thinks I'm nuts."
An avid collector, he recently got his hands on a couple nice guitars that were on loan to the Rock and Roll Hall of Fame: the black Les Paul that was on the cover of his father's "Garden Party" album and the Martin acoustic guitar on which his father wrote the title song.
"I really want my son to have those one day, so I probably won't ever play them on the road," Matt said.
The Nelson family already is the only one to have three generations have No. 1 hits. With the musicality young Ozzie already is displaying (you should see him play drums or sing along to Tom Petty songs), I wouldn't be surprised to see him grow up to be the fourth Nelson chart-topper. I hope I'm around when that happens.
____________________________
Random Entertainment Picks
Check out these entertainment options in the coming week.