After hosting 100 events this year at Driftless Books and Music featuring musicians, poets, artists and dreamers, Eddy Nix was winding down for the year. It has been a great one, and it hit a peak right at the end.
He found treasure, something that once belonged to a musical immortal.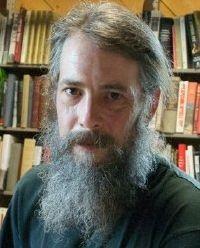 The former tobacco warehouse in Viroqua that houses Driftless Books has no heat, so Nix closes for the winter. As he was getting ready to button things up a few weeks ago, he started to go through a collection of 20,000 books he bought from a retired theologian in Madison, cataloging the assortment of "really weird uncommon odd liturgical texts and such."
"It's like the great collection you always wish for," Nix said.
Most of the books had to do with religion, but there also were a lot of Latin and Greek volumes, and "books in crazy languages that he must have paid crazy money for."
He was getting to the end of one box that had an assortment of early 20th century textbooks and came across one published in 1908, "Outlines of Greek History" by William C. Morey. As he paged through it looking for any notable damage, he came across something that stunned him.
"I saw this signature and said, like, 'No way!'" Nix said. "And suddenly everything I knew about Cole Porter flashed through my mind."
Yup, that Cole Porter, the guy who wrote so many classic American song standards — "Begin the Beguine," "Let's Do It, Let's Fall in Love," "Night and Day," "Anything Goes," "Don't Fence Me In," "I've Got You Under My Skin," "It's De-Lovely," and "You're the Top."
Nix is a student of the Jazz Age — actually, I believe he must be a student of most things — and Cole Porter, a giant among American songwriters led a celebrated and extremely well documented life in his time on the planet, which stretched from 1891 to 1964.
In addition to a large Cole Porter signature and some notations, Nix also found a stylized doodle of a woman inside the book. At first, he thought the book might have been used by Porter in his senior year at Worcester Academy in Massachusetts, an elite boarding school in operation since 1834.
He checked with the school, where Porter's gift for writing songs was already blossoming, and found that the book was not part of the curriculum. But Nix came across documentation that Porter, who was valedictorian of the Worcester Academy Class of 1909, needed to take ancient Greek history upon entering Yale University, and he's working to confirm that the book would have been required reading for Porter.
What Nix found especially fascinating was the connection between Porter's Greek studies at Worcester and his singular songwriting skill. Unlike other composers working in musical theater, Porter wrote both the music and lyrics, and he credited a Greek teacher for helping him see the strong connection between the two.
"For the first time I saw music inherent in the words," Porter is quoted as saying in "The Cole Porter Story." "Since then I have never been satisfied to write music and allow someone else to do the lyrics — I realized that each must be wedded to the other."
As Nix has dug into his research, he's found indications that point toward the authenticity of the signature and doodles, and it's kind of hard to imagine how it wouldn't be real. "It's one thing to fake a signature on something valuable, but on an old Greek textbook? That's crazy," he said. "In a way, it's just as interesting if some crazy person happened to want to write that signature."
People who know Nix won't be surprised to learn that if it does turn out to be an artifact worth some money, he'll likely establish a local music scholarship. That's how he rolls.
I have a few signed items I treasure — baseball cards and balls signed by Kirby Puckett, Kent Hrbek and Paul Molitor, a CD signed by Graham Parker and a handwritten note from Dave Barry thanking me for alerting him to La Crosse's anatomically complete giant snowman — but what Nix found is way different. He has something that belonged to someone who was a huge influence in American music, something he owned at a key point in his life.
Whether it's worth money or not, finding it made life better for Nix. "It really made me listen to his music for the past couple days," he said, "which put me in a great frame of mind."
Stay up-to-date on what's happening
Receive the latest in local entertainment news in your inbox weekly!