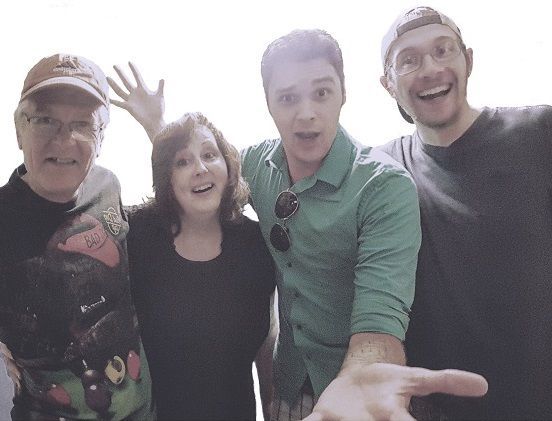 Joel Tock grew up immersed in music. When he was a toddler, he would curl up in a race-car sleeping bag behind father Russ Tock's drum kit while his parents rocked out in their popular La Crosse area cover band, Midwest Coast.
"I don't know how I ever managed to fall asleep, but apparently I did," Joel said with a laugh.
By the time he was 5, he was sitting in on drums occasionally with Midwest Coast. He also soaked up music theory hanging out while his mother, Dana, singer and keyboard player in Midwest Coast, gave lessons at her Sparta music store, Dana's Music.
"He was born to play music," Dana said of Joel. "As soon as he could hold sticks for playing drums — he was just a baby, pretty much — he started making rhythms right away. Later on, any instrument he would pick up to play, he could play good music on it."
When he was 12, Joel started playing in a rock band, a combo called Under Age with his friend, Stephen Jerzak.
Yes, that Stephen Jerzak.
Joel was instrumental in recording Jerzak's early material, and after Jerzak's career blew up 10 years ago this month with the release of "The Sky High EP," Joel went along on Jerzak's wild ride, performing with him on concert tours, including the Vans Warped Tour.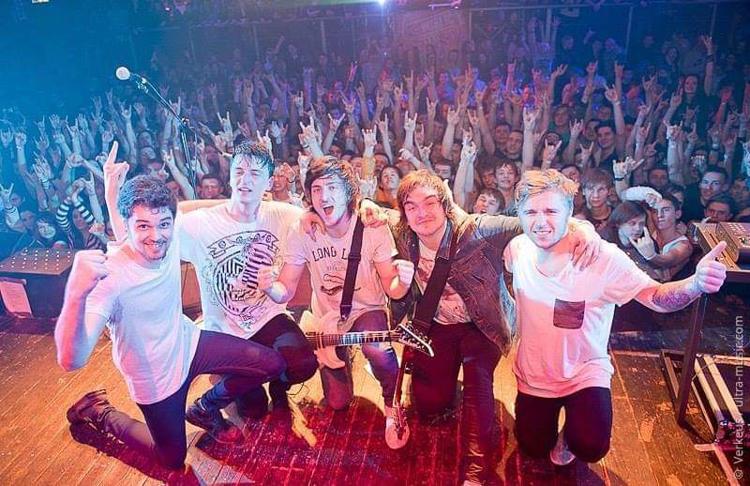 Besides Joel's work with Jerzak, he got involved in numerous other musical projects that took him around the world. Five years ago, he even joined up for a time with an Eastern European symphonic metal band called Dead Silence Hides My Cries, playing bass guitar and singing.
"That was a fun ride," Joel said. "I didn't know what the heck I was getting myself into."
Especially memorable was the two-week tour in Russia when Joel didn't have a visa and would have been in big trouble if he'd been caught in the country.
For the past couple years, though, Joel has been playing guitar (even though his main instrument is drums) in a band unlike any he's been involved with before. His rambling days behind him for now, Joel is back in Sparta and playing in Shock Pocket with his mother on keyboards, dad on drums and Jason Moore, his friend since early childhood, on bass guitar, with Joel, Dana and Jason all contributing lead and harmony vocals.
Shock Pocket started when Joel and Jason decided they wanted to form a band specializing in 1990s music, songs popular when they were just wee sprouts. It was a decade known for bands like Nirvana, Foo Fighters, Green Day, Red Hot Chili Peppers, No Doubt, Eve 6, Wallflowers, Counting Crows, Alanis Morissette, The Offspring, Sublime, Bush, Third Eye Blind, Faith No More, Dave Matthews Band, Everclear, The Black Crowes and Matchbox 20, for example.
"It's just something that we enjoy, playing music that people might have forgotten about and are happy to be reminded of," Joel said.
It's also an era of music that goes over big at weddings these days with people in their 20s like Joel and Jason, Dana added.
"A lot of people that age can really relate to the music and they sing along LOUD when we play," she said.
Joel hadn't planned to form a band with his parents, but when it came time for their first gig, they needed an emergency replacement on drums and Russ stepped up. There happened to be a keyboard on hand, so Dana decided to jump in, too.
"Russ and I didn't really know we were going to be IN the band," Dana said. "I don't know that I'd be interested in playing in a different band, but I'm enjoying this, for however long it lasts."
There's a good chance it could last a while, as it looks like Joel will be around close to home. Joel has set his sights on a career as a music producer, and he's in the process of building a secluded hideaway of a recording studio, a residential refuge where a band could hole up, get away from everything and concentrate on creating great music.
One of his first clients could be Jerzak, who is back living in the area and even turns up at Shock Pocket shows occasionally to jam — no telling if he'll be at Saturday night's Shock Pocket show at The Brickhouse, but he did sit in at that venue in May.
Jerzak has been hard at work writing new material, and Joel is excited about the prospects of a new album by his longtime friend. "It's definitely a new Stephen Jerzak. It's a sound he and I have developed individually," Joel said.
Meanwhile, Joel is enjoying the sounds he makes with his parents in Shock Pocket. The band has broadened its scope to include party rock hits from other eras, and he's loving the vocal harmonies they get, something that started with them singing at Sparta United Methodist Church, something they still do on the fourth Sunday of most months.
Joel admits it can be a little weird to have "dirty dancing" break out in front of the band during a song with his mom over on the other side of the stage. But it's hard to beat the fun of making music with a couple of old pros.
"There's something beautiful about it, and we obviously have great chemistry as a group," Joel said. "We're all just basically family."
Stay up-to-date on what's happening
Receive the latest in local entertainment news in your inbox weekly!