Ryan Torgerson and Nick Lanzel have been in a lot of bands together over the years, but four or five years ago they started tossing around a seemingly outlandish idea: Let's launch a "yacht rock" band.
Although yacht rock has its own station on satellite radio and Spotify playlists devoted to it, a lot of people might not know what it is. But they'll know it when they hear it … and they'll probably love it if they were Top 40 radio fans in the 1970s and early '80s.
Yacht rock is basically soft pop/rock, often jazzy but always accessible, slickly produced and laden with hooks, harmony and, quite often, horns. It's a sound associated with California, and it evokes easy, languid, sunny days spent drinking boat drinks in the harbor.
We're talking about Hall and Oates, Kenny Loggins, Steely Dan, Boz Scaggs, Phil Collins, Fleetwood Mac, Toto, Doobie Brothers (especially the Michael McDonald years), Seals and Crofts, Christopher Cross, Ambrosia, America, 10cc, Little River Band, Lionel Ritchie, Looking Glass, Stephen Bishop, and ... I think you get the idea.
"We always had a soft spot for these songs," Lanzel said. "It's what we grew up with. These were just the gems that we all knew and loved, but we never could do these songs in any of the other bands we were in."
Torgerson and Lanzel's musical partnerships go way back, back to their early teens on La Crosse's North Side when soon after meeting they formed their first band, Smokebomb, later playing in bands called Bed (which had the great tagline, "Go to Bed") and Moon Boot Posse. Together, they make for a potent rhythm section, Torgerson on drums and Lanzel on bass guitar. They are so in sync, they even seem to make the same mistakes — that might come from being born on the same day (and same year).
But a lot more than a great rhythm section go into a band that can pull off yacht rock, to really duplicate that highly polished sound, and that was the full intention from the start. "That's where the gold is, that AM sound," Lanzel said. "You don't want to skip over that or Nirvana it or rock it up."
To pull it off, they were going to need a lot of band mates. The first to come aboard were Devin Freedlund on saxophone and keyboardist Lisa Freedlund, who plays keys for The Sonic Beats, Deep Track, and The Other Band. They found one of the main vocalists when Lanzel and Torgerson went to see The Other Band play. Jimmy Lachman got halfway into singing his first song, and Torgerson and Lanzel knew they needed Lachman.
"We looked at each other: 'That guy!,'" Torgerson said.
The other main vocalist was a no-brainer: Jesse Gomez. Torgerson first encountered Gomez when he was with Three Beers Til Dubuque, which was looking for a replacement for departing frontman Reed Grimm. The band organized an "American Idol" style singing contest to find a replacement for Grimm, and Gomez, who had never been in a band before but was a big hit on karaoke night, won the job.
Even though Gomez was a band rookie, Torgerson said he was a natural-born frontman, and that became apparent at his first real show with Three Beers, a concert in front of 4,500 people. "By the middle of the first song, he had it down," Torgerson said.
Lanzel also know Gomez's work well, as they play together in The Freezers, another regionally popular band. Gomez has the kind of talent and charisma that allows a guy to jump from karaoke into two big regional bands. "He never had to endure playing a gig where there were only five people at the bar," Torgerson said. "He's become fairly popular in the La Crosse area."
Torgerson and Lanzel thought at first they'd need two guitarists to really pull off the sound they were looking for, but decided to try to keep it down to one guitarist to make things slightly simpler, logistically. That meant they'd need a stellar guitarist, but the couple of are guitarists they knew that could handle the load weren't interested.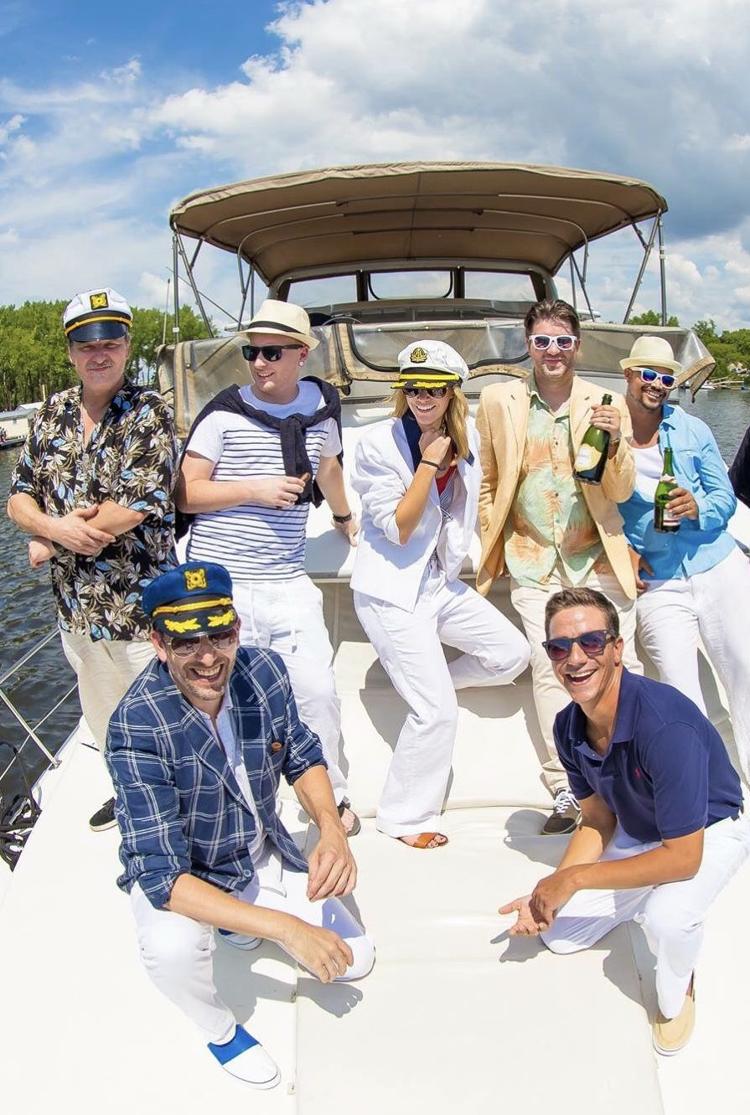 Then they found Kyle Renfro, a 24-year-old who plays with Flibbertijibbet, Cheap Charlie and the Kyle Renfro Trio. "It's really unique that you have a 24-year-old who can play guitar that well and know the music we're playing," Torgerson said. "Most 24-year-olds wouldn't know any of those songs, let alone know how to play them."
With the layered sound of yacht rock, the two thought it was important to have a pair of keyboard players, and they persuaded Matt Becker, a frequent collaborator with TUGG, to come aboard. "Since he came into the mix, basically all the pieces clicked right in there," Torgerson said.
The band started rehearsing last August and immediately booked its first show, next Saturday's Halfway to Summer Party at The Brickhouse. Torgerson said they wanted to have a deadline to light a fire under everybody to get these complicated songs down cold.
And it worked. The eight members of the band have been rehearsing in the basement of Lanzel's North Side home. There was barely enough room to squeeze a listener in a few weeks ago, but any sense of claustrophobia was overcome by amazement at the sound they produced. Everybody in the band but Devin sings, and on "Brandy (You're a Fine Girl)," they nailed the lush harmonies, the snaky guitar parts and the burbling organ.
Every song they played that Sunday afternoon sounded like it could have been coming out of the radio 35 to 45 years ago, but the music is just part of what Slow No Wake is after. They want to put on a seamless, polished show, with choreography, appropriately jaunty stage attire, the whole shebang.
"This is not going to just be us going on stage and playing the tunes," Torgerson said.
"There's a lot more to putting on a show like that other than showing up and rocking," Lanzel added.
Ideally, they'd even like people coming to see the band dressed for yachting. Torgerson and Lanzel emphasize that they want a Slow No Wake show to be an occasion, a special celebration that just happens to have a killer soundtrack.
"The songs that we have are just a murderer's row of hits," Lanzel said. "There's just no break from the awesomeness."