They might wear mullets and they might dress and act like southern-fried yokels, but the trio scheduled to perform in West Salem's Marie W. Heider Center for the Arts on Sunday, April 22, are not at all what they seem to be at first.
Matthew Lord is creator of The Three Redneck Tenors show, now in its 12th year of existence. He's also one of the aforementioned tenors. Lord said he particularly enjoys hearing comments like one the group once received from a stunned reviewer.
"He said 'I thought I'd be coming to see a bunch of booger-eating troglodytes, but you guys turned out to be trailer park angels,'" Lord recalled.
That kind of reaction is not unusual. "After a show we'll usually get people coming up to us and saying things like, 'My wife made me come and I didn't know what to expect, but this was way better than I expected,'" Lord said.
Their stage show features goofy antics that helped them become finalists on "America's Got Talent," as well as earning them extended runs in Las Vegas and Branson, Mo. Still, Lord and his two accomplices — Blake Davidson and Jonathan Frugé — possess vocal skills few groups can match.
Lord has performed with virtually every major opera house in America, including the San Francisco Opera, the Lyric Opera of Chicago, the Dallas Opera and the New York Metropolitan Opera.
"In 26 years I've done pretty much everything I could in opera," Lord said.
Meanwhile, Davidson too has sung and won awards with opera companies all over the world, while Frugé is an esteemed stage performer whose credits also include choral and soloist performances at places like Carnegie Hall and Walt Disney Concert Hall.
The obvious question is how did these top-notch vocalists end up becoming "rednecks?" Lord, who lives in Texas, explained that the mayor of Dallas had asked him to put together a show for a charity event. At the time, the Three Tenors (Placido Domingo, José Carreras and Luciano Pavarotti) were a show business phenomenon that had spawned many imitators.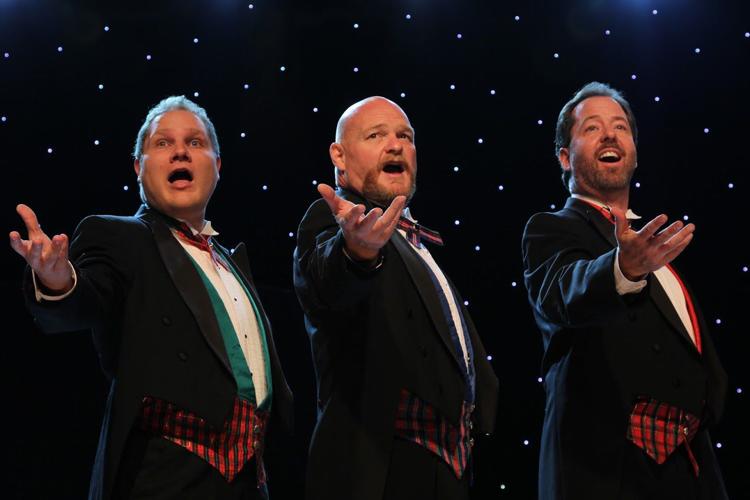 "I had this goofy idea for three tenors who all wore mullets," Lord said. "There was also a fourth tenor but he was killed in a wood chopping incident at the beginning of the show."
Lord only had a month to put that show together and in retrospect, he says it was a mess. But an agent who saw the show, loved the concept and thought it could work if polished further. "He told us he could put us on the road for 35 dates if we wanted," Lord said.
Comedy writing might seem like a stretch for most opera singers, but it wasn't for Lord. Growing up in Southern California, he spent time as a 19-year-old kid at The Comedy Store in L.A. when people like Jim Carrey, Sam Kinison and Andrew Dice Clay were "nobodies" just getting started.
"I started hanging out there and writing," Lord said. "I wasn't funny then, but I could write funny. Today I do a lot of standup in the show and I love it — that's why I'm not doing opera any more."
The current show — which is promoted with the tag line, "Down Home Laughs/Big City Music" — keeps the trio on the road for most of the year. By May, they will have notched their 130th date since September and not long after the Heider Center show they have a scheduled gig in Las Vegas. Lord said that particular show is probably going to be a showcase for producers considering another long-term engagement in Las Vegas.
That might have to wait until 2020 though. "We're already booked for all of next year," Lord said.
No matter what happens in Vegas, Lord said the group is thoroughly enjoying themselves. "The difference between opera and this is that this is the most fun we've ever had," he said.
The roughly two-hour show includes music ranging from pop to gospel to Broadway tunes and classical. Lord particularly loves the interaction with the audience.
"I give them permission to yell at me," he said. "I tell them, 'Do whatever you want — just don't leave, because if you leave I'll follow you home and do the show there!'"