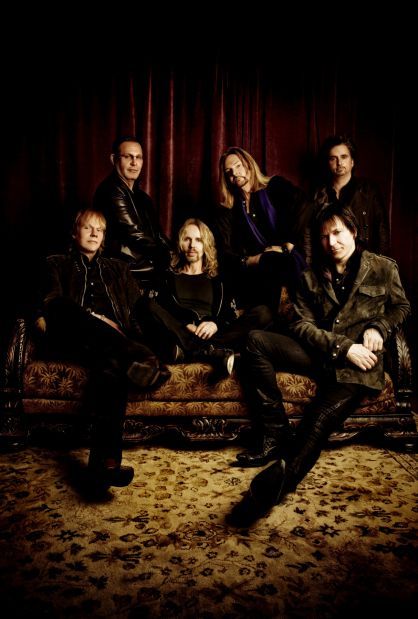 Like many veteran bands, Styx has found that there are real drawbacks to trying to make new records.
For one thing, it has become virtually impossible for veteran acts such as Styx to get new songs on the radio — cutting out what during previous decades was the best way for rock groups to get heard and sell albums.
"Radio, particularly classic rock radio, won't touch new music by us," said James Young, guitarist and singer in Styx.
There's also a financial disincentive to making new albums, Young said. It means spending money for studio time, a producer and other expenses, while taking time off from touring, which for most bands, is now the primary source of their income. So, as Young explained, it has been hard in recent years to justify making new albums when selling even 100,000 copies of a CD is a considerable achievement.
That's tough to accept for a band like Styx, which at its peak had four-consecutive albums top 2 million copies sold — "The Grand Illusion" (1977), "Pieces of Eight" (1978), "Cornerstone" (1979) and "Paradise Theatre" (1981).
The band's last studio album of original material, 2003's "Cyclorama," barely made a blip on charts.
The band's most recent releases have been a 2010 album of cover tunes, "Big Bang Theory," and two EPs, "Regeneration: Volume 1" and "Regeneration: Volume 2," that have featured the current lineup — keyboardist-singer Lawrence Gowan, Young, guitarist-singer Tommy Shaw, drummer Todd Sucherman and bassist Ricky Phillips — re-recording its versions of songs from the Styx back catalog.
Despite all that, a new Styx album may happen in the not-too-distant future, Young said, because he's seeing a viable way for groups such as Styx to get their music noticed by large numbers of potential fans.
"I honestly believe, not only for classic artists but for artists of all stripes, more and more it's about creating one great song and creating a visual thing that can get on the Internet and perhaps go worldwide, and all of a sudden ignite a worldwide sort of viral media frenzy kind of a thing," Young said. "That's the way to really get people's attention.
"I think we do need to start putting music out there — and with unique visual presentations," he said. "And the great thing is, you don't need (a big-budget director like) Ridley Scott and a million-dollar budget to make the video. If you're clever, it can be done at home. You've just got to shoot it high-def. I mean, you've got high-def on these cameras under a thousand dollars. It's kind of crazy. So the tools to create the next wave of things from Styx are there. And we just have to figure out exactly what the heck we want to do with them."
As it is, Young is already seeing that online video channels such as YouTube have a real impact in growing Styx's fan base and introducing the group to new, younger fans.
"I think in some way, the Internet has killed the record business," Young said. "But the Internet has given back in the form of immediate accessibility to YouTube videos of us performing some song the night before.
"A young person can hear one Styx song, and they can pretty much be able to get our whole catalog and have it in their computer," Young said. "The Internet has given us immediate accessibility, and fortunately that has worked in our favor, I believe, in letting young people spread the word."
In Young's view, a Styx show offers an element of showmanship and spectacle that is missing from what today's younger bands bring to the concert stage. And that makes it easier to grab the attention of younger music fans when they come across a Styx concert clip.
"We are something unique that most of them have never heard of and never seen," Young said. "And they see what it is and they see the energy that's there and the power that is there, that a lot of times is lacking in these younger mope rock acts — I shouldn't really call them that — (but) we believe in putting on a great show and bringing energy and enthusiasm to it. And we perhaps acted a little cooler and more reserved and distant and aloof at points in our heyday, but this incarnation of Styx is really about reaching out and grabbing you by every part of your body and dragging you into the party."
He said the band will play the fan favorites on its current headlining tour, as well as a couple of songs that haven't been in the set for awhile.
"We have to play 'Renegade,' we have to play 'Come Sail Away,' we've got to play 'Blue Collar Man,' we've got to play 'Fooling Yourself,' and there are a lot of things," Young said. "'Too Much Time On My Hands,' people expect to hear those songs and we like to play them, so we will. But apart from those, there's room for maneuvering."