Nineteen years ago four friends from the Shenandoah Valley got together to form the Hackensaw Boys. Back then perhaps only Old Crow Medicine Show was doing something similar with old-time music.
Here's how the blog Saving Country Music described the Hackensaw Boys: "Before everybody was growing a beard and wearing suspenders and playing in jug bands, the Hackensaw Boys were mixing bluegrass and old-time music with a punk attitude and reshaping what a modern old school string band could sound like."
That energetic sound will be on display on Thursday, March 15, at the Cavalier Theater in downtown La Crosse. David Sickman, founding member of the band, recently recalled those early days. He said that he and the three other "songwriter guys" were inspired by vintage music, but didn't want to be limited by it.
So much so that they weren't afraid to add elements of primal rock and roll. Some thought of the band as a novelty, but that's not how they thought of themselves.
"We never viewed it as a novelty," Sickman said. "It was a spirit we were after — our interpretation of a spirit that came from guys running around in the mountains of Virginia, North Carolina, Tennessee and Kentucky. We knew we weren't going to be (strictly) an old-time music band and we knew we weren't going to be a bluegrass band either, so we did our own thing with our own take."
The infectious music that ensued from those intentions has produced live shows legendary for their unpredictability. As Pitchfork magazine put it, "the band infuses their grassy tornado with brazen punk attitude and catchy pop structure, while simultaneously remaining vehemently sincere."
Sincerity — another word for honesty — is a big part of the band's appeal. "It's a journey no matter who's involved," Sickman said. "We love playing and writing music and we could see that the style we were playing brought a lot of happiness and dancing."
Hackensaw "alumni" Jesse Fiske once described the view of the dance floor from the stage: "I've seen people make fools of themselves in most delightful ways. We play at ridiculous tempos, screaming and hollering, seemingly doing musically questionable, possible atrocious things by pop culture standards, but if you're there and involved in it there's raw excitement. You can't package that."
Over the years the band has operated almost like a collective rather than a traditional band. According to Sickman, that original "come one, come all" attitude led to a total of 28 people being part of the Hackensaw Boys over the years, some for stints as short as a week. "In some ways, we've been more like a family than a band," Sickman said.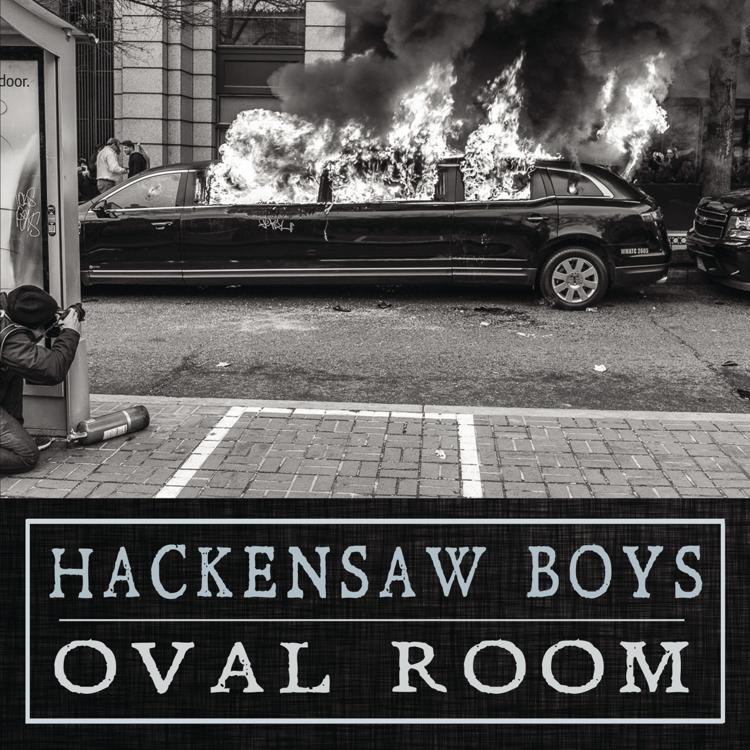 For the Cavalier show, the Hackensaw Boys will be a trio. Ferd Moyse on fiddle, Sickman on mandolin and guitar and Brian Gorby on kick drum and an instrument they call a charismo. It's a homemade percussion instrument made out of tin cans, hubcaps, aerosol cans and whatever other scraps of metal happen to be in the neighborhood when it's put together.
Former band member Dan Neuhardt invented the charismo — although he once told National Public Radio that he played "a pile of junk." Gorby plays it now and it adds a rambunctious flair to a band that feels equally at ease playing for an old folks home, a club in Europe or a hip festival like Bonnaroo.
Sickman noted that the band has become increasingly popular in Europe. "There's a strong reaction to this kind of music over there," he said. "After the last couple of tours we've got quite a few longtime fans."
He added that European audiences don't seem to be as quick to put a label on a band as Americans are. "People (in America) will say 'Oh, I see you have a banjo so you must be a bluegrass.' The irony is that we're not really bluegrass — we're kind of a melting pot band."