This year's University of Wisconsin-La Crosse production of the Barbara Fields adaptation of "A Christmas Carol" is the fifth, but director Mary Leonard finds something fresh in it every time out.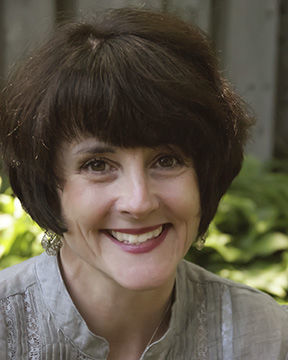 "I never grow tired of it. … I learn something new every time. Sometimes words just leap out at me," she said. "It's very close to my heart. It's special on so many levels."
Leonard saw the Guthrie Theater production of Fields's version of the Charles Dickens classic in Minneapolis years ago, and it's become a regular part of the UW-L theater repertoire, brought to the stage every four years. That gives all students a chance to get involved in the show at least once during their time at UW-L, and there are plenty of opportunities to help with "A Christmas Carol." This year's production involves more than 100 people between cast and crew. Some of the 50-plus-member cast are children from the community.
Leonard likes the episodic nature of the Fields version of "A Christmas Carol," which makes for easier rehearsals, cleaner stage transitions and a better connection with audiences. In this version, Dickens himself is an onstage character (played by Colton Janz), providing narration for the story that revolves around an elderly miser, Ebenezer Scrooge, being visited by three ghosts — Christmas Past, Christmas Present and Christmas Future — who serve as guides for an examination of his life and legacy.
As Scrooge reflects on his life and the lives of those he's touched, it affords the audience a chance to do the same, a big part of the reason it has become a theatrical holiday staple and cultural touchstone. "It's a festive evening with a great message," Leonard said. "I need to take stock always for the wonderful blessings in my life. At this time of year, we can become cranky, become little Ebenezer Scrooges. … We live in a world where there are so many distractions and tragedies. I feel that's all part of this message that Charles Dickens was telling us."
Scrooge is played this year by Willie Pearson, a second-year design and technical theater major from St. Paul, Minn. He has played major roles before where he was in every scene (Man in Chair in "The Drowsy Chaperone," for one) but "A Christmas Carol" is entirely different.
"Scrooge is definitely a lot more fun," Pearson said. "It's just that throughout the show he goes through the full range of emotions. He starts off he's just irritable, crotchety, angry at the world. Then you see him experience the sadness when he's watching his young sister. You see him afraid at various points of some of the spirits, and then at the end he's completely joyful."
Portraying a character approaching the end of his life presents some challenges in the physical manifestation of age, but Pearson said the physical challenge hasn't been as tough as coming up with an old-sounding voice. "I can't just make it gravelly because then my voice will be destroyed before any performance begins," he said.
At least he doesn't have to talk like an old Englishman. Leonard isn't having Pearson or any other cast members do their lines with British accents, because with the size of the cast it'd a tricky task to get everybody doing a consistent accent.
On top of portraying Scrooge, Pearson works in the theater department's scene shop, which this year came up with a whole new multi-level set for "A Christmas Carol," one that really emphasizes the element of time. "Technically, it's inside of a clock tower," Pearson said. "It's all about very seamless transitions from scene to scene."
Dickens first published the novella from which all the film and theatrical adaptations of "A Christmas Carol" have sprung in 1843, calling it "A Christmas Carol in Prose, Being a Ghost-Story of Christmas." In Victorian England, the celebration of Christmas was enjoying a renaissance, with Christmas trees becoming all the rage and carols coming back into fashion after a century out of favor.
The lessons Scrooge learns about sharing his wealth with the less fortunate still resonate, but Leonard said that point in the story would have been even sharper when Dickens wrote it, when disparities in standards of living were extremely stark.
"In a lot of his stories, he writes about the poor and the needy," Leonard said. "I have to believe it mattered. I feel like it matters every time. This play has become timeless."
Even more than helping the downtrodden, though, the universal part of the story that would resonate even in a society where class differences were minimal as Scrooge realizes that human connections, family and friends mean everything. For Leonard and Pearson, that's a big part of why a story written 174 years ago still matters today.
"It has so much heart and so much importance in the message," Leonard said. "There's great humor, and there's great profoundness. I have to say there's some times when you say, 'Oh my goodness, I'm really touched by this.'"