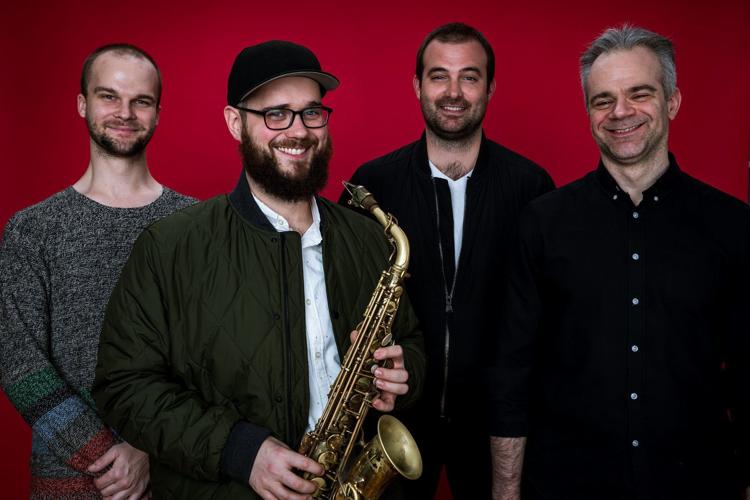 Jim Piela has proven he's willing to make big moves. The ace saxophonist, who studied from 2004 to 2009 at the University of Wisconsin-La Crosse and played in Three Beers 'til Dubuque, certainly showed he had boldness in him when he moved to New York City in 2011 to take on the Big Apple music scene.
"I think I really needed to test my limits, and I really wanted to see what was out there and experience the best of the best," Piela said of his move to New York, which he called the epicenter of the jazz world. "There's so much stuff going on here."
On his recently released album of modern jazz tunes, "Out of Orbit," Piela shoots for an even bigger boldness than his move to NYC required, setting a course for relatively uncharted musical territory, a journey that required him to blaze new trails and face a deeply ingrained fear of the unknown.
Basically, Piela's approach on this album, something he was working toward on his 2016 album, "Nonfiction," is to make melodies and grooves do all the work of creating musical harmony. On this album, there are no instruments that could create a chord individually, such as a piano or guitar. All the harmony comes from the intertwining of melody lines, mostly between Piela's saxophone and Joey Lamb's trumpet.
Piela found inspiration for this journey in the work of a handful of jazz artists, including Ornette Coleman, John Coltrane, Mark Turner and Tom Harrell, as well as J.S. Bach, but he also credits his teachers at UW-L — including Greg Balfany, Karyn Quinn and Chris Frei. "They were very influential in how I thought about the music and how I kind of approached it," Piela said. "La Crosse helped me find my voice."
You have free articles remaining.
The songs on "Out of Orbit," which include two covers ("Moment's Notice" and "I'll Be Seeing You"), might feel sparse at times, but there's a kinetic energy to them, almost like the sound of the big city. For Piela, it's the sound of freedom and adventure.
"Fear is an extremely powerful emotion, but this album celebrates the elation that is uncovered when one overcomes that fear, takes risks and pursues the road less traveled," Piela said. "I think of every tune as a snapshot in time that facing the unknown brought about, and finding overwhelming joy in that moment."
"Out of Orbit" was recorded in a single day — a very long day — at Bacque Recording Engineering Studios in Roselle, N.J. Piela was out gigging until midnight the night before the session, so in that sleep deprived state every "snapshot in time" was developed in a bath of adrenaline.
Piela and Lamb were joined in the studio by bassist Bob Sabin and drummer Josh Bailey, a quartet that had played together so often over the previous year or so they had developed a kind of telepathy. Most songs involved no more than three takes, and to free himself up to be just a player that day, Piela brought his good friend Mike Verselli along to serve as producer, while studio owner Luis Bacque was at the controls on the recording gear.
"For us and what we were going for, it felt right," Piela said of the day in the studio. "It ended up working really well. It has kind of a natural flow to it."
In addition to his work with "the chordless quartet," Piela also gives lessons and plays in other combos. He's especially excited about a fusion funk band called The Planetary People, a group that draws inspiration from John Scofield and late-period Herbie Hancock. One thing he really likes about The Planetary People is the collective approach to creating, something he experienced a lot in La Crosse but is relatively rare in New York.
Piela hopes to get back to La Crosse to perform sometime later this year. These days, the Sun Prairie native lives in Brooklyn, and he's finding that he gets the same sense of community on the music scene in New York that he had in La Crosse, just on a much larger scale.
"It's kind of strange because in a lot of ways I feel like I have this community connection like I did in La Crosse, but it kind of goes on forever, if that makes sense," Piela said. "The connections seem infinite."