Given the prevalence of political satire targeting President Donald Trump and Republicans from "Saturday Night Live," "The Daily Show" and late-night talk show hosts, you might think that all humor only emanates from the left side of the political spectrum.
To steal a Trump phrase: "WRONG!"
The Capitol Steps has been putting "the mock in democracy" since 1981, with the venerable comedy troupe getting its start when a handful of aides in the office of Sen. Charles Percy, an Illinois Republican, put together a show for an office Christmas party, complete with musical parodies and satirical political jabs.
"I was a little egg at the time," quipped Elaina Newport, a charter member of The Capitol Steps. "We thought we'd be fired or told to stop or both. It kind of kept going because nobody stopped us."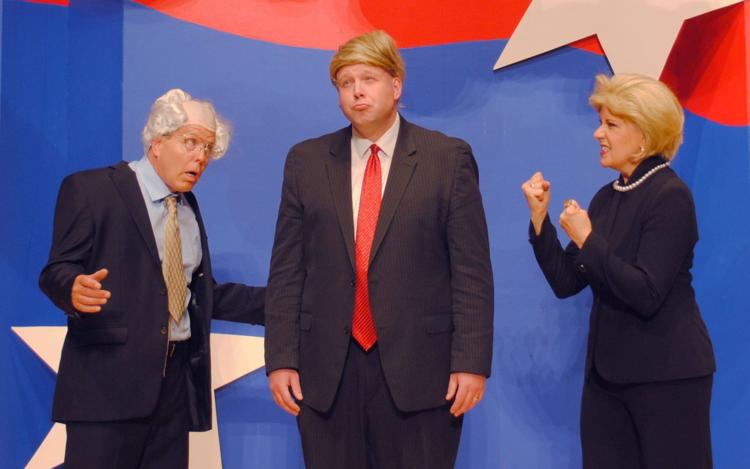 It helped that Percy had a good sense of humor about what his aides were doing. "He was one of those moderate Republicans you never see in the wild anymore," Newport said.
The group has come a long way since then, abandoning the requirement that Capitol Steps members be congressional staffers in the mid-1990s and expanding the operation to include enough cast members to fan out across the county to put on up to three shows at once. Viterbo University's Fine Arts Center will play host to the latest Capitol Steps show on Wednesday, Nov. 8.
"If you've ever wanted to see Donald Trump sing a rock song and Bernie Sanders sing a show tune and Vladimir Putin dance shirtless, come on out," advised Newport, who these days is one of the chief writers of Capitol Steps material.
The five performers coming to Viterbo will hit the stage with almost three dozen songs and skits poking fun at our leaders, and with all the different roles and impersonations they have to do, that's no easy task. "They're constantly changing their wigs and their accents," Newport said. "Somebody once told us we have more costume changes than a Cher concert, which was flattering."
Of course, Trump looms large in the latest material for The Capital Steps, and that's reflected in the title of the group's most recent album (its 41st): "Orange is the New Barack."
The new album contains comedy bits and songs with titles including "Faking News is Hard to Do," "I Want a Man with a Small Hand," "Wake Me Up in Mar-a-Lago" and "Tweet Tweet," a poke at the presidents social media habits sung to the tune of "Rockin' Robin."
"It's hard to be more outrageous than he is," Newport said of Trump, and that can actually make it harder to write the jokes and songs. During last year's campaign, she wrote a skit about how Trump wouldn't kiss babies because they're "losers," only to have Trump kick a crying baby out of a rally the next week.
"He's outdone the joke," she said.
The Trump administration has been a gold mine for comedy, but there has been plenty to laugh at under all the other presidents, too, Democrat and Republican alike. "We try to keep our show bipartisan," Newport said. "The Clinton years were very fun. It was kind of similar to now because there were headlines you couldn't make up. They've both been kind of golden eras."