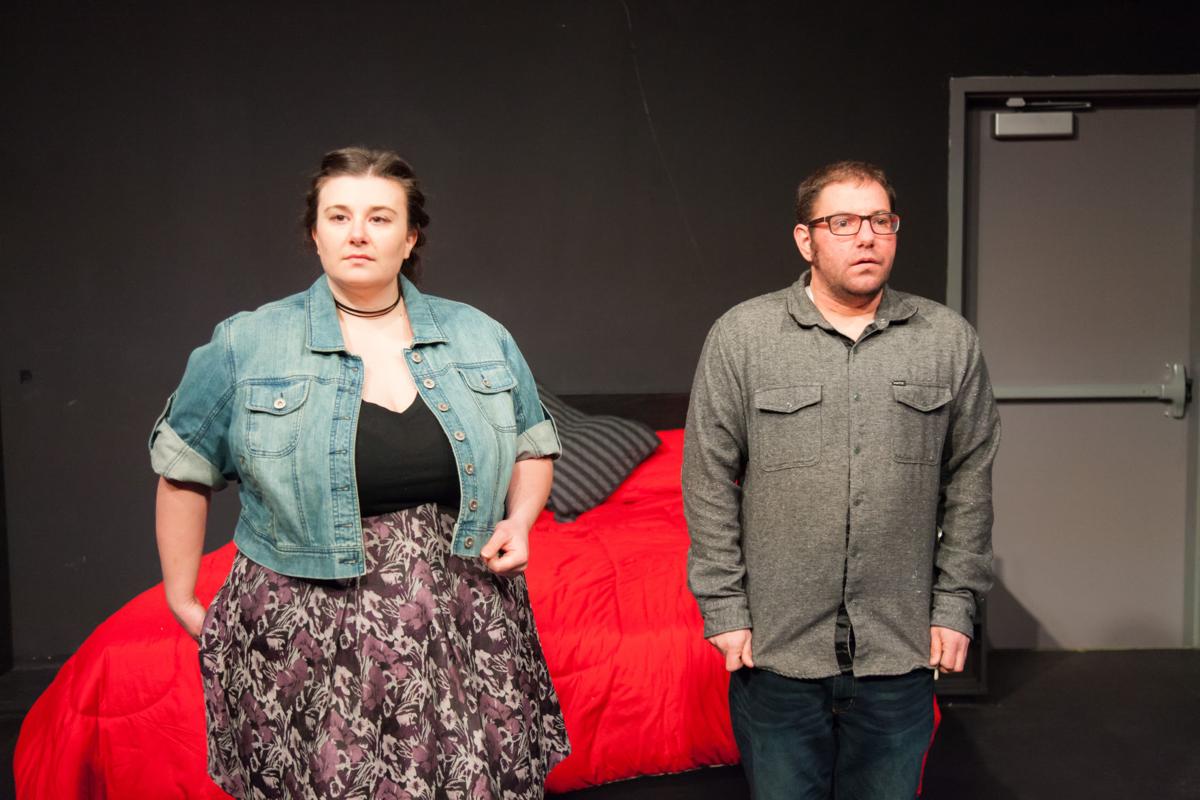 The Alternative Truth Project readers theater series has done almost two years of shows, and it will close out 2018 in a big way, presenting a play that represents multiple firsts for the ATP.
The Dec. 14 offering, "The Resistance of My Skin," will be the first time ATP has had a playwright come for the production, the first time importing the full cast, and the first time the monthly reading has been a rom-com.
Well, "The Resistance of My Skin" is not strictly speaking a romantic comedy. It is romantic, and there are plenty of humorous moments, but the play by Shannon T.L. Kearns aims for something higher, too. The play looks at issues of body image and gender identity through the prism of a budding romantic relationship between a transgender man named Ayden (played by Kearns) and a plus-size woman named Jess (played by Ashley Hovell).
Kearns and Hovell originated the roles in the production at the Twin Cities-based Uprising Theatre Company, a theater founded by Kearns, who serves as artistic director. Uprising Theatre Company is dedicated to the idea that stories can change the world.
Here's how the company's mission statement explains it: "Uprising tells powerful stories about important topics in a way that's not preachy or strident, but is instead rooted in people's lived experiences. From mental illness and suicide to transgender issues, we tell stories that come from people who have lived those experiences."
"The Resistance of My Skin" is coming to La Crosse, thanks to a connection with Hovell, who graduated from the University of Wisconsin-La Crosse in 2013 with a theater degree. Beth Cherne, a recently retired UW-L theater professor who has been involved in the Alternative Truth Project, has kept in touch with Hovell and reached out to her for ideas for ATP fodder. Cherne not only got a play, she got a cast and a playwright to boot, without hesitation.
"It's really exciting to be able to bring it to a new audience," Kearns said.
An ordained minister, Kearns moved to the Twin Cities about 10 years ago after earning a master of divinity degree from New York's Union Theological Seminary. He started Uprising Theatre Company three years ago hoping to address important issues without getting preachy.
"I was really interested in how art can be used for social justice issues but in ways that don't compromise the art," he said.
"The Resistance of My Skin" touches on a wide range of topics, from discrimination and violence against women and trans people, white privilege, the importance of consent in intimate encounters, fear of rejection, health issues for trans and "fat" people, and practical implications of "bathroom bills" targeting trans people. Given all that, it might seem like the play must be some kind of lecture, but the topics are explored organically in the course of a date night between Ayden and Jess, who are on the verge of becoming intimate.
"These issues come up through them talking through the course of the night, but they also come up through silly interactions," Kearns said. "There's a lot of humor in it, a lot of tenderness."
"It's definitely not a lecture," Hovell said. "Just by getting to know these characters you learn a lot about a lot of issues."
Cherne hasn't seen the play but has read the script and found it's a good fit for the Alternative Truth Project considering how the Trump administration is moving to roll back advances made in treatment of the LGBT community. Plus, "The Resistance of My Skin" will offer illumination and entertainment.
"I would say the audience should expect a tender and really funny play," Cherne said.
Stay up-to-date on what's happening
Receive the latest in local entertainment news in your inbox weekly!