STOUGHTON — Not that he had much doubt in the current group of players in Baraboo football jerseys, but Steve Turkington learned a lot about his team Friday night.
When do-it-all senior Luna Larson went down with an apparent knee injury late in the first quarter, the Thunderbirds could have been shell-shocked without their all-state player and Division I recruit. Instead, Kane Mahoney ran for 284 yards and Baraboo scored 10 defensive points and remained unbeaten with a 17-0 Badger Small Conference win at Stoughton.
"They didn't flinch," Turkington said. "I'm so proud of these guys. It's unbelievable.
"That was probably the best defensive performance I've seen in 23 years of coaching high school football. It was incredible... Just unbelievable defense."
Larson, a quarterback and linebacker who entered the day with 54 carries for 623 yards and eight touchdowns, was running right when he was tackled with 2 minutes, 43 seconds remaining in the first quarter. His right knee appeared to twist and he left the game immediately, before eventually being taken off the sideline via stretcher late in the second quarter.
"We don't really know right now," Turkington said of Larson's injury, noting the T-Birds responded impressively. "I saw their level of performance go up. We talk about TWP — 'Tough People Win' — and we talk about family. Those are two of our core values. Family means it's all about us and playing for each other. And TWP is mental toughness, and physical, but it's mental toughness in the face of adversity. We talk about adversity in their lives, but this was adversity on the field and they stepped up."
Sophomore Luke Vittengl took over at quarterback and, following two runs, Baraboo turned it over on downs. But Stoughton (1-3, 0-2 Badger Small) couldn't solve the Baraboo (4-0, 2-0) defense and quickly punted the ball back to the T-Birds, who turned to Mahoney. The senior running back, who carried the ball 43 times, brought the T-Birds down the field until they faced a fourth-and-goal from the 2-yard line with 8:00 remaining in the half. Mahoney tried to take it up the middle, but Stoughton's Niko Jemilo met him in the hole and the Vikings took over possession at their own 4-yard line.
Baraboo's defensive front seven stopped a pair of runs, then Ryan Liegel got home. The senior linebacker got around the left side of the Stoughton offense line and sacked Isaac Knutson in the end zone for a safety with 6:34 to go in the half.
Evan Kephart returned the ensuing free kick to midfield to set up the game's only offensive touchdown. Mahoney found the end zone, taking a handoff from Vittengl and breaking several tackles en route to a 45-yard touchdown run.
"He did a really great job," Turkington said of Mahoney. "He's a tough kid and had some great runs."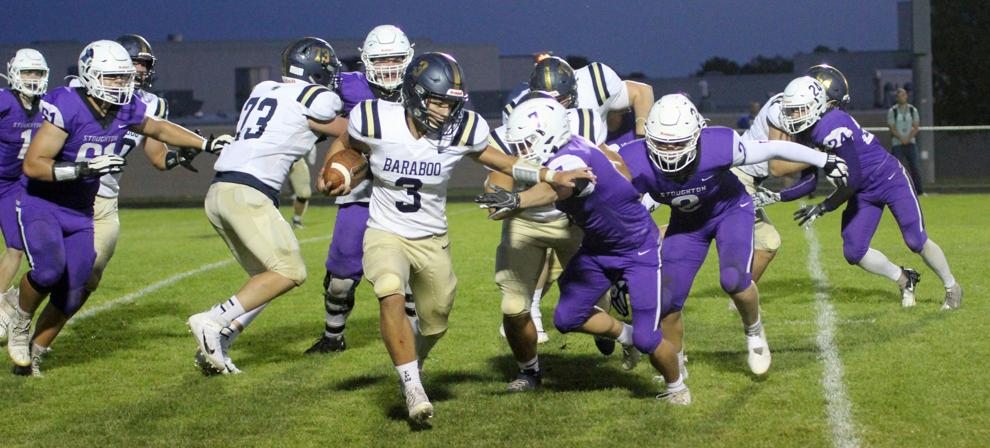 Brady Henry tacked on the extra point and the T-Birds took a 9-0 lead with 5:46 remaining in the half.
The lead was plenty for the Baraboo defense, which flew around the rest of the night. A Gabe Fitzwilliams tackle for loss forced a fourth down on Stoughton's next possession. Baraboo punter Ben Burgess created the next scoring opportunity with a booming punt that sent the Vikings back to their own 5-yard line. Fitzwilliams and Nic Orozco got into the backfield for another safety, this one coming with 58 seconds left and giving the T-Birds an 11-0 lead going into the locker room.
The Baraboo defense forced two second-half fumbles at Stoughton, which entered the day scoring 20.3 points per game, but the T-Birds' offense couldn't take advantage of several chances to put the game away. Stoughton blocked a field goal, while Nathan Vagees and Bradley Garcia each intercepted passes near the goal-line to keep the Vikings within striking distance.
"Our defense played phenomenal," Stoughton coach Jason Becker said. "That was by far the best game our defense has played this season. I think a lot of that had to do with our preparation. Even after Luna went down, they started to move the ball a little bit on the inside stuff, but I thought we had a great game plan this week. It really prepared the guys to read some things based on formations and stuff, and make some plays."
But it was the Baraboo defense's night, and they took matters into their own hands with 7:08 remaining. Caden Agnew intercepted a pass and return it 15 yards for a touchdown that gave the T-Birds a 17-0 advantage.
The senior wasn't done, breaking up a fourth-down pass at the goal-line late in the fourth quarter to end Stoughton's final drive of the night — and keeping the Vikings scoreless for the first time since they suffered a 35-0 playoff loss at Waukesha West on Oct. 27, 2017.
The T-Birds, who are ranked first in Division 3 in the WisSports.net Coaches Poll and are 4-0 for the first time in more than 20 years, will host Mount Horeb/Barneveld (4-0, 2-0) on Sept. 18.
"I just wish we could have finished some of those drives. We've got some work to do," Turkington said. "But we put together a win... that's what we did tonight."
"We put together a win, that's what we did."
The Vikings, who were without University of Wisconsin offensive line commit Barrett Nelson, will look to end their three-game losing streak when Monona Grove (3-1, 1-1) visits Stoughton on Sept. 17.
"We've got to get healthy and we've got to clean up mistakes," Becker said.