Carving pumpkins each October shouldn't be the only fun part of the annual tradition. Don't throw out those precious seeds but rather prepare this quick and easy recipe of crunchy, sweet, slightly salty and mildly spicy roasted pumpkin seeds. Pumpkin seeds can be purchased whole, roasted and usually salted, or hulled, often marketed as pepitas. Unlike sunflower seeds that have tough outer shells, pumpkin seeds are much more tender and pleasant to eat whole when roasted. They are high in fiber and rich in magnesium and zinc — ⅓ cup yields about half of one's recommended daily intake. 
When creating this recipe, I developed it based on the assumption that most carve two pumpkins each holiday. For my test, one pumpkin weighed 17 pounds and the other about 23 pounds, yet both yielded about 1¼ cups of seeds after they were cleaned. The heavier pumpkin grew larger, plumper seeds, but they baked at the same rate as the smaller ones. It's important to rinse and dry them well, ideally overnight to eliminate any moisture which helps them crisp up in the oven.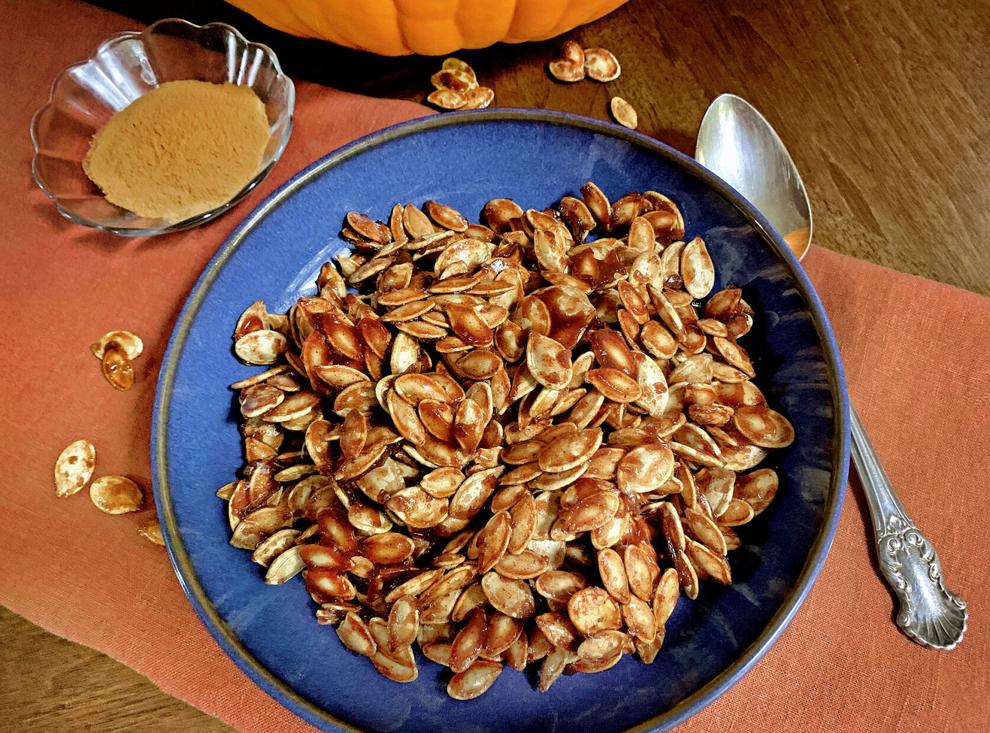 ---
Sweet & Salty Pumpkin Seeds
2 large to extra-large pumpkins (15 to 23 lbs each)
⅓ cup granulated sugar
¼ cup packed light brown sugar
1½ tsp ground cinnamon
1½ tsp kosher salt
½ tsp cayenne pepper (or ¼ tsp for milder seeds)
½ tsp sweet (dulce) smoked paprika (pimentón), optional
3 Tbsp vegetable or canola oil
Place 1 pumpkin in sink or on table over newspapers; cut large circle around stem. Trim about ¼ inch from flesh to make flat surface if reserving pumpkin for carving; set aside top. With long-handled spoon, scoop out seeds and fibrous pulp attached to seeds from inside pumpkin and transfer to colander. (To prepare pumpkin for carving, scrape out thin layer of flesh to create a smooth, candle-ready interior.)
Use fingers to separate pulp from seeds, dropping seeds into colander; discard pulp and any thin, immature seeds. Repeat with second pumpkin. You need 2½ to 3 cups seeds. Rinse seeds well with cool running water, pulling out any remaining pulp; drain well. Line large rimmed baking pan with large, clean kitchen towel; spread seeds evenly over towel. Roll seeds in towel to dry; unroll towel, then spread out seeds again. Allow seeds to dry at room temperature at least 4 hours or up to overnight.
Preheat oven to 350°F. In medium bowl, add remaining ingredients except for pumpkin seeds and oil; stir until well blended, breaking up brown sugar with fingertips. Add pumpkin seeds and oil and stir with spatula until very well combined. Line large rimmed baking pan with parchment paper; spread pumpkin seeds and any spice mixture in bowl evenly in pan. Bake 25 to 30 minutes or until well browned, stirring seeds once halfway through baking and spreading evenly in pan. Remove pan from oven; stir seeds again to coat in sugar mixture, then spread evenly in pan. Cool seeds completely in pan on wire rack. Break up seeds into clumps or smaller pieces, then store in airtight container at room temperature up to 1 week.