"Texture is so important for sourdough," he says. Although his careful process and precise technique provide most of that desired crust and crackle, oats help bolster the texture and flavor of this rustic bread.
Stump's recipe starts at the very beginning with, well, starter. Plan ahead; the multi-day process to prepare these bakery-level loaves is labor-intensive but well worth the effort.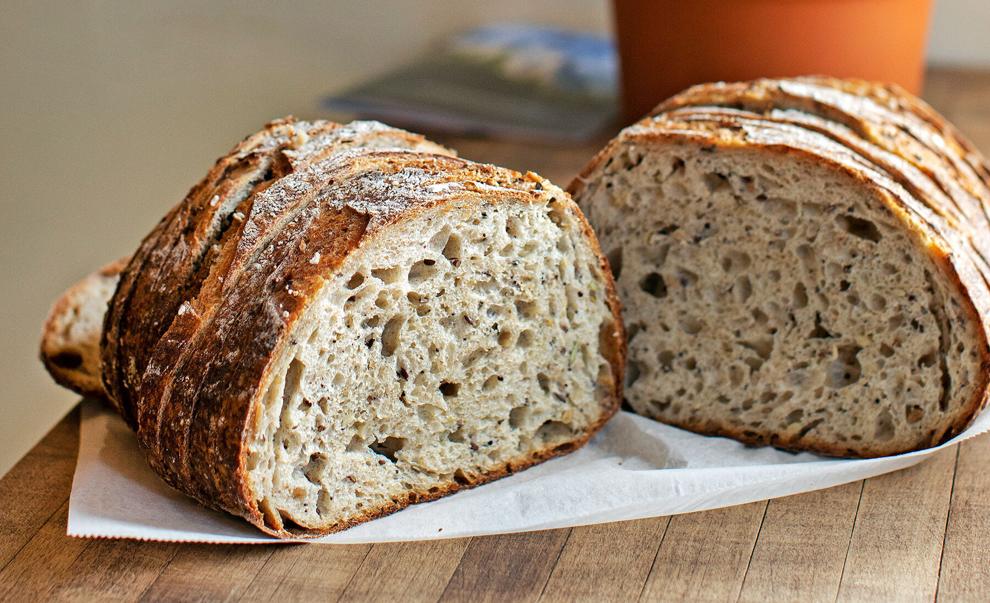 ---
Madeleine Sourdough Bread
500 g water at 76°F
258 g white baking flour (patent flour) or bread flour
221 g whole wheat flour
117 g sourdough mother culture

32 g rye flour
In large bowl, with whisk, combine all ingredients until thoroughly mixed. Cover lightly with clean towel; let stand at room temperature 12 to 15 hours to allow for fermentation. 
---
Multigrain mixture for autolysis
Autolysis is a chemical process that will yield a better gluten network and make the dough easier to work with. It's accomplished simply by letting the flour and water mixture sit together.
2.04 kg water
1272 g white baking flour (patent flour) or use additional bread flour
1175 g bread flour
333 g whole wheat flour
In large mixing bowl, with mixer at low speed, beat all ingredients just until combined and mixture no longer appears dry. Cover and let stand at room temperature 3 to 4 hours. 
---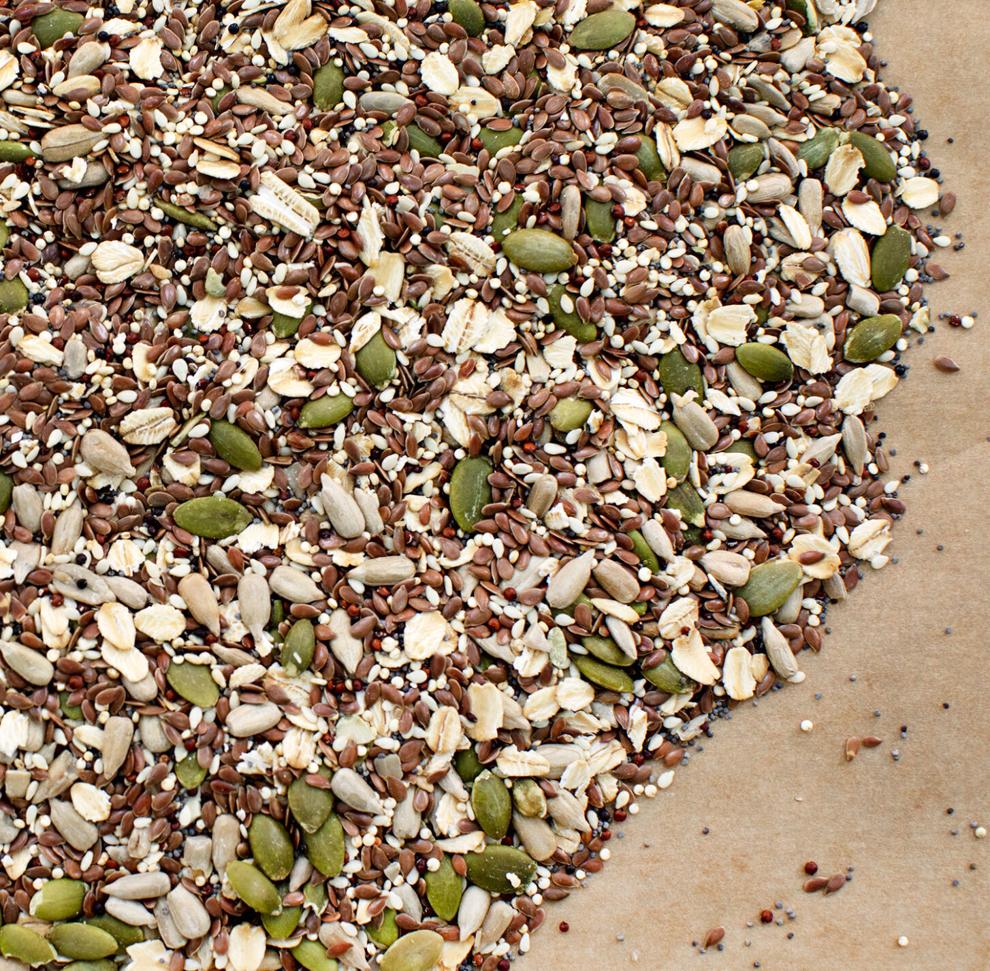 50 g water
50 g old-fashioned oats
15 g flax seeds
15 g quinoa
15 g sesame seeds
15 g sunflower kernels
574 g levain
64 g salt
all of the above multigrain mixture
Heat water to boiling; set aside a few minutes to cool slightly. In medium bowl, combine oats with flax seeds, quinoa, sesame seeds and sunflower kernels. Stir in hot water and set aside while mixing dough.
In large mixing bowl with dough hook attached, combine levain with salt and multigrain mixture. Beat until a strong, smooth dough forms. Add soaked oat mixture; beat 1 to 2 minutes until oat mixture is distributed throughout dough.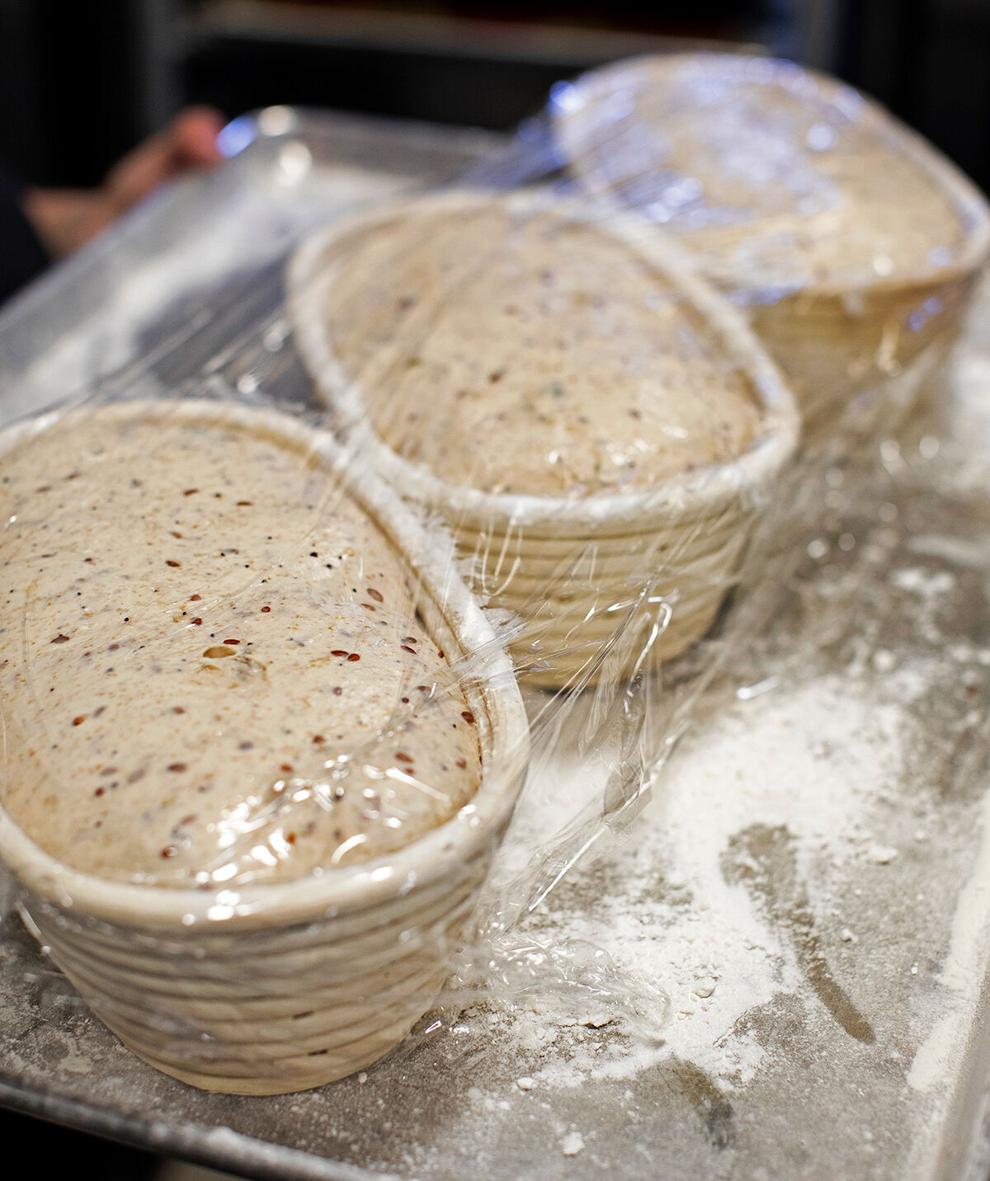 Transfer dough to large bowl or fermentation vessel and allow to bulk ferment at room temperature 45 minutes. Turn dough by stretching all four sides into the center of dough, then turn dough over. Return dough to same bowl. Repeat the fermentation and turn cycle 3 more times for a total of 4 turns. After all turns are complete, dough should appear noticeably fermented and doubled in size after about 3 hours.
Divide and shape dough into 3 balls, each about 500 grams; let stand 1 hour. Shape each ball into a loaf and place into a well-floured basket; cover with plastic wrap and refrigerate overnight. 
Preheat oven to 500°F. Place loaves in covered cast-iron bread baking pot or Dutch oven and bake 20 minutes. Uncover and bake until internal temperature reaches 205°F and desired crust color has been achieved. Transfer loaves to wire rack to cool.