You might have heard about green smoothies, but have you ever tasted one?
If not, you might want to reconsider. Here is a short list of why you will gladly add a green smoothie to your daily diet. Two recipes are provided, but feel free to substitute any of your favorite fruits or vegetables.
To Lose Weight: When I work with weight loss patients, one of the easiest ways for them to start losing weight is to add more fruits, vegetables and water to their daily diets. The most successful weight loss clients are now eating a total of 8 to 10 servings of fruit or vegetables daily.
To Calm an Out-of-Control Appetite: The reason you are always hungry is because you are not fueling your body with foods that nourish it. You can munch on baked potato chips and diet soda all day long, but you will constantly feel hungry because your body wants vitamins and minerals. When you drink a green smoothie, you will almost instantly notice that your appetite is more in control.
To Stop Sweet Cravings: When you are craving sweets, you might think your body wants a soda or a candy bar, but you are wrong. Your body is sending you the signal that it wants fruit. Weight loss clients who start eating 3 (1/2 cup) servings of fruit daily report their cravings for sugar and sweets go away. Both of the recipes below contain at least 3 servings of fruit per smoothie.
To Decrease Your Risk of Cancer: Antioxidants are the anti-cancer phytochemicals found in fruit in vegetables. We all have free radicals in our body, which can potentially cause cancer. When we eat foods with antioxidants, the antioxidants bind to the free radicals and neutralize them, therefore reducing your risk of getting cancer.
To Decrease Your Risk of Heart Disease: A high-fiber diet can help lower your cholesterol level to reduce your risk of having a heart attack. Losing excess body fat, as already mentioned, also keeps your heart from having to work so hard.
Absorb More Nutrients: You might already be a good fruit and vegetable eater, but to get the maximum nutritional benefit, the cell walls of greens must be broken down. To fully break down the cell walls, you need to chew the greens until they are almost a liquid, which would take a very long time. Let your blender do the work for you.
To Have More Energy: Chlorophyll is the sun's energy absorbed through plants to give them their bright green color. Chlorophyll is able to deliver oxygen throughout your body. It is also a detoxifying agent, because it binds to heavy metals and toxins in your body. You will find that when you consume more dark green vegetables, you also experience an increase in your energy level. An easy way to get more greens into your diet is by drinking green smoothies.
To Look Amazing: Your hair, skin and nails all will begin to look better. The cleansing and detoxifying ability of dark green vegetables helps with the elimination of toxins and establishes a healthy intestinal lining. Because of this, many people find their acne will clear up, hair becomes shinier and softer, and nails become stronger and grow faster.
To Prevent Constipation: Regular consumption of fiber is crucial to your health. It is recommended that adults eat 25 to 30 grams of fiber daily, yet most Americans consume only 10 to 12 grams per day. Insoluble fiber adds bulk to stools, moving them through the gastrointestinal tract swiftly, discouraging the growth of harmful bacteria in your colon to decrease your risk of getting colon cancer.
You're Too Busy to Eat Breakfast: Even if you usually rush through your morning and forget to eat breakfast, you probably can squeeze in 3 minutes to make a smoothie. The trick is to have all of your fruits and vegetables ready to go. Freezing fruit is a great way to make a thick, milkshake-like smoothie.
Bonus: Kids love them, too!
Although both recipes call for spinach, feel free to substitute other dark greens, such as kale, collard or beet greens. If you don't love your green smoothie the first time you make it, that's OK. Because it takes 8 to 10 attempts at a new food before we accept it, it might take several smoothies for you to actually say you enjoy them.
Creamy Green Smoothie
1 cup fresh spinach leaves
1 cup frozen pineapple chunks
1 cup apple or pineapple juice
You have free articles remaining.
Register for more free articles.
Stay logged in to skip the surveys.
1 large ripe banana (frozen without the peeling)
1/2 of a ripe avocado, peeled and pit removed
6 ounces vanilla Greek yogurt
Put all ingredients into blender, adding the spinach first. Blend until smooth. Makes 2 servings.
Per serving: 301 calories, 19 grams protein, 25 grams carbohydrate, 12 grams fat, 7.1 grams fiber.
Berry-Green Smoothie
1 cup fresh spinach leaves
1 medium cucumber, peeled
1 1/2 cups frozen berries raspberries, blueberries or strawberries
1 medium ripe banana (frozen without the peel)
6 ounces blueberry Greek yogurt
1 cup skim or 1 percent milk or 100 percent fruit juice
Put all ingredients into blender, adding spinach first. Blend until smooth. Makes 2 servings.
Per serving: 200 calories, 18 grams protein, 24 grams carbohydrate,
2 grams fat, 8.1 grams fiber.
---
The top 25 'superfoods'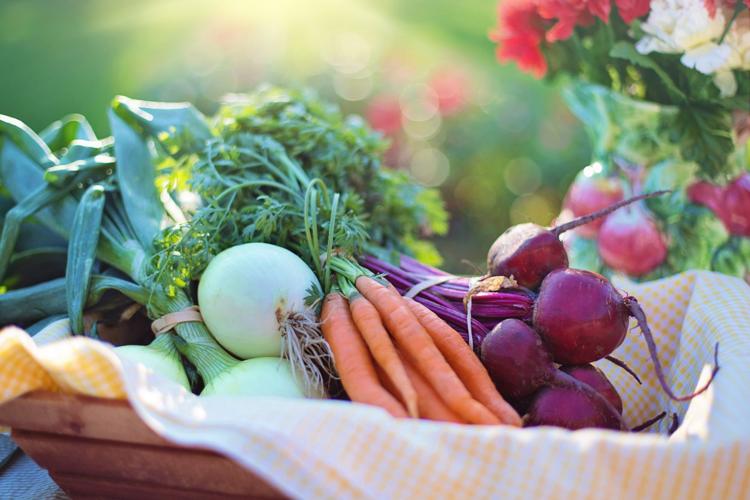 In health and fitness circles, "superfoods" are often lauded as keys to optimum wellness. 
Magical claims about superfoods have spread far and wide throughout the media since the term was introduced in the early 2000s. From reversing diabetes to preventing cancer, many have extrapolated the health benefits of these foods to the extreme. This has led others to claim the term is "just a marketing tool." However, recently people have come to the agreement that the term "superfood" simply refers to foods with very high nutrient content.
Vitamins and minerals, also referred to as micronutrients, are necessary for the body to perform its essential functions. They help build strong bones, heal wounds, replenish your blood supply and bolster your immune system, to name a few. Foods containing high densities of vitamins and minerals theoretically optimize these functions in your body.
With this in mind, the experts at the health data site HealthGrove looked at five categories of food — vegetables, fruits, nuts and seeds, legumes and fish — and used data from ESHA to determine the most nutrient-dense foods in each of these categories. The nutrient score of these foods was calculated by looking at the ratio of "good" nutrients (vitamins and minerals) to "bad" nutrients (fat, sodium, sugar, etc.). The top five healthiest, readily available foods in each category made the list.
#25. Anchovies
Vitamin E in anchovies helps your body form red blood cells, muscles and other tissues. The magnesium helps regulate blood pressure and heart rhythm.
#24. Cod
High in: Vitamin B12 and Phosphorus
Vitamin B12 helps your body metabolize the food you eat and turn it into usable, cellular energy. Phosphorus helps regulate cellular processes and contributes to strong bones and teeth.
#23. Eastern Oysters
High In: Vitamin C and Vitamin K
Oysters are very dense in essential vitamins and minerals. Vitamin K helps the blood clot and vitamin C helps protect your body from free radicals, which can cause heart disease and cancer.
#22. Northern Pike
High In: Vitamin B12, Vitamin D, and Phosphorus
Calories Per Serving: 100
The Northern Pike has a great combination of nutrients, as vitamin D enhances the regulation of phosphorus absorption. Vitamin B12 helps maintain a healthy nervous system.
#21. Yellowfin Tuna
High In: Vitamin B3, Vitamin B12, and Phosphorus
Calories Per Serving: 111
Tuna is often called one of the world's healthiest foods. Vitamins B3 and B12 assist your body's cells with converting food calories into usable, cellular energy. Phosphorus helps regulate cells and contributes to bone formation.
#20. Almonds
High In: Vitamin B2 and Vitamin E
Calories Per Serving: 138
The health benefits of vitamin E comes from its ability to remove free radicals, which damage cell structure. Since vitamin B2 cannot be stored in the body, you need a daily dose of it. It plays a major role in energy production and mineral absorption.
#19. Filberts (Hazelnuts)
High In: Vitamin E and Copper
Calories Per Serving: 118
The vitamin E and copper in hazelnuts helps maintain healthy skin, hair, nails and connective tissue.
#18. Linseeds (Flax Seeds)
High In: Vitamin B1 and Magnesium
Serving Size: 1.0 tablespoon
In addition to vitamin B1 and magnesium, flax seeds also contain both soluble and insoluble fiber and omega-3 essential fatty acids that have been shown to help heart health.
#17. Pine Nuts
High In: Vitamin K and Magnesium
Magnesium is a crucial mineral for optimal health, as it helps your body digest food, activate muscles and nerves, and creates cellular energy by activating adenosine triphosphate (ATP). Vitamin K helps the biological responses to injuries as it regulates blood clotting.
#16. Sunflower Seeds
High In: Vitamin B1, Vitamin E, and Copper
Calories Per Serving: 204
In addition to the vitamins they provide, sunflower seeds, like most nuts and seeds, provide a healthy source of essential fatty acids in the form of linoleic acid. These fats form the building blocks for cells membranes and help your body absorb other nutrients.
#15. Blackberries
High In: Vitamin C and Vitamin K
The nutrient-dense quality of blackberries helps improve the immune system. Vitamin C maintains tissue and speeds wound healing while vitamin K regulates normal blood clotting.
#14. Cranberries
High In: Vitamin C and Vitamin K
As with blackberries, the vitamin C and vitamin K in cranberries are essential for a strong immune system. The unique phytonutrients (chemical compounds found in plants) also posses many antioxidant, anti-inflammatory and anti-cancer properties.
#13. Lime
The unique flavanoids in limes provide many antioxidant and anti-cancer benefits. Additionally, vitamin C is highly beneficial to the body, since vitamin C is particularly effective at combating free radicals.
#12. Raspberries
Raspberries are not only high in vitamin C, a well-known antioxidant, but they also contain ellagic acid, which has also been shown to have antioxidant and anti-inflammatory properties.
#11. Rhubarb
High In: Vitamin C and Vitamin K
Vitamin K is the most prominent vitamin in rhubarb, and it plays a vital role in brain and neuronal health.
#10. Black Beans
High In: Vitamin B1, Iron, and Phosphorus
Calories Per Serving: 156
The phosphorus in black beans helps bone structure, while iron plays a crucial role in maintaining the strength and elasticity of bones. Vitamin B1 helps the body break down fat and protein and keeps mucous membranes healthy.
#9. Edamame
High In: Folic Acid and Vitamin K
Folic Acid is found in many beans and lentils and it helps your body produce and maintain new cells. It also helps prevent DNA mutations that may cause cancer. Vitamin K assists with brain and nervous system health.
#8. Kidney Beans
High In: Folic Acid and Phosphorus
Calories Per Serving: 112
Folic Acid assists with cellular health and may help prevent DNA mutations that could cause cancer. Phosphorus is vital to cellular regulation.
#7. Lentils
High In: Vitamin B1 and Folic Acid
Calories Per Serving: 169
Not only do lentils provide a good source of lean protein, but the B1 helps your body convert blood sugar into energy and the folic acid promotes healthy cellular regeneration.
#6. Navy Beans
High In: Vitamin B1 and Folic Acid
Calories Per Serving: 127
The Vitamin B1 in navy beans not only helps your body convert blood sugar into energy, but it keeps your mucous membranes healthy and is essential for nervous system function.
#5. Asparagus Spears
High In: Vitamin K and Folic Acid
In addition to being packed with vitamin K and folic acid, asparagus is also a very good source of fiber and a trace mineral, chromium, that enhances insulin's ability to transport glucose from the bloodstream into cells.
#4. Borecole (Kale)
High In: Vitamin A, Vitamin C, and Vitamin K
Vitamin A assists bone growth, reproduction and immune system health, while vitamin C is an effective antioxidant and vitamin K helps with responding to injuries and regulating bone loss.
#3. Brussels Sprouts
High In: Vitamin C and Vitamin K
Though they have high levels of vitamins C and K, brussels sprouts also provide fiber that is particularly good at aiding elimination and lowering cholesterol levels.
#2. Collard Greens
High In: Vitamin A, Vitamin C, and Vitamin K
Vitamin A is vital to bone growth, reproduction and immune system health. Vitamin C has fantastic antioxidant qualities and vitamin K assists your body's immune system. Additionally, collard greens have cholesterol-lowering abilities that outshine many other vegetables.
#1. Ladies' Fingers (Okra)
High In: Vitamin C and Vitamin K
Okra is a rich source of fiber, minerals and vitamins. In addition to vitamins C and K, okra pods also contain important minerals such as iron, calcium and manganese.