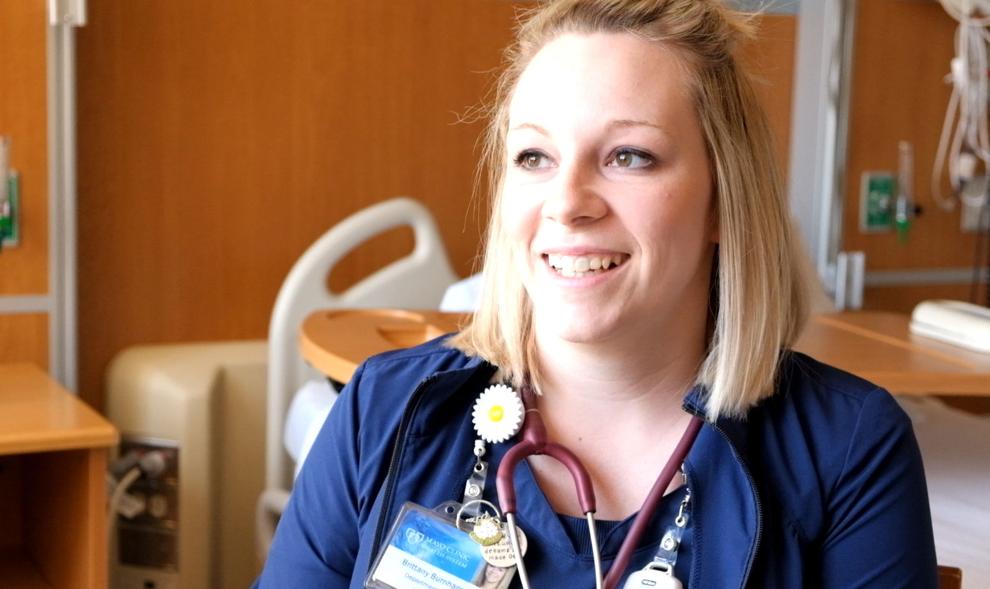 A gesture doesn't have to be magnanimous to be impactful.
Registered nurse Brittany Burnham wasn't expecting accolades when she set out to fulfill a patient's request for a Chicago-style hot dog last June. But to the man's daughter, Aldena Pardini, the Mayo Clinic Health System-Franciscan Healthcare La Crosse medical surgical nurse went above and beyond, giving her father not just a favorite meal but a much-needed smile in his last weeks.
In recognition of her kindness and compassion, Burnham, 24, of Sparta was nominated for her outstanding service as part of "Nurses: The Heart of Healthcare," sponsored by the River Valley Media Group.
"Since day one (my dad) had been asking the nurses for a Chicago dog (as a joke)," Pardini said in her nomination of Burnham. "Brittany ran to a hot dog stand on her personal time to get dad a Chicago dog. Unfortunately, they didn't make them so she looked up how to make a Chicago dog and then she went to the grocery store and got all the ingredients to make them for him. He said they tasted fantastic! He talked about her many times and others as being exceptional in how they cared for him. ... Thank you, Brittany, for doing that for my dad. You will always be remembered by my family for this simple act of kindness."
It was an appreciation for the care her own grandfather received that inspired Burnham's career.
Then a high school freshman, Burnham says she came to "love and appreciate" the staff who worked with him during his battle with pancreatic and liver cancer. A nurse for the past 18 months, Burnham works with cardiovascular, oncology, stroke and post-surgical patients, including those receiving end-of-life care.
"Day to day, it changes," Burnham said. "There are a lot of new diagnoses."
Even with a constant rotation of patients, Burnham makes an effort to remember each person's name and to put their family members at ease.
The hardest days, understandably, involve working with end-of-life patients and seeing the emotional pain. Pardini's father passed on Burnham's birthday, and she is grateful she was able to offer him and his loved ones "a little gesture that went a long way in their hearts."
"The most rewarding days would be when a patient or a family expresses it...their gratitude and how much you helped them or changed/saved their lives that's really rewarding," said Burnham, who was nominated for a Daisy Award from the Pardinis, receiving a flower pin she proudly wears on her scrubs. "You hear that nursing is so special, but when someone actually says that it's so rewarding."
Beloved by her patients, Burnham was still surprised to be recognized as a remarkable nurse in the tri-state area, saying, "I was quite shocked at first. ... I didn't expect to get this at all. I was very emotional, very pleased."
Working in a hospital setting is admittedly stressful, but despite 12-hour days, high-pressure situations and difficult circumstances, Burnham can't imagine doing anything else.
"I would encourage nursing just for the rewards itself," Burnham said. "It can be very tiring, there can be heartbreaks with it, but just the satisfaction that comes with helping people who are sick or families who are coping — going home with that feeling is indescribable."