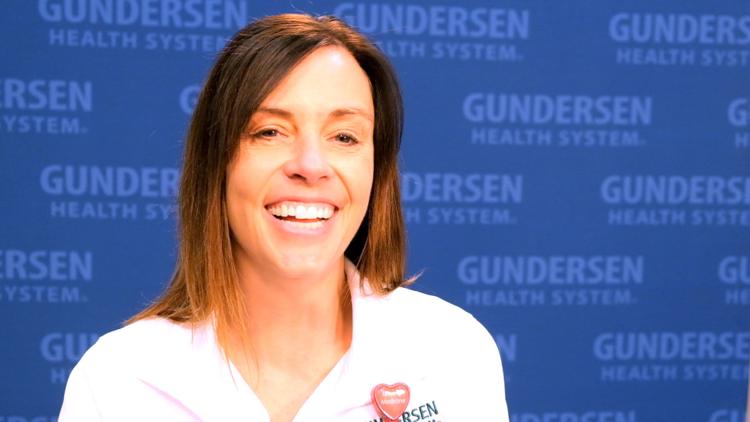 When a patient leaves Gundersen Health System in La Crosse, Deb Augedahl's work begins.
Augedahl, the hospital's care coordinator, is responsible for ensuring that patients receive proper medical attention in their homes, and that they have the necessary resources — from transportation to a helping hand — to keep appointments and make full recoveries.
"When you work with patients at the hospital, you don't see their home life. You don't get the full picture," Augedahl said. "It's simple things like transportation, since someone may need a wheelchair. You start to understand why someone might not make it to an appointment."
Augedahl, who has been a nurse for 21 years, spent the early part of her career working in surgery. It was her job to make patients feel comfortable before and after their procedures, to take the edge off some of the most difficult times in their lives.
"Even though they're not awake," she said, "it's important for them to know that someone is watching out for them, taking care of them."
Care coordination instills an entirely different perspective.
Now, Augedahl spends her days managing care plans for 40 to 60 patients in the La Crosse area.
You have free articles remaining.
She monitors how they are doing and helps secure whatever they need: home visits from a social worker or nurse, a ride to the hospital, information about their condition, someone to just talk to.
The patient who nominated Augedahl for "Nurses: The Heart of Health Care," sponsored by the River Valley Media Group, said she was a key stabilizing force when he spent 51 days in the hospital with complications from pneumonia.
"Deb was always there to help," he wrote, noting that she went to all of his important appointments and served essentially as an interpreter. "But more importantly, she served as a new friend to my wife … during this very stressful period in our lives."
It can be difficult, Augedahl said, to keep her work life from spilling into her home life. When a patient is in a particularly rough stretch, or when a case is more or less hopeless, it's only human to carry that weight home with you.
"You just have to separate the two" as best you can, she said. "Over the years, you learn to cope with some of the not-so-good things."
Sometimes, the pendulum swings the other way, and a patient will have a breakthrough.
There's one patient, Augedahl said, who recently began using a wheelchair after spending a year on bed rest. It might not sound like much, she said, but the move to a wheelchair carries a measure of independence and makes it significantly easier for patients to keep appointments.
Augedahl, a native of Caledonia and a graduate of Viterbo University, decided to become a nurse during her senior year of high school. She liked the idea of working as a team, of caring for people, of learning something new every day.
Being recognized and applauded for her work, she said, wasn't just an afterthought. It wasn't even a thought.
"To even be nominated … is very humbling and exciting at the same time," she said. "Being a nurse, you're not really looking for awards. You go into nursing because you love patients and want to see them succeed."