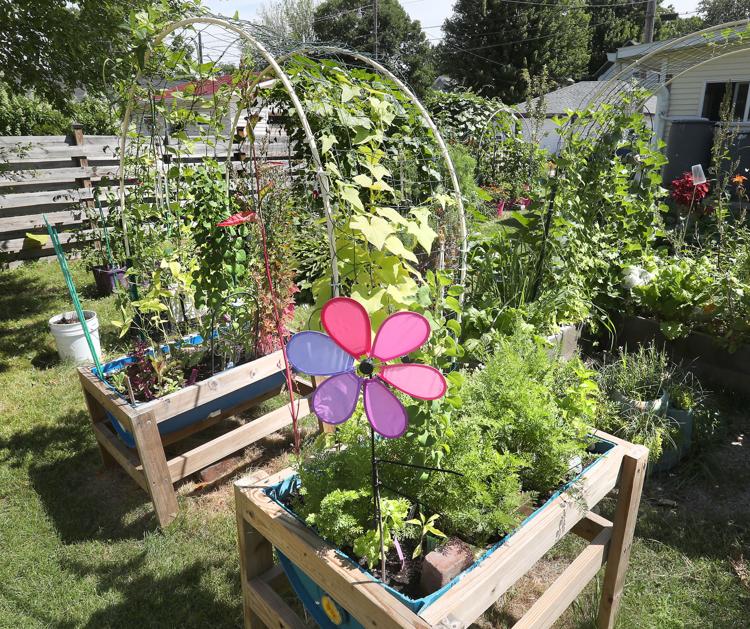 Thanks to a wet and warm summer, harvest season in the Coulee Region is kicking off strong, and area gardeners are eager to show off the fruits — and vegetables — of their labor.
Community members are invited to tour each of 10 unique plots and yards blossoming with abundance during the fourth annual Bountiful Gardens Tour from 10 a.m. to 2 p.m. Saturday. A fundraiser for Hillview Urban Agriculture Center, the self-guided tour will have gardeners both novice and master on hand to offer tips in everything from natural pest prevention to cultivating the perfect pumpkin patch. 
In past years, 100 to 150 people have participated in the tour, and 2018 brings all new private gardens to the map, along with community plots at the Kane Street Garden, YMCA Community Food Forest, WisCorps Garden in Myrick Park, Washburn Neighborhood Garden and Hillview's Hoop House and Vermicomposting Center.
While some are lush with flowers as well, all are food-centric, producing the bounty that feeds local families and stocks area pantries. In the Hoop House alone, volunteers grew and picked 350 pounds of produce in 2017, donated to Place of Grace, and the Washburn garden, 924 Division St., houses 55 individual plots where tomatoes, squash and peppers develop at rapid rates. 
"I think everyone's gardens are just going gangbusters," Pam Hartwell, executive director of Hillview Urban Agriculture Center, said of the particularly fruitful season. The Hoop House, which is pesticide-free, has the added help of worm-reared nutrition from the nearby Vermicompost Center, where 20,000 pounds of food waste is converted to fertilizer each year. The Hoop House is also unique in its structure: Its metal frame with two layers of protection makes it possible to grow year round. The garden receives the attention of hundreds of volunteers each year, as well as aid from the WisCorps Mayor's Crew this summer.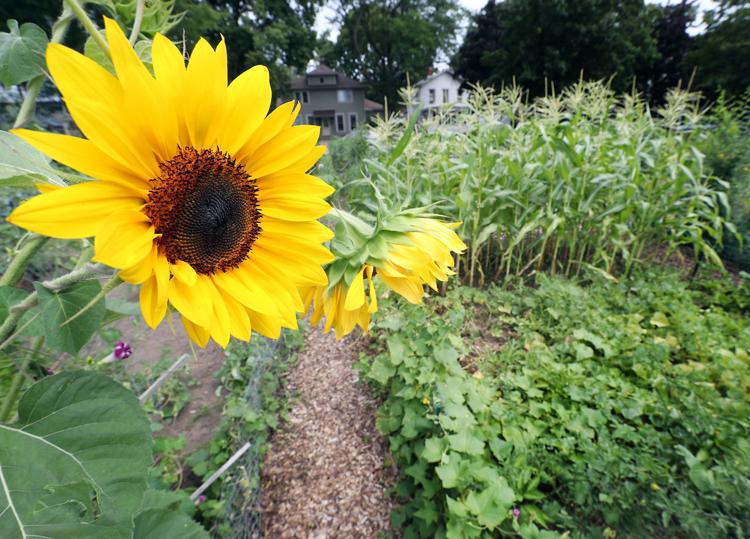 The Hoop House will also be the site of Hillview's Market Baskets garden to table demonstrations at 11:30 and 12:30 p.m., with recipes using onsite produce, and Taco Town will park nearby to sell lunch from 11 a.m. to 1 p.m. 
Tour goers are encouraged to bike to the other sites on the tour, with a map from Coulee Bicycle Co. available at each stop. Individuals on the tour wearing helmets may receive a coupon for a free beverage at Pearl Street Brewery, Turtle Stack Brewery or Java Vino. 
Other public locations on the tour are the YMCA Community Food Forest, 1140 Main St., which is used as an educational tool for area youth and boasts 75 species of perennial, native plants which attract beneficial insects. The WisCorp Garden, 789 Myrick Park Drive, includes a 50-by-100-foot area with raised beds and herb gardens, surrounded by rain and pollinator gardens. Spanning two city blocks, the Kane Street Garden produces about 17,000 pounds of edible crops annually, with hundreds of families contributing to weeding and harvesting. 
"Kids love pulling food out of the ground and putting it in their mouth right there," Hartwell said. 
Among the private gardens featured are those of Ann Karen Gronbeck-Peterson, at 1932 George St., and Greg and Jill Schams of 2100 Redfield St. The Gronbeck-Peterson garden is flush with foliage which attracts birds, bees and butterflies, and is extended with vertical supports. The Schams make the most of their small space with raised garden beds, filled with corn and potato plants and a wall of hops.
Sadie and Chris Kuhl have a farmer's market full of produce growing in their yard at 1402 Wood St., with a medley of tomatoes, peppers and carrots and squash and a sweet assortment of strawberries, raspberries and watermelons. A garden owned by Paige at 1811 Ferry St. is a fruit lover's heaven. 
"People love peeking in people's gardens, getting a real good look," Hartwell said. "You just see the whole gamut. ... It's an opportunity to see there is no wrong way to grow food."
For Tamra Dickinson at 2028 Charles Street, a perfect plot is chemical free, largely grown from recycled seeds and rich with herbs and edibles native to the region. Though her space is small, Dickinson combines elevated barrel gardening, square foot spacing, vertical growing and edible landscaping to extend her growing area. 
"I grow really compact and get a lot of bang for my buck," said Dickinson, whose tomatoes are her pride and joy, though her trellis grown squash and tender spinach are a close second. 
A "backyard to table" cook, Dickinson plans her meals around whatever is ripe and ready, and hopes to show others you don't need a king sized plot to grow a bevy of veggies.
Hartwell encourages tour goers to make the most of their time, ask plenty of questions and perhaps draw some inspiration of their own.
"Gardeners love talking about gardening. They love sharing their enthusiasm, sharing their knowledge," Hartwell said. "And maybe getting some of those new gardeners ready to take that leap."
Sprout new ideas
With our home & garden newsletter!