1.
A quick-dry towel that'll come in handy when budget accommodations don't have a towel at the ready.
I've stayed at many hostels where there are either no towels available or it costs $15 to use one. Instead of breaking my budget just to ensure I stay fresh and clean, I pack a quick-dry towel. These towels are nothing short of magical. They fold up really thin, making them easily packable, and they're made out of microfiber so they dry super quickly (within two hours or so). I usually bring a small and large — one for the shower and one that's useful for outdoor activities.
2.
Packing cubes to keep your bag (and your life) organized no matter how many times you move hotels.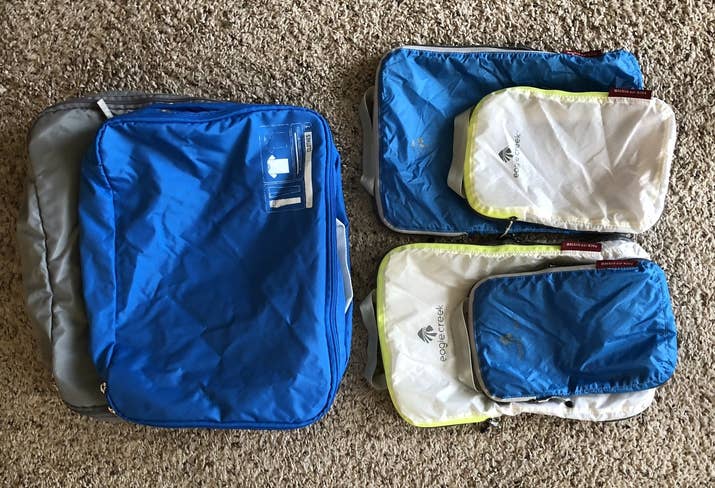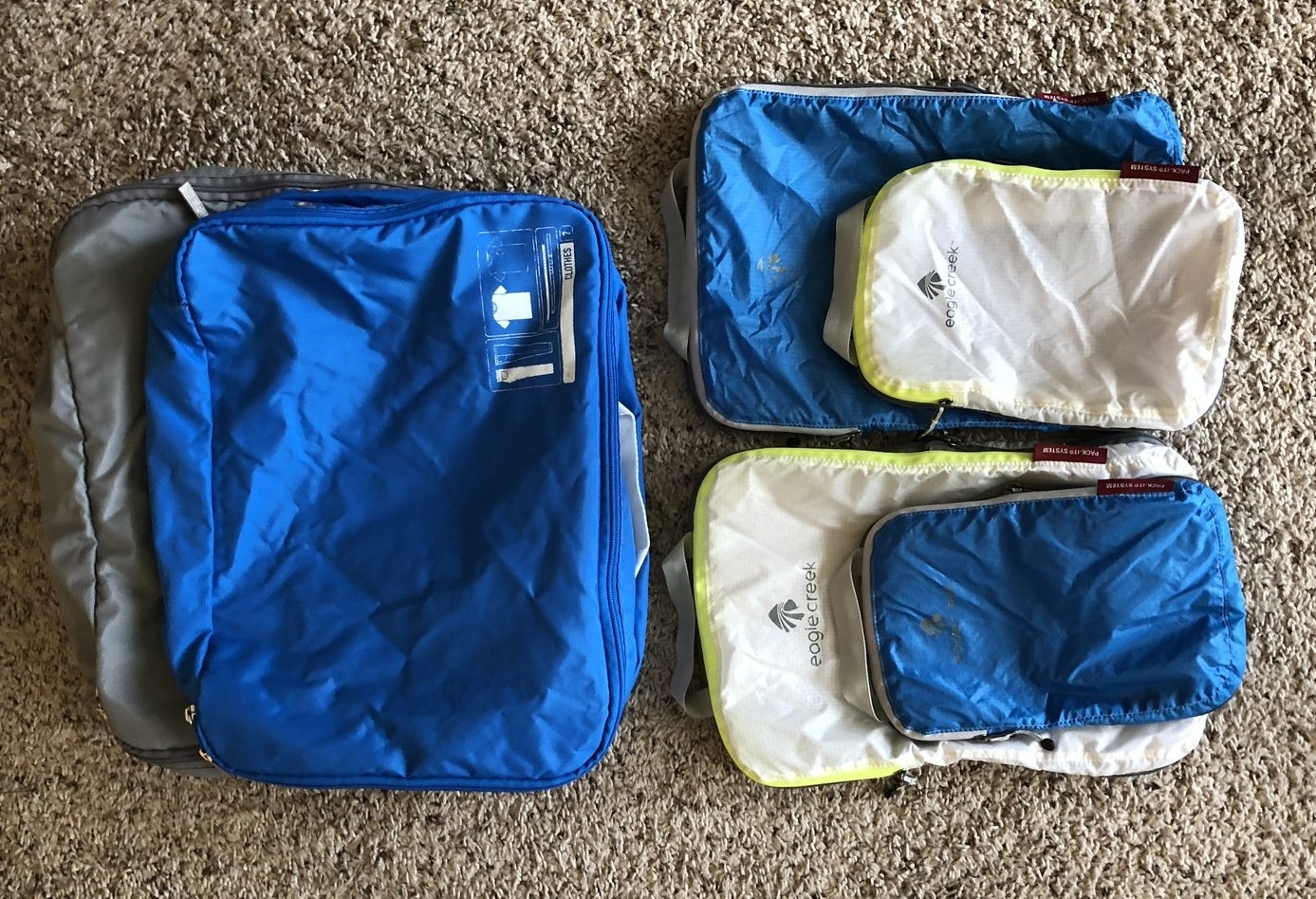 If there's one thing you should know about me, it's that I LOVE packing cubes. They are hands down my number one travel accessory, and I definitely wouldn't head out on a trip without them. I use two different kinds — Eagle Creek and Spacepak packing cubes — and they both let me pack way more than I would be able to without them by compressing all the air in between my clothes. Not only do they allow me to overpack like a champ, but they're also excellent for organizing your luggage (by separating types of clothing into different cubes, for instance).
3.
A sleep sack you'll be glad you packed when you find your bedding situation is less than ideal.
This product is basically a really thin sleeping bag that repels bugs (which makes it perfect for sleeping outside) and acts as a great liner when you have to take a snooze on questionable-looking sheets. One time I slept at a hostel where I had only a piece of silk fabric as a blanket — and then they blasted the A/C and took the remote for it out of the room! It was absolutely freezing, but luckily I'd packed my trusty sleep sack with me. I wrapped myself up in it like a cocoon, and managed to stay warmer through the night. And the fact that it moved with me didn't make me feel like I was constricted throughout the night.
4.
Clear toiletry cases perfect for keeping all of your smaller belongings tidy and organized.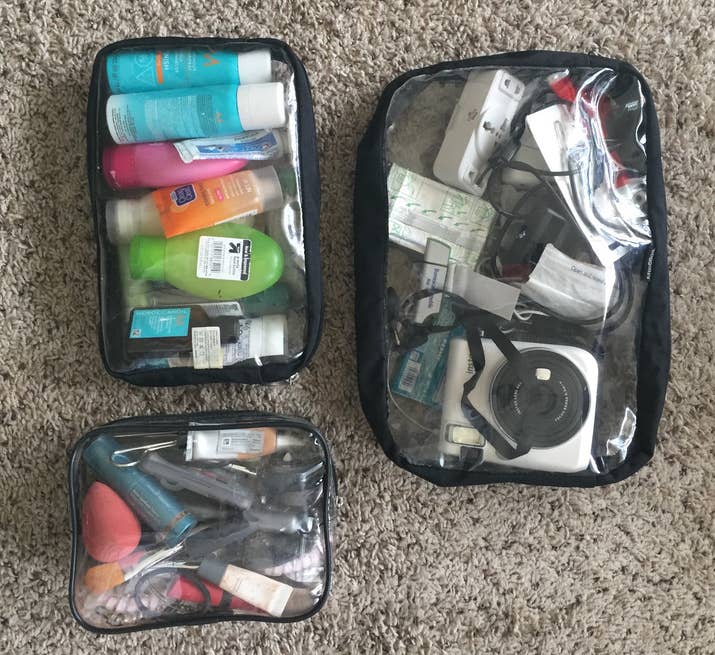 Organization is key when you're backpacking for a long stretch of time, so clear plastic toiletry cases are a no-brainer. They're a convenient way to keep not only your toiletries organized but also cords, chargers, receipts, and more. I travel with a minimum of three on me at all times. They've also protected important stuff in my bag from spills countless times (and especially came in handy when my dry shampoo exploded and I could have ended up with white powder all over my clothes but I'd packed it in one of these cases).
5.
A comfy neck pillow that doesn't take up tons of space in your carry-on.
I'm all about saving space, which is why I use an inflatable neck pillow. It's perfect for planes, buses, trains, car rides, boat rides, and literally any other form of transportation in existence. My favorite part of it is that you can customize the support by either blowing more air into it or deflating it. Whoever came up with the idea for this thing deserves a damn medal, tbh!
6.
A reliable backpack that'll fit all your stuff without breaking your back.
Obviously this is one of my backpacking essentials, because I literally couldn't go backpacking without it! I love this bag in particular because it's the perfect size for me; I use the S/M size, though it's also available in M/L. I'm small (I like to tell people I'm 5'1½", but that half isn't really there), so I need a backpack proportional to my height — and this Osprey does not disappoint. It's comfortable and I don't feel like I'm going to fall on my face when it's on my back. It holds everything I need on a long trip with a little help from my trusty packing cubes, and also comes with a convenient detachable daypack.
7.
MoroccanOil hair oil to keep your coif tamed, no matter what the weather conditions are.
When I'm on the road my hair is a mess. It's all over the place and needs a little help in the taming department. And whether my long, thick hair is getting damaged from salt water or from brisk winds, MoroccanOil is my go-to when it comes to smoothing it out, because a little truly goes a long way. The product has a cult following for a reason, and the travel-sized bottle (0.85 oz) is perfect because I need just a tiny dollop of oil to do the trick. I've actually had this one for almost a year and it's not even half empty!
8.
A set of toiletry bottles so you always have your favorite products with you, TSA guidelines be damned.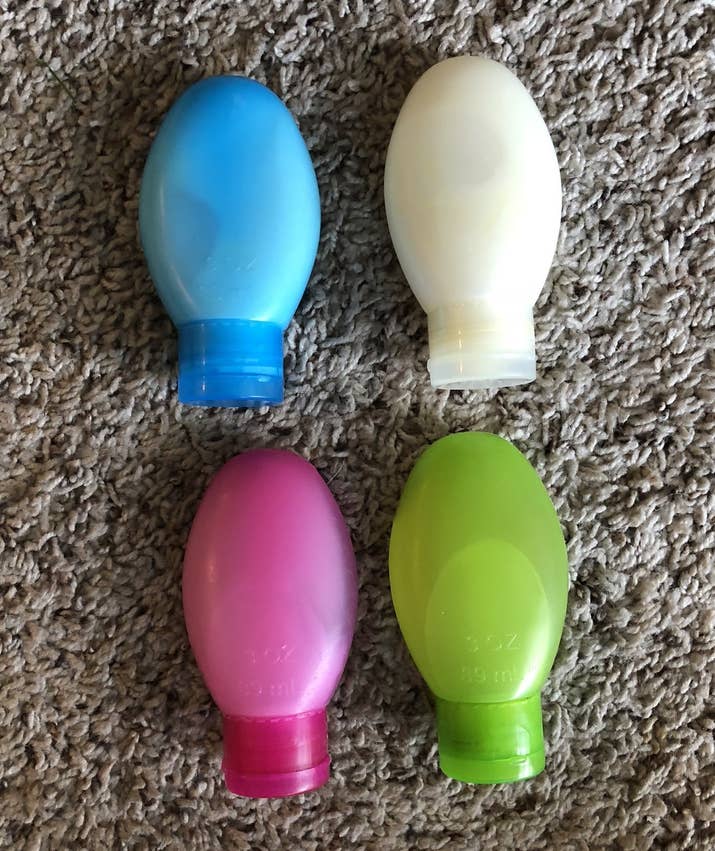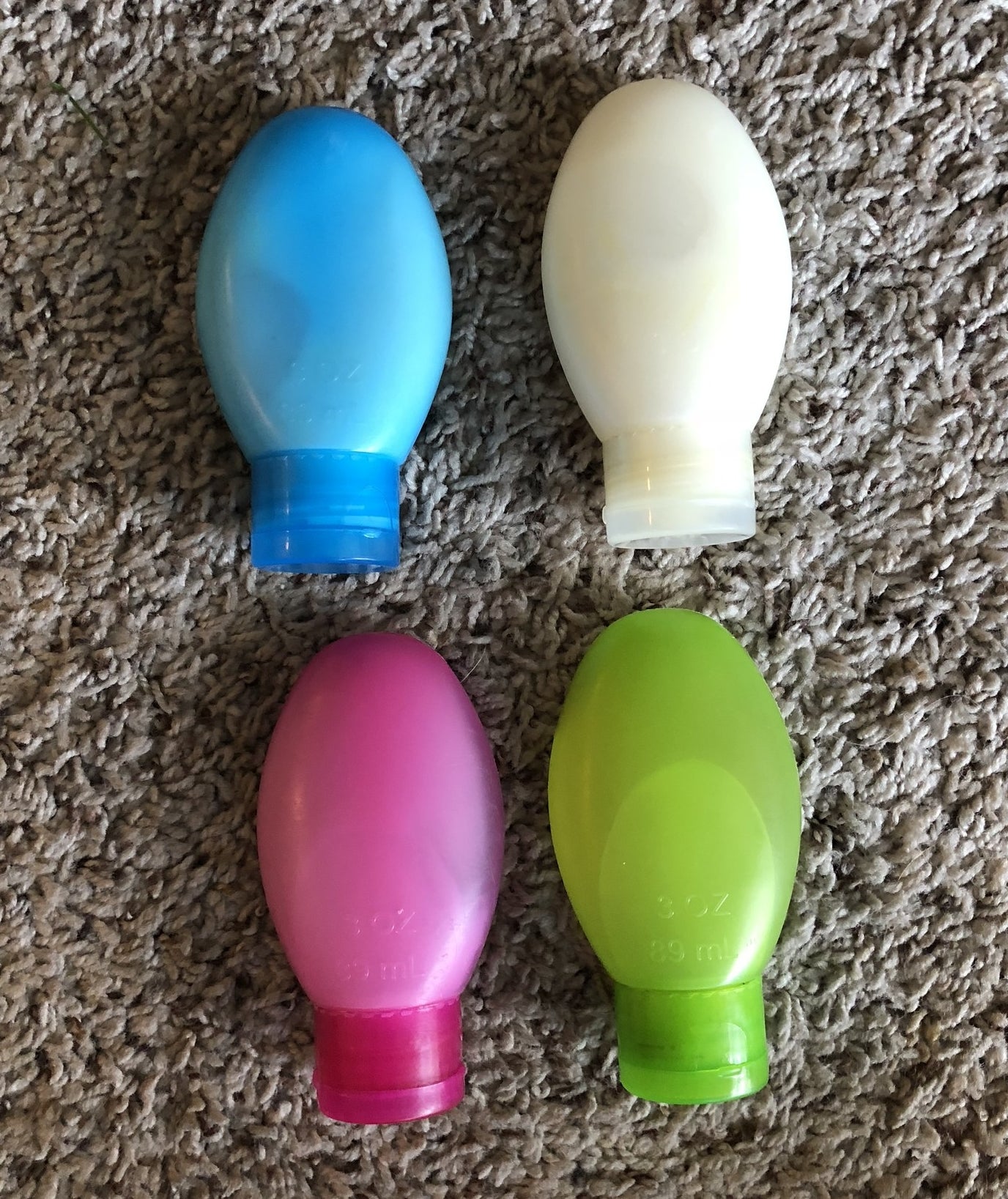 I'm a bit of a hoarder when it comes to travel-sized products. TBH I don't even purchase things in full-sized versions anymore because so much of my time is spent on planes! And like most people on the planet, I'm also guility of taking tiny shampoos, conditioners, and soaps from hotel rooms when I check out — and then I empty them into my small toiletry bottles, sometimes mixing different scents to create something new. I get a thrill when I can recycle one of those travel-sized products because I've used it to fill up my containers!
9.
Locks to keep your belongings safe no matter where you're staying.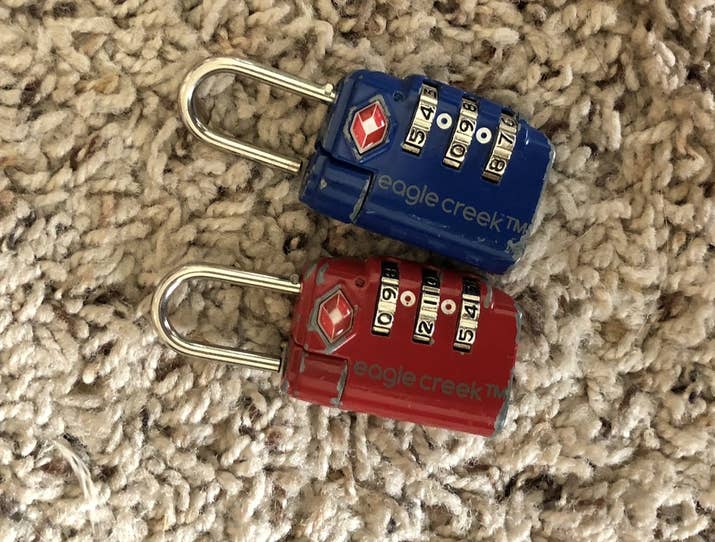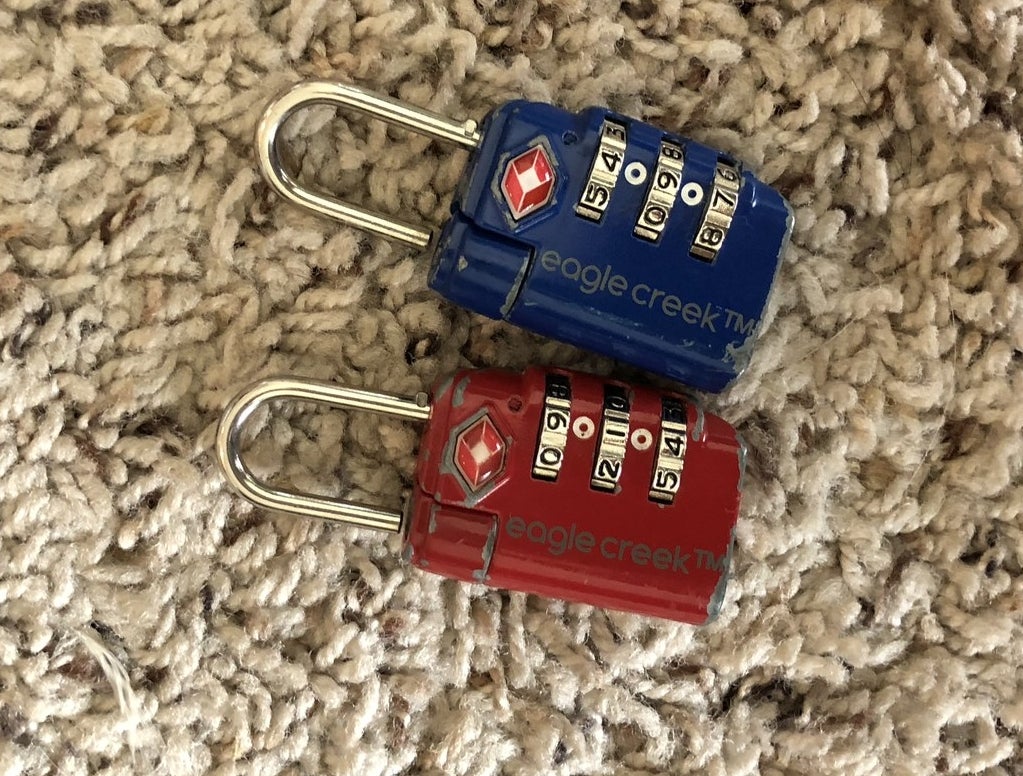 I don't just keep a combination lock in my backpack at all times, but I also I keep one in my purse at all times. You never know when you're going to need a lock! (I mean, okay, actually you pretty much always know when you're going to need a lock. For gym lockers, luggage, or a hostel locker, and...not really much else.)
I actually keep one in my purse because I used to forget to bring enough locks with me when backpacking, and in reality, you should always have at least two when you're hostel-hopping: one for your hostel locker to keep your valuables safe, and one for your backpack so you can lock up whatever you can't fit inside of your locker. Combination locks are always a safer bet than a lock with a key that can easily be lost, and these ones are TSA-approved, so you can use them to lock your suitcase without any issues.
10.
Dry shampoo for when you just can't take a shower but your hair needs some TLC.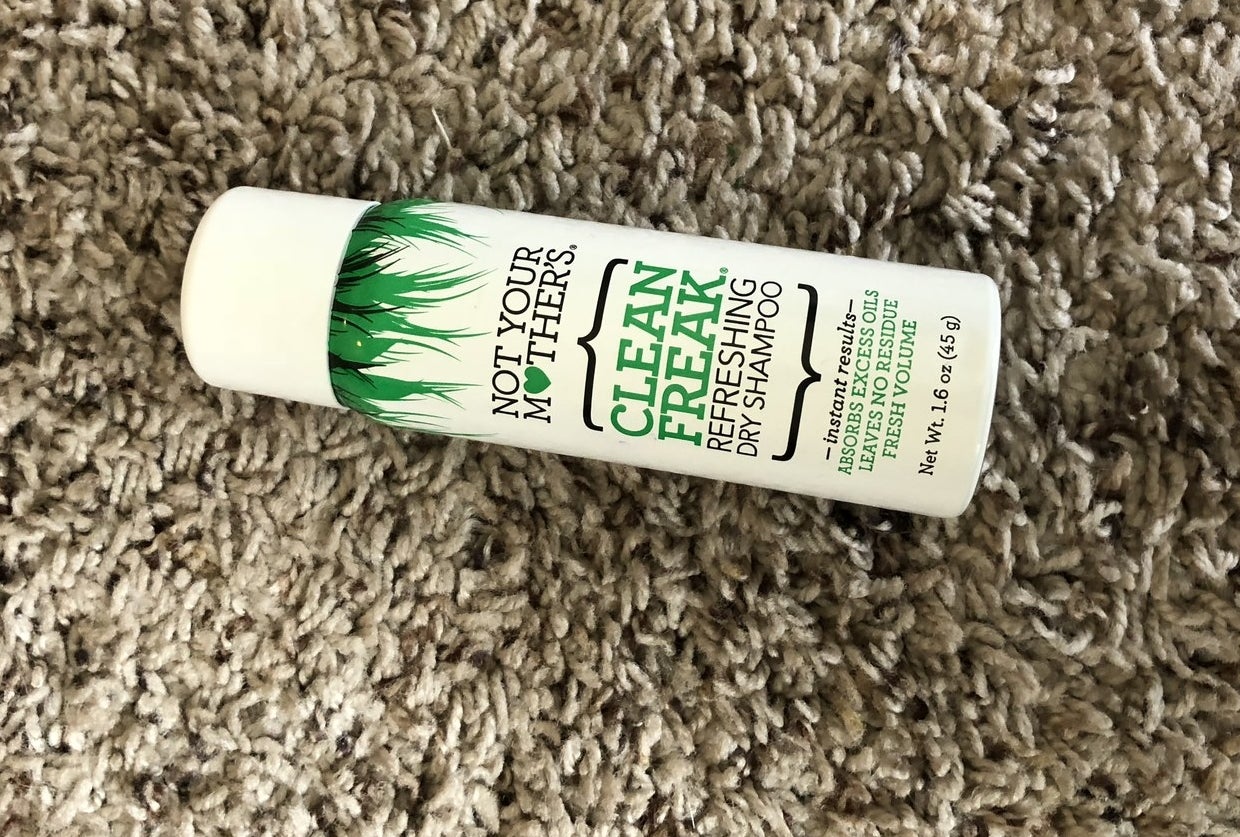 Sometimes you simply can't wash your hair while you're traveling — whether it's because you're staying somewhere with no hot water or you're just pressed for time before making your way to your next destination. This is, of course, where dry shampoo comes in to save the day. I love the Not Your Mother's Clean Freak brand in particular because it doesn't make my hair feel sticky (or even dirtier) like some other dry shampoos I've tried, plus I just really like the packaging! It also has a great fresh scent. Bonus: It's only $3.