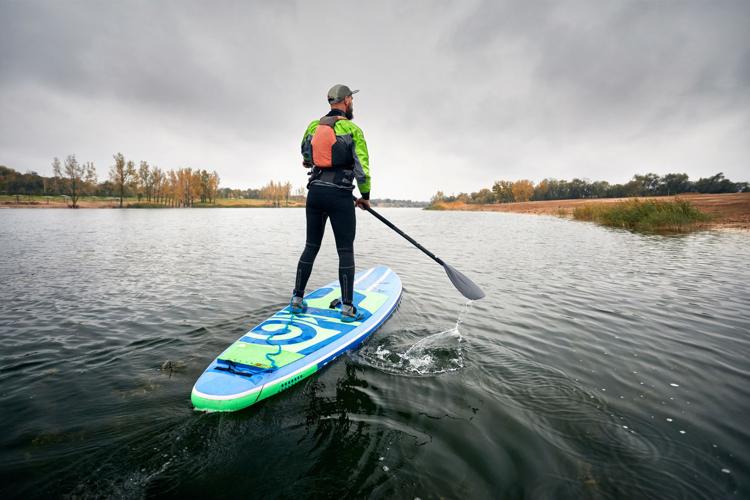 Sharpening preparation, avoiding accidents, judging the weather — all are relevant topics for all kinds of outdoor recreation. But they're uniquely important this time of year to paddlers ready to launch canoes, kayaks and paddleboards in earnest.
According to the Outdoor Foundation, an advocacy group, 1.3 million people ages 18-24 in the United States canoed in 2017, with nearly 3.7 million more people paddleboarding, rafting or putting in kayaks to tour, run white water or fish.
Yet, there are other statistics, too: There were 138 deaths (and 107 injuries) among U.S. canoeists and kayakers in 2017, the U.S. Coast Guard reported, with many attributed to inexperience or hazardous water conditions. Another 11 people died paddleboarding.
Four experienced paddlers offer tips and best practices for staying safe on the water.
Preparing for success
Your preparation is an important piece of having a safe and fun paddling adventure. These preparations, if done right, can set you up for success.
It starts with what you wear. Having a properly fitted personal flotation device (PFD) and wearing it on the water at all times is essential. Good PFDs are comfortable.
Another component is clothing: Polyester, nylon and wool are good options. Cotton should be avoided. Spring and fall paddlers should look into wet suits or dry suits for better protection. Water temperature is key. Put your hand in the water you want to paddle. If you do not feel comfortable with the idea of swimming in that water, wait until it is warmer.
There are other essentials to carry, too. Regardless of trip length, you should carry a first aid kit and emergency kit. Remember, cellphones do not work everywhere. Satellite messengers are a good addition to any kit, which is only as good as the person using it. Invest time to grow your skills.
In the event an incident happens, the situation will be resolved faster if you've let someone know your plan. Remember, "Gilligan's Island" was supposed to be a three-hour tour.
Preparation is critical to a safe and enjoyable paddling trip. Do your work ahead of time and you can take a big step toward a great trip that will be memorable for the right reasons.
— Jonathan Ringdahl of Galesville, Wis., has been an American Canoe Association certified instructor for five years. Ringdahl has guided trips on the rivers and lakes of the Driftless Area. He also has presented on sea kayaking and enjoys paddling the Great Lakes.
Dealing with weather
Unless you paddle into a forest fire or a hurricane, there's no such thing as bad weather on a paddling trip, just bad preparation — and bad attitudes.
Weather is notoriously hard to predict. The best advice: Stay cautiously pessimistic about the weather.
The two biggest weather hazards for paddlers are wind and lightning. Most of the time you can manage wind by keeping close to shore. If you have to make a long crossing, start early. Before sunrise. This tends to be the calmest time of day.
Lightning is by far the biggest danger. You're not only vulnerable on the water, but in camp, too. There are literally books written on lightning safety, so at risk of simplifying, here are three essentials:
1. Beware of any object that stands out, such as large trees. Especially near shore, as these tend to be the tallest objects and pose a greater potential for lightning strikes.
You have free articles remaining.
2. Avoid any exposed area, such as open water, ridges or fields. Seek shelter in low-lying depressions.
3. Remember, almost half of all lightning fatalities are from ground currents. Even when sheltered, you are vulnerable. Use a life vest or sleeping pad or something made out of nonconductive material that you can put both of your feet on, crouch and wait out the storm.
Finally, make sure you pack so everything stays dry. One of life's great pleasures is crawling into a warm, dry sleeping bag after an all-day paddle in the rain. It makes you look forward to "bad weather."
— Pete Marshall, of St. Louis Park, Minn., has canoed more than 8,000 miles through remote northern regions, including two expeditions across Canada. Marshall is the communications director for Friends of the Boundary Waters Wilderness.
Avoid accidents
To avoid accidents, follow the rules! The most common accidents on northern rivers are capsizes due to beelining across huge bays, running rapids without scouting them and not wearing a life jacket.
Good gear helps level the playing field. Canoes should be appropriately equipped, and tents should have plastic ground cloths and be designed to withstand 50-mph winds. Every canoe carries a map set and compass.
Begin each day with training. Review white-water maneuvers: snappy pivots, side-slips, eddy turns and backpaddle in a straight line.
Scout and choreograph rapids. When rapids loom ahead, go ashore to make a plan. Everyone should know the common river safety hand signals.
Wait for good weather. Better to hunker down even if the wait plays havoc with your schedule.
Plan for a medical emergency. Bring a comprehensive medical kit and a small first aid kit. Keep the two in different canoes. Take a satellite phone (and spare battery).
Take maps seriously! Know how to mark maps and profile the "drop" of a river. Experts plan to average 15 miles per day; novices are happier with 10.
— Cliff Jacobson of River Falls, Wis., is a prolific outdoors author and canoeing and camping consultant. Jacobson is a recipient of the American Canoe Association's prestigious Legends of Paddling Award. Jacobson is a retired environmental science teacher.
Proper form and posture
On-water mishaps most often occur when a paddler's guard is down. Even when anticipating a possible capsize (increased winds, rough seas, strong counter-currents), the actual event comes as a surprise.
The anxiety created by an accident or even just worsening conditions hopefully will trigger our strength reserves and the stamina needed to handle stress. Poor paddling style or improper technique can slowly rob people of those reserves. Imagine hitting the gas to avoid a car accident only to realize the tank is empty? That's one of the reasons proper form and posture are so critical.
Good form is more efficient, less tiring and, therefore, more productive. Proper paddling form (hand placement, posture and torso twist when paddling a kayak) puts less strain and wear on the arms, and correct seat posture means better contact points with your boat for transferring power through your paddle.
Having the correct paddle length and using an effective stroke also can help increase endurance. Even the most casual paddle outing can benefit from proper form, each correctly executed stroke strengthening your muscle memory, physically and mentally.
Improper grip on the shaft, entry angle to the water and even blade shape can produce undue stress, ultimately affecting your response reserves in a crisis. Whether leisurely paddling around the pond, or on a serious, multi-day big-water trip to a distant shore, proper form is an ongoing safety issue.
— Tom Watson of Appleton, Minn., is a freelance writer, specializing in outdoors topics. He began sea kayaking in the North Pacific Ocean while living in Kodiak, Alaska, and has kayaked for more than 25 years.