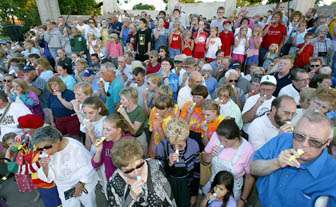 It's funny what 750 people playing kazoos can do.
Make people smile, laugh and feel good, entertain young and old alike - and raise money for the La Crosse Concert Band.
Oh, and make history. A very silly and fun kind of history.
Closely following all Guinness Book of World Records guidelines, the La Crosse Concert Band on Wednesday night assembled the most kazoo players - an estimated 750 - ever to perform at one time during its final summer concert at Riverside Park.
A crowd of more than 1,200 showed up for the Great Kazoo Caper, one of the largest concert turnouts the group has seen in 12 years, said Susan Schuyler, the band member who thought up the kazoo fund-raiser.
Schuyler said 450 people bought kazoos at the concert Wednesday before the band sold out.
"This crowd was beyond our expectations," she said. "We never expected to sell out the kazoos, and people were not upset after we ran out, and they gave donations anyway."
Mary Patros, a La Crosse photographer, has been at a few hundred community events in her day and has never seen anything like the kazoo concert.
"Playing kazoos together brought the community together, and everyone just had a good time," Patros said. "It was something special to be a part of."
After practicing a tuning note and scale with the band, the group was told by band announcer Hank Poehling, "Now you're qualified to join the musician's union."
Kazoo performers had one rehearsal playing a medley of three songs - "On Wisconsin," "America the Beautiful" and "Stars and Stripes Forever." Then came the real thing.
There was young Sue and old Lou playing their kazoos, and guess who was watching, too? La Crosse Mayor John Medinger, that's who. The sky was blue, there were some baby coos, some teens drinking Dew and a few a-choos.
But no boos, only oohs and ahs.
"That was fun," said 83-year-old kazoo player Vallie Emery of
La Crosse. "I think we should have skipped the practice. It wore me out in the end."
Tiffany Brookman, 12, of Tomah, Wis., said she could not hear herself play, "but it was a good time, and fun to be part of the Guinness record."
The band raised more than $3,000 from the event to continue its summer concerts. But more importantly, people were part of something fun and special, Schuyler said.
"This says a lot about community pride and support," she said.