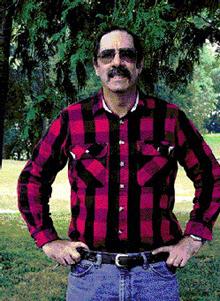 MADISON - The Spring issue of the College of Natural Resources news for the University of Wisconsin-Stevens Point included an alumni update about 1977 soils graduate Bryan J. Stanley.
It announced the publication of "The Becoming of Driftless Rivers National Park," a "280-page hardcover book, which Stanley spent six years writing and researching."
The book, described as a cultural and natural history of southwestern Wisconsin, could be ordered from Stanley at 301 Troy Drive, Madison.
That is the site of the Mendota Mental Health Institute on the north side of Madison, where Stanley has resided since he murdered a priest and two others in an Onalaska, Wis., Catholic church in February 1985.
Off his medication, he claimed to be the prophet Elijah and a "soldier of God" on a mission to save the church and the world from sin and communism. Judged mentally ill as a chronic paranoid schizophrenic, Stanley was found innocent of the killings at trial by reason of mental defect. He has been at Mendota ever since.
Stanley is of two minds about his book: He wants to promote it, but he doesn't really want the attention for himself or his program at Mendota. In September, a judge will consider whether he's fit to be released, and he's worried about negative publicity. He's been turned down before, most recently in 1999.
During the past four months, several interviews with Stanley to talk about the book were postponed after criminal acts by deranged individuals made national news. Finally, Stanley consented to answer a set of written questions, followed by a telephone interview this month.
Not that Stanley is inaccessible. As part of his therapy, he "now enjoys complete freedom in the Madison community, appearing at will unescorted around the city, and has recently completed an unescorted home visit … on May 5 and 6, 2007, in La Crosse," his lawyer, David Rothstein, wrote in a May 14 letter to the court.
He answers his own phone and wrote his book on a computer (though he does not have e-mail). But Stanley eschews face-to-face interviews, saying he doesn't want to be the focus of a story about his book.
For many, though, he always will be the story.
The first question almost always is about money. Stanley said he gets a small military pension from his time in the Army, from which he received a medical discharge.
"I had some stock investments in the 1990s that did very well," he said. "So, that is where I got the money. I don't have any of it left."
He paid two photographers to take landscape photographs in Crawford County over a three-year period. One of the photographers, a book designer, organized the publication.
He hired a Madison writer to help him put the words in order and paid a well-known artist, Frank Mittelstadt, to paint the cover and inside art. He paid an aerial photographer to document the seasons in the county from above.
At first contact, none of the people Stanley hired knew he lived at Mendota, or why he was there. Most of the negotiations and discussions were done by mail and telephone. Eventually, when decisions had to be made about content and layout, Stanley met people in coffee shops and at Mendota.
The result is a large book filled with beautiful photographs, high-quality art, more detail about glaciers than the average reader might want to peruse, and an improbable - even preposterous - proposal: turn sparsely populated Crawford County into a national park before its natural allure is lost forever.
The county is in the heart of southwest Wisconsin's "Driftless Area," a unique unglaciated region encompassing 24,000 square miles over four states.
Stanley turned his attention to the project in 1999 after his last petition for release was denied.
"I always thought I was going to get released," he said. "Then after I got turned down in 1999, I am thinking, 'Well, yeah, here I am at Mendota, I have to start doing things constructive and meaningful for me.'"
He reckoned it would take about three years to complete the book, and he put his goal in writing.
"On April 24, 2000, I created and signed an affidavit (witnessed and notarized), so that if someday the book or park became reality, I could prove to people I wasn't delusional," he said.
He received the first finished copy of the book Dec. 21, 2006, six years and eight months later. Several hundred copies have been printed.
Stanley was 5 years old when his family moved to La Crosse so his father could start a job at Trane Co.
"I spent all of my childhood and adolescence in La Crosse and the Driftless Area, and did a lot of fishing, camping and hunting in its Upper Mississippi Valley," he said. "I had only been to Crawford County a few times in the past to visit Prairie du Chien or to deer hunt. When I started the project, I was sort of flying blind, since I had not been there for so long."
Since he's been at Mendota, Stanley has been back to Crawford County a few times on educational trips.
"We don't get trips like that very often, especially that far away," he said. "Part of the deal was I had to do some educational presentations for the other attendees. We went to Wyalusing State Park."
In the book, Stanley includes a lengthy introduction about his past, but does not mention the Onalaska murders or Mendota. On the inside cover, however, it is noted "Stanley is a resident of the Mendota Mental Health Institute in Madison."
That was something he did not at first tell Joe Mogensen, of JM Creative in DeForest, Wis., which won a design award for the book. Mogensen and Joe DeMaio took many of the photographs published in the book. Robert J. Hurt took the aerials, which are breathtaking.
The photos are arranged according to season.
"We spent three years on the photography," said Mogensen, adding that because Stanley's travels were limited, he also did a lot of the legwork, tracking down archival information and graphic elements. He worked for Stanley for more than six months before he met him in person.
"He wasn't really forthcoming at all, but he was always willing to pay in advance for this stuff," said Mogensen. "We took that to mean he just didn't want us to know."
Over the course of the project, Mogensen began to understand why Stanley became fascinated with the Driftless Area, and Crawford County in particular.
"I certainly understand what he sees in that area," he said. "You can already see housing going up on some of those big, beautiful bluffs."
Crawford County, however, has not responded enthusiastically to the proposal. In fact, it hasn't responded at all. There are numerous projects, both private and public, to restore, save or recognize the Driftless Area's many natural treasures, from trout streams to riverbanks, but none as ambitious as what Stanley proposes.
Ron Leys, chairman of the Crawford County Board, has read Stanley's book, and praised it to other supervisors, even placed a copy in the county clerk's office.
"I told our County Board that this book illustrates what a special place we have here. … And I have not heard the least shred of interest in doing this," Leys said.
"Times are tough here. We're the second-poorest county in the state," he said, "but we're not quite in the predicament that this would be necessary."
Leys said the book reminded him of "the madman and the dictionary." The reference is to Dr. W.C. Minor, an American Civil War veteran who, from his place in a London insane asylum, provided thousands of entries for the first Oxford English Dictionary.
"The book itself is a remarkable achievement," he said of Stanley's work. "For a person who is basically locked in a cell, to cast his mind out and imagine something on this large a scale, is remarkable.
"Yes, I know the guy is guilty of crimes and you wouldn't want him to marry your daughter. It doesn't change the fact this book is a real achievement."
'There are a lot of things I could do'
Stanley is not the least boastful about his accomplishment. He is critical of his own writing skills, praising the assistance he received from Sharyn Alden, a Madison writer he employed to help him organize and edit the book.
Alden at first was not aware of Stanley's background. "He just looked me up in the phone book," she said. Almost all contact was by mail, with Stanley sending computer disks to Alden's office.
"He impressed me as someone who did what he said he would do, he followed through," Alden said.
In four months of infrequent talks and messages exchanged for this story, Stanley never mentioned the Onalaska shootings and, in fact, said he would not address the topic.
But he acknowledges he was disappointed he was not released after his 1999 hearing. Now in Mendota's Forensic Transition Unit, Stanley has been granted more independence than some other patients and can walk the grounds.
The special unit, opened in January 2006, has 15 beds and, according to hospital officials, is for patients who "have made long-term, significant progress in treatment," have followed all the rules, and could function on the outside if released.
He has worked in Madison and done volunteer work. "I have never had any problems in the community," he said.
In talking about his pending request for release, Stanley notes that in 1995 he switched to a different drug to treat schizophrenia, Clozapine, and his "life changed overnight."
"I developed this mental illness in the Army. It affects your thinking process somehow; your thinking process just gets goofed up. I had that. What causes it? People believe extreme stress.
"From that day in 1995, my life has been just one good thing after another for the most part. I have been on a steady upcline. It improved my life and kept me level-headed."
His reasons for wanting to be released have changed, too.
"Back in 1999, I was really hoping to get out and re-establish my soils career," he said.
Now 52, Stanley imagines doing something "beneficial for the community, to be of help to people.
"I think I could mentor troubled kids, help them get their lives straightened out," he said, adding he also would like to volunteer in fish and wildlife.
"There are a lot of things I could do, be more valuable to people than what I can be here at Mendota. This is not a horrible life here, there are a lot of good things here, dedicated people, it's not all that bad, to tell you the truth, but I would like to live a more constructive life.
"Everybody wants to make the best out of their lives. I am no different."
George Hesselberg is a reporter at the Wisconsin State Journal in Madison.
Be the first to know
Get local news delivered to your inbox!