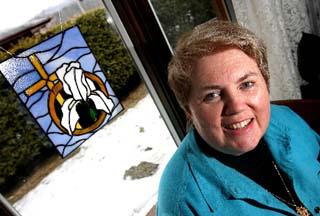 Bishop April Ulring Larson remembers where she was sitting that day, about 20 year ago, when she first saw the map. At a workshop on global mission, a speaker showed the Peters Projection map, which unlike traditional maps shows land masses according to actual size. Africa looks much larger than usual, the United States, much smaller.
Given what God is doing in Africa, someday African men and women will come to the United States as missionaries, Larson remembers the speaker saying.
The moment caused a change in how Larson understood global mission. And one of Larson's accomplishments in her historic tenure as bishop has involved building partnerships between the La Crosse Area Synod of the Evangelical Lutheran Church in America, which she leads, and synods in Ethiopia and Peru.
"We are simply weakened without the voice of each other," Larson said of the relationships. "If we want to hear from our brothers and sisters in Peru or Nicaragua or Ethiopia, the best thing is to just have them at the table. I cannot speak for them. They can speak far better for themselves."
The same is true, Larson said, when it comes to women and men.
And as the first female Lutheran bishop in North America and second in the world, her female voice has led the way for other women to join the still male-dominated table of Lutheran and Christian clergy.
This June, the La Crosse Area Synod will elect a new bishop. Larson's three-term limit will expire Oct. 1, and the mother of three will step down after 16 years as bishop.
More photos
Date: Mar. 22nd, 2008
Bishop April Ulring Larson, who became the first female Lutheran bishop in North America when she was elected in 1992, will step down after her term ends this fall.
PLAY »
Sister Eleanor Granger, a Franciscan Sister in Rochester, Minn., and Larson's friend, said in that time Larson has awakened in her what it takes to be a Gospel woman in the church.
"I don't know that there are a whole lot of prophets in our world," the 69-year-old Granger said, "but I would say that April is one of those."
But while history and hope have trailed her role as female bishop, Larson, 57, said she has been something else to the 43,000 members of the La Crosse Area Synod, which spans 10 counties in western Wisconsin and southeastern Minnesota: "To your synod, you're a human being," she said. "You're just simply their bishop."
The life of an ELCA bishop is like this:
You awake in California at 5:30 a.m. on the final day of a bishop's conference. That night, the airplane in Minneapolis has mechanical problems, so you get home at 4:30 a.m. with no sleep. A longtime medical missionary in your synod died while you traveled, so you write a letter of condolence by 9 a.m. but send your assistant to the funeral because you have to make a 10:30 a.m. meeting about the June synod assembly.
That day, you also await the noon release to pastors of a draft social statement on your church's teaching about sexuality, and to hear where your son and daughter-in-law, both in seminary, will be assigned to do their internships. And your grandson, whom your husband says is the only human on earth who can keep you from thinking about the synod, is on the road with his parents that day, which has you a tinge concerned.
"Ninety percent of the things you absolutely need to get done, you're still not getting done," Larson said of a bishop's work.
Her husband, the Rev. Judd Larson, compares the intensity of a bishop's daily life to the intensity of a regular pastor's work during Holy Week.
"Pretty much everything that comes is of first priority," said Judd, pastor at Bethel Lutheran Church. "She thinks if she gets home and doesn't have to stay in a hotel, then she's home that day. But what that might actually look like is, after a meeting that gets over after 10 or 11, she drives home an hour or two and makes it maybe by midnight."
Among an ELCA bishop's duties, outlined in a four-page document, are being pastor to all congregations in the synod, relating on behalf of your synod to the larger church and serving as the synod's chief ecumenical officer.
To help with these duties, the Rev. Lanny Westphal has been the bishop's assistant since 1998.
Westphal said their work can feel like a MASH hospital, in which they constantly, intentionally prioritize situations and calibrate responses.
"There are always more people that would like to have her advice and council and time than is physically possible," Westphal said. "So a great deal of what I do is I act as her ears and eyes and hands … so her time can be used as well as possible."
After being elected bishop at the 1992 synod assembly, the Larsons returned home to find their living room filled with flowers from across the world.
Larson said she quickly figured out she personally wasn't as important as what she symbolized.
For a couple years, strangers, mostly women, often would spot her in public and embrace her for becoming a female bishop. That still occasionally happens, even on other continents.
"You become a symbol of hope, and in some ways you're not human at that point," Larson said. "You happen to be the body that carries that, but it's not you."
At first, she didn't want that role as first woman bishop.
Serving as assistant to the bishop in the Southeastern Minnesota Synod, housed in the mother house of the Sisters of St. Francis in Rochester, she'd rejected requests from other synods to be on their ballot.
But after Lutherans had voted to ordain women in 1970, Larson said, certain ordained female leaders were finding themselves nominated for bishop. When she was nominated in the La Crosse synod, she figured she didn't have a shot because she didn't know anyone here, so accepted the nomination.
She even asked the sisters, including Granger, to pray for her in the election process - but not to pray she'd be elected bishop.
After becoming bishop, Larson said, an elderly nun shuffling with her walker in the convent tilted her head at Larson and said, "You know how you asked for us not to pray for you to be elected? Well, we prayed for you to be elected."
Today, seven of the 65 ELCA bishops are women, more than 25 percent of clergy are women, and about 50 percent of seminary students are women.
Larson thinks women and men do their best work together, and believes women bring a voice of peace to the table.
"Have you ever met a mother who is fine with having her kid go die?" asked Larson, though she added she appreciates her brother's, uncle's, father's and father-in-law's service in the military. "They might be fine with them putting on the uniform, but basically moms don't raise their kids to go die in a war."
Judd said his wife and other female pastors who have gone through childbirth also bring a whole new perspective on the incarnation of God.
"I've never heard a man preach a Christmas-type sermon about Jesus being born with the same kind of intensity of the women I've heard," he said.
Larson doesn't know what she'll do after she steps down as bishop.
Her husband would like her to take a sabbatical. In the past, seminaries and colleges have asked her to consider being president, and she has been nominated for positions with national and international Lutheran bodies, including as presiding bishop of the ELCA.
Elected at age 42, she is young for the experience she has gained.
Whatever she chooses, she said, it will involve listening for God's call, which is how she's made other major decisions.
"Everything is a God conversation," Larson said. "It's probably harder for me to think about what is not a theological conversation. I guess I don't think about theology when I'm trying to bake a cake."
Larson has had to accept that she'll have to leave work undone for whoever follows her as synod bishop.
One of her main concerns in this area is youth.
Because of divorce, because of sports, academics, extracurriculars, Sunday morning jobs and other reasons, fewer younger members are attending Sunday service, Larson said.
"We can't expect children to understand that their life belongs to God when we give their lives away to everything else first," she said. "We teach them a lie, that their lives are their own and that there's something more important than God as the center of your life."
In congregations, she encourages adults to get to know the children they worship with and encourages young people to commit to caring about youth when they become adults.
"I'm convinced God loves every child with a love we can't imagine and knows each name. And some of those children hardly have a life on this earth," Larson said. "Even though I believe that the God that loves me is a God of enormous grace and forgiveness, I think we live with consequences when we don't pay attention to the children across this globe. I think there are consequences, but those are conversations I have with God.
"God's conversation with me is, 'You do something about it.' But my conversation with God is, 'Are you paying attention? Do you notice this? I mean, we're just messing this up and what, God, will you do about it?'"
As with children, Larson discusses the topics of war, environmental degradation, Americans making an idol of money and others as both practical and spiritual matters.
She doesn't advocate quick fixes, Westphal said, and always asks where God is in situations, seeking the spiritual components in problems.
That includes a missing gutter over the entrance to the new synod office near Gundersen Lutheran Medical Center.
Earlier this month, as the spring thaw caused a sheet of water to pour off the roof in front of the door, Larson couldn't help but think that anyone who walked inside was going to get a little baptismal rain whether they liked it or not.
Coming from a meeting, she entered that afternoon through a side door and called her husband. Before day's end, Judd had put a new gutter over the entrance.
"What we claim as Christians is we have a God that's so in love with this world that God would send God's own self in human form and be with us, just walk around and be with us and things happened, people were encouraged, communities got healthier, people got healed," Larson said.
"The hardest thing for me as a bishop and a pastor is to remember that sometimes some of the finest encouragement we bring is to simply be present with each other and listen."
Bishop April Ulring Larson
April 22, 1950: Born April Ulring in Decorah, Iowa, the second oldest of five children.
1968-1970: Attended Luther College, Decorah, Iowa.
1970: Transfers to the University of Iowa.
May 1972: Graduates from Iowa with a bachelor's degree in vocal music.
June 24, 1972: Marries Judd Larson, which she calls the best decision she has ever made,
1972-74: Teaches music at a Roman Catholic school in Cresco, Iowa.
Fall 1974: With husband, enters Wartburg Theological Seminary in Dubuque, Iowa. The two are the first married couple to attend Wartburg together.
December 1977: Among the first 10 women to graduate from Wartburg.
1977-89: The Larsons serve as co-pastors at three parishes in Iowa.
Aug. 29, 1978: Twin daughters Amy and Katie are born.
Feb. 27, 1984: Son Ben is born.
1989: Accepts call as assistant to the bishop of the Southeastern Minnesota Synod.
June 12, 1992: Elected bishop of the La Crosse Area Synod of the Evangelical Lutheran Church in America, making her the first female Lutheran bishop in North America and second female Lutheran bishop in the world.
1995: Runner-up in election for ELCA presiding bishop.
1996: Re-elected bishop of La Crosse Area Synod.
February 1997: Leads the first La Crosse Area Synod delegation to its companion synod, the Central Synod of the Ethiopian Evangelical Church Mekane Yesus
July 1997: A delegate to the assembly of the Lutheran World Federation in Hong Kong, where she presided at the Eucharist marking the federation's 50th anniversary.
2001: Finalist in election for ELCA presiding bishop.
2002: Larson is re-elected bishop of La Crosse Area Synod.
Bishop April Ulring Larson on …
… Revelation: There are some Christians out there, who I disagree strongly with, that think we should just be completely negligent with this planet because when it gets really, really bad, Jesus will come faster. And I don't know what scripture they're getting that from. Let's keep using up our petrofuels, it doesn't matter how many people we kill in war, because the worse things get, the faster Jesus will come - and what sense does that make? It's just a poor reading of Revelation."
… Music: "I used to be just scared to death of eternity. I would just kind of wake up in the middle of the night thinking about millions and millions of years with God. What is that going to be like and what are you going to do? And I'd just get myself kind of into a sweat. And then I realized that if God would let me sing for all of eternity, I could do that. I could do that."
… Money: "Probably the biggest idol we have in our culture is money. It's not just the super wealthy. It affects us all. It's grabbing us by the throat. It's really deeply hurting our relationship with Jesus Christ … Our inability to talk about it is just a barrier. It's a barrier between us and God and a barrier between us and our neighbor."
… Easter: "Easter is the center of Christian faith … Until we die, we both deeply and profoundly believe, and yet also struggle with this incredible wonderment of God dwelling with us and being raised from the dead."
The 2008 candidates for bishop of the La Crosse Area Synod, Evangelical Lutheran Church in America:
The Rev. James A. Arends, senior pastor, Prince of Peace Lutheran Church, La Crescent, Minn.
The Rev. John B. Ashland, pastor, Hardies Creek Lutheran Church and South Beaver Creek Lutheran Church, Ettrick, Wis.
The Rev. David J. Bersagel, senior pastor, Our Savior's Lutheran Church, West Salem, Wis.
The Rev. Brian C. King, pastor, Bethany Lutheran Church, Iowa Falls, Iowa
The Rev. Martin J. Russell, assistant to the bishop, Nebraska Synod, ELCA, Omaha
The Rev. Mark E. Solyst, senior pastor, English Lutheran Church, La Crosse
The Rev. Susan E. Tjornehoj, former assistant to the bishop, St. Paul Synod, ELCA, St. Paul
The Rev. Lanny D. Westphal, assistant to the bishop, La Crosse Area Synod, ELCA, La Crosse
The four conferences of the synod nominated the above candidates at March 9 meetings. The conferences will hold candidate forums April 19 and 20, during which the candidates will speak. Voting members from synod congregations will elect a new bishop at the synod assembly June 5-7 at Luther College in Decorah, Iowa. Bishops serve six-year terms, with a three-term limit.
Bishop April Ulring Larson's final term ends Oct. 1.
Be the first to know
Get local news delivered to your inbox!