As many accomplishments as Priscilla Bassett achieved in the first two-thirds of her life — and there were many — among the most challenging were those in in a totally new role in the final third, says Mary Rohrer, who will deliver the eulogy at Bassett's funeral Monday.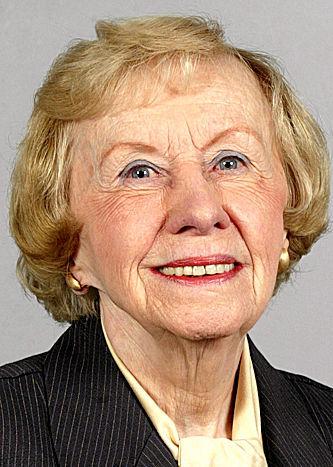 Few people even knew that Jean (Gitz) Bassett's given name was Priscilla after she was born in Freeport, Ill., in April 1924 until her self-written obituary appeared in the Tribune Friday. She disliked Priscilla so much that she went by her middle name throughout her life, said Rohrer, a beloved daughter-in-law of sorts to Bassett.
Bassett, who died Aug. 6 at the age of 94, was single when she moved to La Crosse in 1957 as co-owner and operator of WLCX-AM and WLXR-FM with Joe and Evelyn Rohrer, and she adopted the Rohrers as "my own special family."
Indeed, Joe treated her as a sister, as if she were born to be the target of his teasing — such as the time he persuaded her neighbor to surreptitiously remove her bathroom door before she hosted a party. A woman who wanted to use the bathroom came to Bassett and asked why it didn't have a door.
About that time, Bassett's neighbor called, as Joe had pre-arranged in his intricate conspiracy, and offered to sell her the door and install it — at an outrageous price. When Bassett balked, and with Joe coaching the neighbor to hold firm, the neighbor asked what was more important: holding onto her money or having the modern convenience of a bathroom door?
The incident is but one of many examples in what Joe proved to be "Jean's biggest challenge in the world, because he was such a prankster," Rohrer said, laughing.
That is one of the anecdotes that Rohrer will tell about Bassett during her eulogy at 10:30 a.m. today at First Presbyterian Church at 233 West Ave. S. The familial relationship was passed down to Rohrer's children — M.J., Rebecca and Joe — who consider her their great-grandmother.
Rohrer is taking a light touch with Bassett's eulogy, saying that is what Bassett wanted, adding, "She was a lot of fun, but most people don't know that because she was all business."
There is no need to chronicle her business accomplishments and community service accolades, as so many people know about them — her terms on perhaps as many boards and commissions as anybody in La Crosse; her volunteering for a broad range of causes, including the Franciscan Mayo Foundation and the La Crosse Jail Ministry, as well as honors such as receiving Bethany St. Joseph Corp.'s Iverson Freking Ecumenical, Viterbo University's Pope John XXIII Award and the University of Wisconsin-La Crosse's Chancellor's Award, and being named Jaycee Boss of the Year, among others.
As Oktoberfest's Maple Leaf Parade Marshal in 1976 and Mrs. Oktoberfest in 1989, Bassett declared that those roles thrust her into another family — that of Oktoberfest royalty.
Bassett, who was married to Royal Bassett in La Crosse from 1984 until his death in 1995, was especially close to her father, Edward, who encouraged her pursuit of fine arts. After graduating from Carleton University with a music/piano major and a two-year stint on the staff of the American Society of Composers, Authors and Publishers in New York City, Bassett's career switched to radio in Denver and Colorado Springs, a trajectory in which she became one of the first female radio station owners/managers in the country there before coming to La Crosse to partner with Joe Rohrer.
Bassett established a stellar reputation in Wisconsin broadcasting — so much so that she became the first female member of the Wisconsin Broadcasters Association and was inducted into the Wisconsin Broadcasters Hall of Fame in 1998.
In Bassett's partnership with Rohrer, she ran the marketing and business side, while Rohrer ran the technicalities of the broadcast side, Mary Rohrer said.
Ever the competitor, she also sometimes put the good of the industry over her own interests, Rohrer said, recalling the day when a technical program prevented one of Dick Record's stations at Mid-West Family Broadcasting in La Crosse from going on air.
Hearing about it, Bassett instructed her own tech team to allow Record's station to use her stations' equipment to broadcast.
"As a competitor, she said, 'I want to compete with you,' but she wanted both to win," Rohrer recalled.
When Joe Rohrer decided to sell the stations, Bassett found herself a reluctant retiree at the age of 60, Mary said.
That's when the final third phase of Bassett's life kicked in, when she found herself in unfamiliar territory, Mary Rohrer said.
"All of her life, she had had men friends," Rohrer said. "Now, had to develop women friends."
Bassett joined a bowling league, although "she didn't know how to bowl, and she had to learn. She started playing bridge, but she never had played bridge, so she had to learn."
Bassett became an aspirational example and a mentor for women not only during her 28-year radio and broadcasting career but also in the final third of her life, as an energetic community service activist and a philanthropist.
Catherine Kolkmeier attests to that, by virtue of the fact that one of Bassett's donations endowed Kolkmeier's office as executive director of the La Crosse Medical Health Science Consortium.
"When I first started my job, I didn't know Jean Bassett's name, but I learned it very quickly because her name is on a plaque right outside my office door," Kolkmeier recalled last week.
"I finally met Jean at a fundraiser. When I told her who I was, she was so excited," she said. "She grabbed both my hands, thanked me for introducing myself, told me I needed to join Rotary, and said, 'I'll pick you up Thursday and take you to the meeting.'"
In a show of full transparency, Kolkmeier credited Viterbo University associate professor Todd Ondell with initially taking her to a Downtown Rotary Club meeting.
But Bassett made a point of picking up Kolkmeier most Thursdays to take her to Rotary, prompting Kolkmeier's comment, "I learned very quickly that you don't say no to Jean Bassett.
"I can honestly say that I am where I am — literally and figuratively — in part because of the generosity, and the tenacity, of Jean," Kolkmeier said.
"I love that I get to see her name every time I open my door. It reminds me that hurdles can be overcome, that the Rotary motto of 'service above self' is an achievable goal, and that I must always work hard to live up to Jean's expectations."
Rohrer noted, with amusement, that Bassett discovered another of her own great expectations when she was introduced to Mexican 20 to 25 years ago, although she retained her taste for spaghetti as well.
When she went to dinner with others and they ordered steak or other entrees, Bassett invariably opted for a taco salad, Rohrer said.
That's why the continuing celebration of Priscilla "Jean" Bassett's life will conclude with lunch Monday at The Waterfront Restaurant and Tavern, where attendees will be served — taco salads, of course.
---