ONALASKA -- Sierra Lyon graduated from Onalaska High School two years ago, but she was back in the school's gym this week, sharing her passion for song and dance with a group of enthusiastic tweens and teens.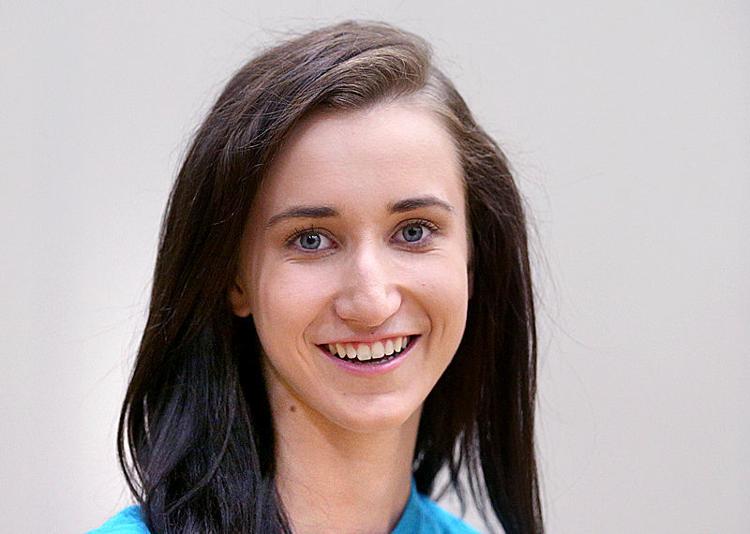 Lyon, 20, spent high school as a member of the OHS show choir, bringing her high energy and fancy footwork to the stage. It was an experience she relished, and the Viterbo University marketing major decided to reprise her singing and dancing days, inviting people with disabilities to take part.
Friday was the last last of the third session of Abilities in Harmony, an adaptive show choir experience offered free to area youth with special needs. The idea came to Lyon after spending time with two children with disabilities during a mission trip overseas, the youngsters both lovers of song and dance. She now leads winter and summer multi-day rehearsals for middle schoolers and high schoolers, culminating with a performance in conjunction with the OHS Hilltopper and Express Show Choir Camp concert. The middle school participants from Abilities in Harmony will perform four numbers at tonight's 5 p.m. concert at Onalaska High School, and the middle school group will put on two numbers.
"I love seeing the kids faces on the stage when they get that applause," Lyon said. "You can see how much they love it. On the first day (of practice) they're a little nervous, a little tentative, but by the day of the performance, they're pretty excited to show their parents and their grandparents."
Lyon, who chooses music "they can really sing out loud and proud," is assisted by volunteer former show choir students, who partnered one on one with each of this session's 17 participants. Peyton Keppler, 20, says while some of the participants can get a little too excited, bouncing around the gym, they catch on to the choreography quickly, some adding in a bit of their own flair.
You have free articles remaining.
Register for more free articles.
Stay logged in to skip the surveys.
RubyAnne Pierce, 11, attended the winter session of Abilities in Harmony as well, and her confidence was evident at Thursday's rehearsal, where she added in a few extra spins during the dance to "Brand New You." RubyAnne has been in music therapy since age 2, and mom Rachael Pierce says she loves seeing her daughter's passion for performance and appreciates the opportunity for RubyAnne to be involved in the same endeavors as her friends and classmates.
"From a mom's point of view it was like, 'Yeah, she can do it,' even when her peers didn't realize she could sing," Rachael said. "(What Sierra is doing) is really, really amazing. It's a great thing for the community."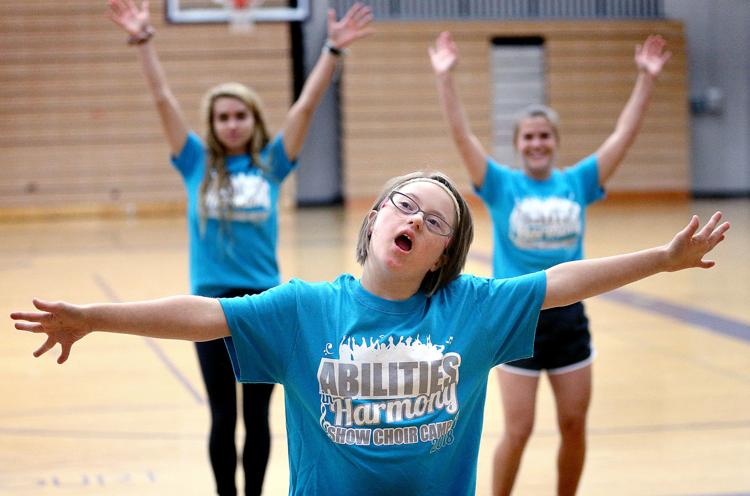 Lyon says she often runs into past and current participants out in the community, and they love to inquire about what new songs and routines are coming. Lila Dummer, 12, says singing and dancing are her two favorite things, and she favors the side-to-side shuffle move, though she really lets loose during freestyle dance breaks.
Lyon gives the kids and their volunteer partners plenty of chances to show off their own moves during rehearsal breaks, putting on peppy music and giving them the run of the gym. Lila and partner Jesse Erdman went all in during "Better When I'm Dancin'," doing dips, spins, high fives and waving arms. It's all about fun, and Lila was having plenty.
"It's awesome," Lila enthused.