For the first three decades of her life, Liz Fryseth watched her independence disappear along with her sight. Born with severe vision impairment, by the time she had given birth to her third child she was legally blind and reluctant to face the world.
"I was afraid to leave my own house," said Fryseth, 35, of La Crosse. "I was scared and slower than molasses."
When Fryseth traded in her cane for a spunky guide dog named Ellie in 2016, she discovered a new sense of freedom and confidence — and yet every outing is approached with a hint of trepidation, knowing her safety and that of her dog could be jeopardized at any moment thanks to the rise in impostor service animals.
In the little over a year that Fryseth has had the golden retriever and yellow Labrador mix, she has encountered countless people accompanied by untrained "service" dogs, an abuse of both the laws meant to protect people like herself and a potential threat to their rights.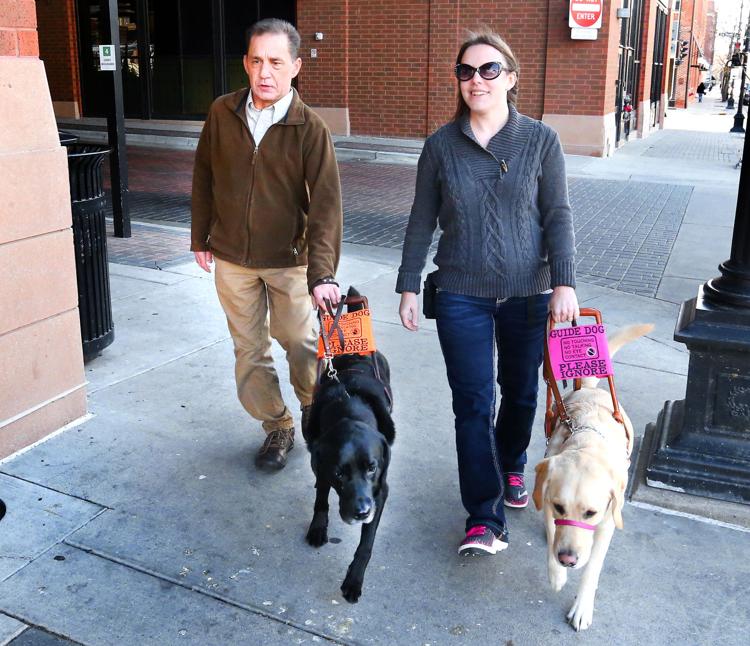 Fryseth and friend Steve Johnson, 54, of La Crosse, who lost his vision at 22 due to complications from type 1 diabetes, both received their service dogs through Leader Dogs for the Blind, founded in Detroit in 1939. The dogs, who live with volunteers to gain socialization and basic skills before receiving four months of professional training, are matched with legally blind people at no charge, who complete orientation and mobility training in Rochester Hills, Mich., for several weeks before bringing a dog home. The Lions Club, of which both are members, sponsored their dogs.
"On the last day of training they match you with a dog — matching gait, matching pace — and you go on a walk," Fryseth said. "I cried, I cried. I've never experienced that level of freedom. ... I couldn't fathom how many doors she's opened for me."
Johnson, who has had his Leader Dog, black lab Bennett, for the past 5½ years, says he would be "lost without him — literally."
Among the first tasks he taught Bennett were how to locate the soda machine at work and how to maneuver the bus depot downtown, which both Johnson and Fryseth use daily.
While Johnson, a Transportation Coordinating Committee member, has helped ensure the bus system is welcoming and accessible to everyone, he and Bennett have been denied access to public facilities or asked to pay a hotel surcharge dozens of times, an infraction of both state and federal law. Similarly, Fryseth has been told by a hostess her dog couldn't enter a restaurant and was questioned by an usher when she took her daughter to the movie theater.
Under the Americans with Disabilities Act, a service animal is defined as "a guide dog, signal dog or other animal individually trained to do work or provide assistance to an individual with a disability, regardless of whether they have been certified or licensed by a state or local government." It is legal to ask whether the dog is a service animal but not to require proof of certification or training.
The ADA takes priority over less-inclusive Wisconsin statute 174.056, which states that entry or accommodations cannot be denied if "such dog is wearing a harness or a leash and special cape and the person has presented, for inspection, credentials issued by a school for training dogs for the blind, deaf or mobility-impaired."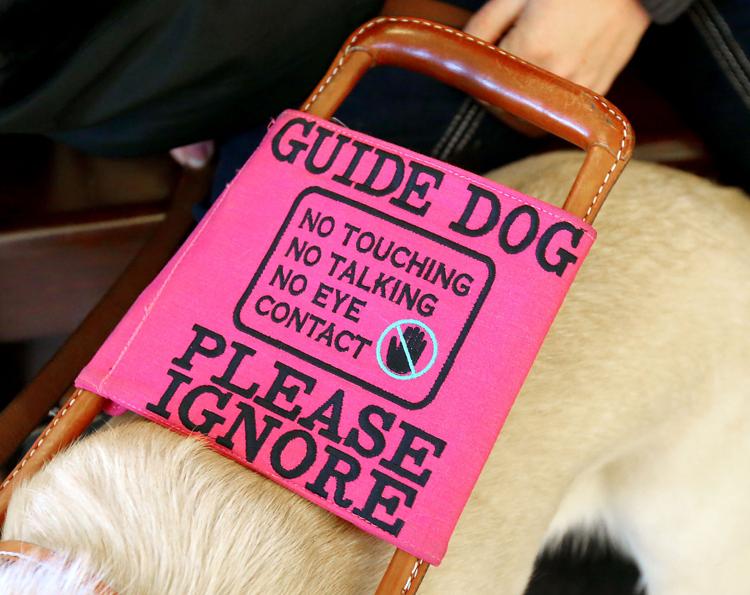 While it ensures their rights, the looseness of the law is a source of frustration for Fryseth and Johnson, who have been forced to contact police when untrained service or therapy animals have attacked their own dogs, which can be scarring to the animals and cause them to lose focus on the task at hand. A particularly traumatizing incident could render the dog unable to continue working, an especially harsh loss given the $40,000 and several months invested in training.
"The hardest part is when we run into fakes," Fryseth said. "We don't know where they are, and one attack can change our dog forever. I get scared."
"The police don't know how to respond," she added. "They don't really know the law."
While unauthorized service capes and harnesses can be easily purchased online, Johnson says an animal's manner is a clear indicator of its legitimacy. Growling, lunging, excessive barking and energetic playfulness are hallmarks of untrained animals, as is the language the owner uses for discipline. Federal law allows that a service animal "may be excluded from a facility when that animal poses a direct threat to the health or safety of others," but establishments can be reticent to act when an owner threatens to sue.
KANSAS CITY, Mo. (TNS) — The unleashed dog lunged from the woman's lap and right at Andy, Mi…
"Bottom line is behavioral standards," said Johnson, who notes service dog owners use simple but firm commands, not cooing or yelling. "It's how they handle the dog."
Johnson believes some dogs can be successfully trained by their owners, while Fryseth is less confident, referencing a woman who clicker trained a dog to help her deal with her anxiety but couldn't name what task it performed. Both take issue with therapy pets being allowed in establishments.
"A comfort animal under definition is simply a pet," said Freyseth.
Aurora the dog is named for a Disney princess, and when the glossy haired Rottweiler makes h…
Spreading education and awareness is the "best chance" of making sure service animal laws aren't being exploited, Fryseth says, and Johnson urges owners to know their rights and take responsibility for helping both businesses and law enforcement understand them.
Johnson and Fryseth don't take those rights — or their dogs — for granted. Bennett has made it possible for Johnson to take a cruise unaccompanied, and Fryseth conquered her first 5K with Ellie by her side.
"It's like she's an extension of my body," Fryseth said. "When you have that extra set of eyes and that trust, your independence just soars."