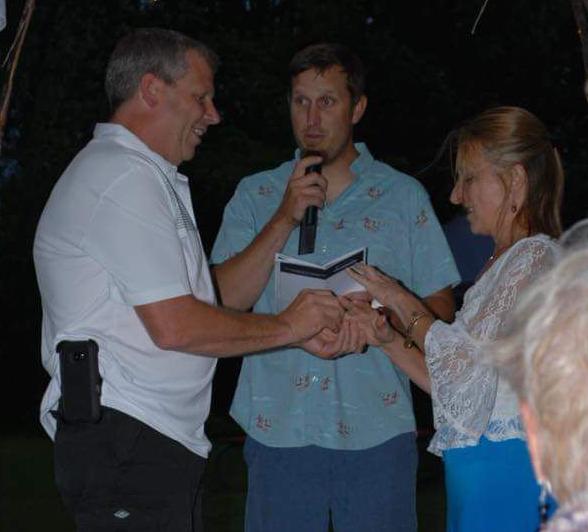 The story of Dave Lindgren, Michele Newman and Martin Schmidt is the stuff of bestselling books and heartwarming movies. Lindgren would call it a fairytale.
It's a story spanning 36 years of kids, marriages and moves, heartbreak and healing, all culminating in a reunification almost too fantastical to be believed.
Newman, 53, and Lindgren, 55, were high schoolers in the small city of Loyal, Wis., when they first fell in love. The relationship was short-lived. By the time 15-year-old Newman discovered she was pregnant, she and Lindgren had already broken up, and the ex-boyfriend was engaged to someone else. The two agreed putting their child up for adoption was the best choice.
It was more than three decades before Lindgren and Newman met their son, a kindhearted, lovingly raised man named Martin Schmidt. And it was Schmidt who unwittingly rekindled a romance between his birth parents, bringing them together for the first time since high school. They've been together since.
On Aug. 4, 2018, Schmidt officiated Lindgren and Newman's wedding at their Marshfield, Wis., home.
"I just can't believe how it all came together," Lindgren said. "It's a dream come true."
This is a story with a happy ending, but it took many roads and many years to reach. Lindgren and Newman, who last spoke in the fall of 1981 before going their separate ways, had always hoped their son would reach out, informed that at 18 he would be able to unseal their information. By the time two decades came and went, each had resigned themselves to the likelihood Schmidt, now 36, might never contact them.
Lindgren, plant manager at Lynn Dairy, remained in Wisconsin, ultimately marrying and divorcing three times and having three more biological children, as well as gaining four stepchildren. Newman, married by 19 and divorced four years later, married a second time, ending that relationship after 17 years, and never had another child. After moves around the country, she had settled in Hawaii, earning a master's degree in counseling psychology.
Meanwhile, Schmidt had been adopted by a loving couple, Will Schmidt, the former director of public health for La Crosse County, and wife Cynthia. Also parents to an older daughter, the family relocated from La Crosse to Madison a couple of years later, then settled in Missouri. Schmidt now lives in Gunnison County, Colo., with his wife, Carin, and two young children.
Around the time he was 18, and again after graduating college, Schmidt considered finding his birth parents, but it wasn't until 2014, when he was expecting his first child, that he took the leap. His wife and parents were very supportive, but Schmidt had no idea what the outcome would be.
"I knew they had me when they were young," Schmidt said. "There is a lot of life between the time you're a teen and 35 years later."
It was November 2014 when Newman received a call from the Wisconsin Department of Children and Families. She burst into tears. Lindgren was contacted as well, and gave his permission to open the adoption file.
"It was like, 'Oh my God, I can't believe this is happening," Lindgren said.
After an initial email, Newman and Schmidt spoke on the phone for the first time in December 2014. The conversation was a mix of easy conversation and silent pauses, Schmidt recalled. Both felt overwhelmed. He got in touch with an ecstatic Lindgren a week later.
Some days after speaking with Schmidt, Newman decided to send Lindgren a text, thanking him for consenting to contact with their son. Knowing it would be five hours later in Wisconsin and Lindgren would likely be asleep, she figured it would be a "one and done" text. But Lindgren responded immediately.
After an hour of texting back and forth, Lindgren called her. They talked for nearly four hours.
"It was just catching up on 30 some years," Newman recalled. "We were both kind of shocked by our connection, but it also felt comfortable."
"It just felt right," Lindgren said. "It felt natural. Before I even saw her again, I felt something."
Newman and Schmidt were never secrets in Lindgren's life. He told his former girlfriends, wives and other children about his first son and Newman, even pointing out her picture in his old high school yearbook. She had written a full page message in the book, wishing him the best despite everything that transpired between them.
"That yearbook is the only thing that made every move with me," Lindgren said of his frequent relocations over the years.
You have free articles remaining.
Lindgren and Newman began talking daily, almost hourly, before Lindgren suggested he'd always wanted to visit Hawaii. Newman told him he was welcome to come anytime — he could stay on her couch. Lindgren was currently going through a divorce, and she wasn't expecting a passionate reunion.
But when the pair met eyes at the airport in Feb. 2015, it was like no time had ever passed. They embraced and shared a kiss.
"When he got off the plane — you can't capture that smile," Newman recalled. "He's a very fun, loving, warm, intelligent man, and that essence came across very quickly."
It was hard to for Newman to see him leave. Two months later, her relationship with Lindgren still blossoming and wanting to be closer to family, Newman decided to move back to Wisconsin. Accompanied by her mom, Kay Schaefer, Newman's first stop stateside was to meet her son.
"We drove up his long driveway in this little ranchette division," Newman said. "He walked down to the car and he just had a huge smile on his face. We gave each other a really big hug for a long time. There were some tears of happiness. I remember I was shaking like, 'Wow.' It was emotional, to say the least."
Newman and her mother stayed for several hours, meeting Carin and baby Malcolm, an especially poignant moment.
"She got to meet her grandchild," Schmidt said. "It's pretty surreal — I wasn't long before that she didn't have any kids and now she had a son and a grandchild."
In May 2015, Newman and Lindgren returned to Colorado so father and son could meet in person. Schmidt knew his birth parents had been in frequent touch, but realized just how serious their relationship was when he asked if they wanted to stay in one room or two. They chose one.
"That was kind of the first time that was talked about," Schmidt said, at the time both nervous and excited about the recoupling. "They had kind of changed the equation a little. But they seemed happy, and I was happy for them. You can kind of tell when people are good together."
Lindgren says he and Schmidt "connected just instantly," and his other children have embraced Schmidt as a brother. It was "pretty wild" to suddenly have his family triple, Schmidt says of meeting biological grandparents, aunts, uncles and other relatives. His wife being one of 10 kids helped prepare him for his "sudden explosion of family." Through it all, Schmidt says, Cynthia and Will have been understanding and encouraging of the new dynamic and have Facetimed with Lindgren and Newman. Both sets of parents hope to meet in the future.
"I've told Dave and Michele, 'I'm so glad you gave me up for adoption and I had the life that I had,'" Schmidt says, fondly recalling his happy childhood and doting parents.
"They've raised him amazing," Lindgren said.
Newman moved into Lindgren's Marshfield home when they left Colorado, and on Dec. 12, 2015, one year to the day since Newman texted him, Lindgren proposed. Though Schaefer had first approached the relationship with trepidation, she quickly came around, as did the couple's other family members.
"She wasn't the biggest fan of Dave Lindgren when we were young, that's for sure," Newman said of her mother. "But now she's his biggest fan."
When the couple called Schmidt to announce their engagement, they asked him to officiate their wedding. It was only fitting.
"Martin brought us together by reaching out to us, and we thought it would be really special if her married us," Newman said.
Ordained by the Church of the Latter Day Dude, a nod to "The Big Lebowski," a favorite film of Newman, Schmidt performed a "short and sweet ceremony" after an afternoon of outdoor dining and dancing where guests dressed in shorts and sneakers and the chuppah was fashioned with branches. The rain poured down as they said their vows under a backyard tent. But nothing could dampen their spirit.
"When I made a hard choice at 15, 16, I never thought that life would come this full circle and be this special," Newman said. "It's the stuff of dreams — we're so blessed."
Newman and Lindgren's story is one of kismet and romance, but the outpouring of people who have shared their adoption stories has been life-changing. Having long struggled with her choice and feelings of shame, the reunification with Schmidt has helped Newman open up and heal.
The three keep in touch through calls and texts, and plan to have visits, some in Wisconsin, some in Colorado. Schmidt says they keep the relationship easy going and low stress — life has been a whirlwind the past four years.
"It really is like suddenly writing the story of my life ... but I'm currently living it," Schmidt says. "I wouldn't change it at all. It's part of who I am now.
Newman could have never fathomed this would be her life.
"You never know how it's going to turn out," Newman said. "But for us, it turned out really beautiful."