Sherry Wuebben sat in an empty conference room with papers splayed out on the table.
Some displayed milk prices, others showed corn and soybean statistics, and a few with line graphs whose jagged data points depicted a volatile commodity market, akin to a heartbeat monitor, that appeared to flatline between 2012 and 2014 after reaching a historic high.
The price of soybeans increased to more than $17 per bushel and corn reached more than $8 per bushel in 2012, which prompted farmers to plant more of the commodity crops, according to market data pulled by Wuebben, the controller of St. Joseph Equipment Inc. — an agricultural equipment dealer headquartered in La Crosse.
With the acreage for set-aside programs at a significant low and the efficiency of equipment and fertilizer high, the market was flooded.
"Everything trickles down and up, things that happen globally will affect us locally," Wuebben said.
Almost immediately after the tariffs on agriculture products were announced in 2018, the price of commodities dropped significantly again. In the midst of a farm economy already crippled by overproduction, the tariffs severely reduced producers' access to international markets and sounded a warning for other facets of the rural economy.
Wuebben noted a 23% decrease in dairy herds from 2014 to 2018, and with that decrease came a lesser need for feed crops and a drop in St. Joseph's client base.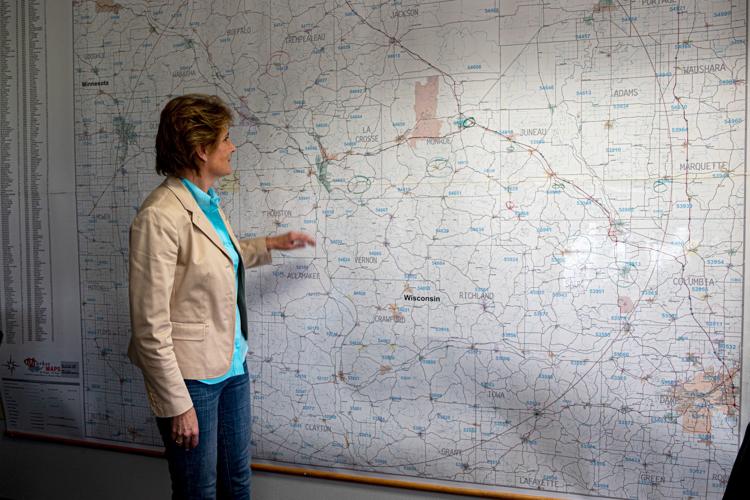 "Obviously there's less operations going on so there's less customers that we have. Just as that herd count went down, so did our customer base," Wuebben said.
St. Joseph's was forced to make adjustments in its employee numbers and consolidated some of its locations. The company changed the equipment it carries, as new farm technology is released, to adjust to the market.
"We now have to be at the forefront of technology because that's what [farmers] demand to keep up with the production that they're selling," Wuebben said.
St. Joseph's developed internship programs with local technical colleges to help build a workforce of specialized technicians as it pivots to repairing equipment with advanced tech to help bolster income when it is unable to sell new tractors, harvest head haulers, seeders, spreaders, sprayers and the like.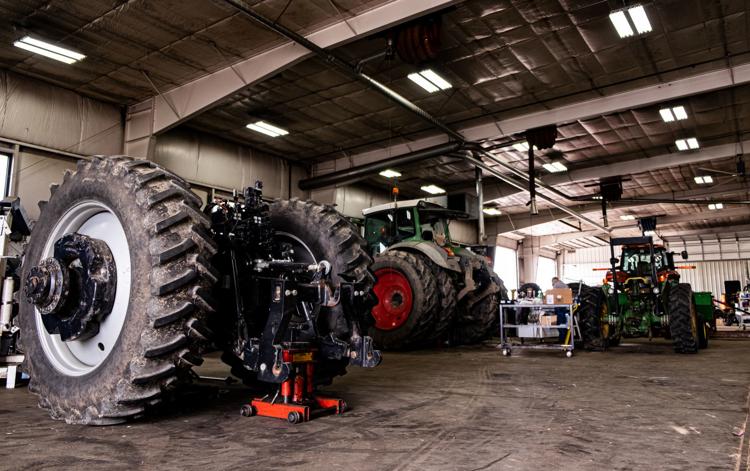 "Our customers are getting bigger and we have less of them. And so with that, our skill sets at our company have to be elevated quite a bit because they now have to take care of this very sophisticated equipment," Wuebben said.
But advances in farm technology added to the overproduction that flooded the market and drove the commodity price down. With GPS-driven tractors and genetically enhanced seed and crop applications, marginal land is able to yield more than possible in previous years as farmers are able to utilize every last square foot of their fields.
You have free articles remaining.
Register for more free articles.
Stay logged in to skip the surveys.
"[They've] become a victim of their own success because they strive to be more and more efficient. With that efficiency comes greater yields," Wuebben said. "Every year they're learning something different to enhance production."
Roughly 20 miles away, the Berg brothers prepared for a hurried but productive day before an onslaught of storms was forecast to cut across southwest Wisconsin later that week.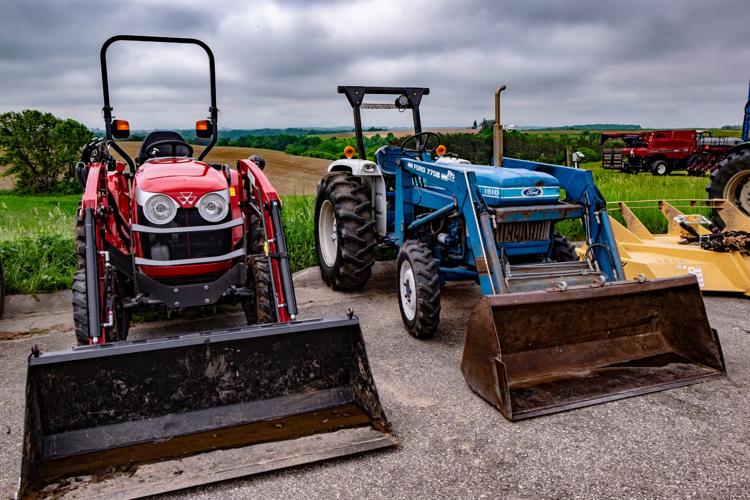 Andy and Aaron Berg of Berg Brothers LLC began their planting and harvesting service in the late '90s. They're contracted by area farmers to plant and cut down dairy and beef feed and counted roughly 40 clients in the area, until recently when they saw a 25% decrease in their clientele.
They've been preparing for an economic downturn for quite some time and worked to diversify their company to include harvesting miscanthus grass, a renewable resource used for biofuel, as well as repairing and servicing agriculture equipment.
"It hasn't happened for us like we expected," Aaron said. The high cost of equipment keeps them in business as area farmers can't afford to purchase tractors of their own at prices that can, often times, reach above $60,000.
"So they've all gone on to hiring [help]," he said. But he's concerned for the future of his business.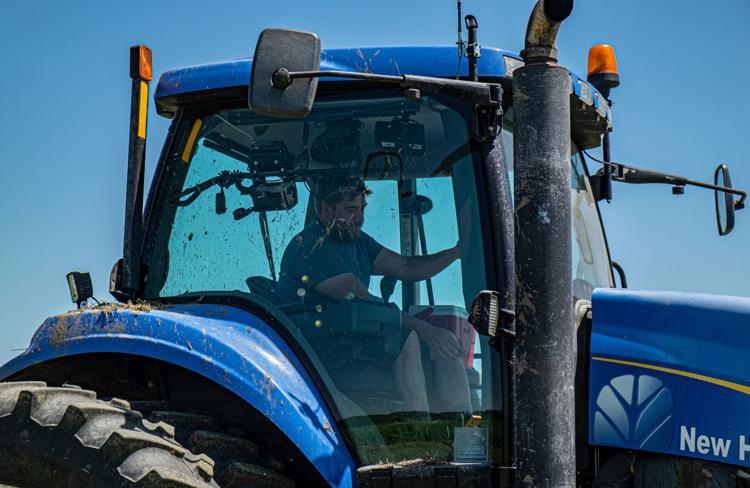 The average age of the farmer who employs Berg Brothers is close to 60 years old, and many of them are without children willing to take on the responsibility of the farm once they retire.
"The kids are gone," Aaron said, and the market is too saturated for new dairies to open. According to the brothers, half of their clientele will pull out of the dairy industry within five years.
"The 65-year-old guys, they're quitting, just one day they're done and there's nobody to take over for them," Andy said. They see evidence of farm consolidation in their area as land that smaller dairies stood on is sold to larger farms. And when a farm becomes large enough, the owners are more likely to be able to afford their own equipment, they said.
The brothers have forgone buying new equipment, equipped with the latest technology, and now focus on keeping their overhead cost down as they watch dairies in their immediate area go under.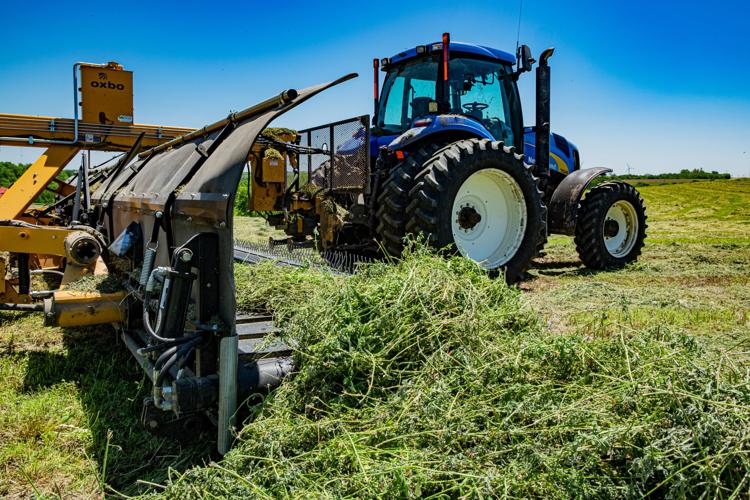 "We feel it's basically a dead-end," Aaron said. "We're just looking at the writing on the wall."
Despite the dire outlook of the ag and dairy crisis and its collateral damage on the rural economy, Wuebben remains optimistic as she sees evidence of slight market recovery in a small but stable increase in market prices.
"Everybody's got to eat," she said, as she looked over the commodity price statistics for 2018 in the conference room at St. Joseph's. "Things don't improve unless you change."